As part of our Parokeets' 3rd birthday celebration we're starting a challenge. This year's theme is "My favourite fairytale is …". Use your imagination … Be creative! The possibilities are endless here!
Please, share your interpretation of your favourite fairytale with us. And along with the photo of your make up and/or nail art creations, please write a few sentences explaining, which is your favourite fairytale and why.
Of course we prepared a prize for the winner of the challenge.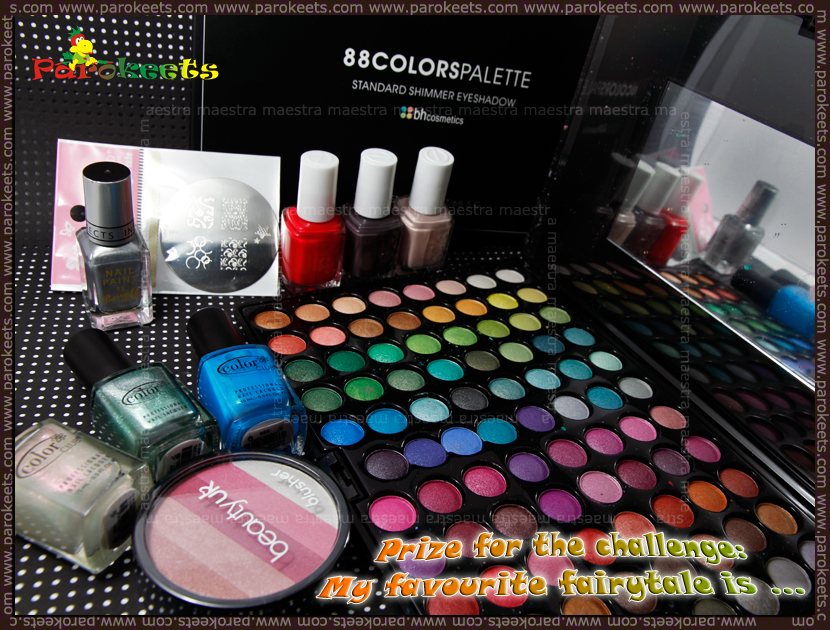 The prize:
3 x Essie nail polishes: Topless Barefoot, Too Too Hot, Smokin' Hot
3 x Color Club nail polishes: Femme Fatale, Pure Energy, Perfect Mol-Ten
BH Cosmetics 88 Colors Palette – Standard Shimmer Eyeshadow
Beauty UK: blusher Pink
Barry M: Nail Paint 319 Silver Foil
Konad: m85 image plate
All items are brand new.
The prizes were provided by two amazing Slovenian online stores Čarodejka and Licila.si.
Here are the rules:
You have to be either Google+ OR WordPress newsletter activated subscriber.
Send us your photo of My favourite fairytale is … themed manicure or make up look (or both if you can squeeze them on the same photo) by the end of 12.02.2012 (GMT+1).
Photo size must be 600 x 800 or 800 x 600 pixels. If you don't know how to resize to exact number, HERE are the instructions.
Photos must have evident authorship, so your analog signature (your user name) should look something like THIS (click) at least on one photo.
Send your photo to our email address blogparokeets.com. Subject should contain the Google+ name (the one you used to add Parokeets to a Google+ circle) OR the email address you're using to receive Parokeets newsletter AND name of the challenge.
For example:
Your Name – My favourite fairytale is … (if you are following us via Google+) OR
email@address.com – My favourite fairytale is …
If you have your own blog, forum, site (non commercial only) and would like to have a link included with your photo, please specify so in your email.
Photos may not contain any URL addressees, only your analog nickname is allowed.
All photos will be framed with Parokeets frame ("watermarked").
Every contestant must post a link to the contest somewhere on the Internet (beauty blog/forum/site) and include a link to it in the email along with your entry.
As always – challenge is open to everybody.
We can't wait to see what will you come up with!