Today is our 3rd birthday! Well – Parokeets blog is the one celebrating. :D
It's been such a joy watching our little blog grow for the last three years. Can you believe that we have already written 1.350 posts, received over 17.000 comments and more than 2.000.000 pageviews?
We always say that there would be no Parokeets blog without the fantastic readers that support us all the time with their blog comment, emails, Facebook and G+ likes, Bloglovin and Networkedblogs "thumbs ups" … You really are the greatest and give our work the meaning. It's no hardship to invest extra hour of work into post when you know that you'll be producing something that will be helpful to others and as cherry on the top you receive the feedback that tells you that you achieved your goal.
To give at least a little bit of love back to you, we dedicate every January to you dear readers. We contacted few of the companies that we like and asked them if they would be willing to join our celebration and donate gifts for our readers. And majority said YES. We all know that times are tough but they really came through, so please share some love with generous ladies who kindly donated goodies (you'll see their banners for the whole month at the top of the posts container):
Bvlgari
Catrice
Čarodejka
Essence
---
First thing on the agenda is GIVEAWAY!
Prize no. 1 is this pile of goodies …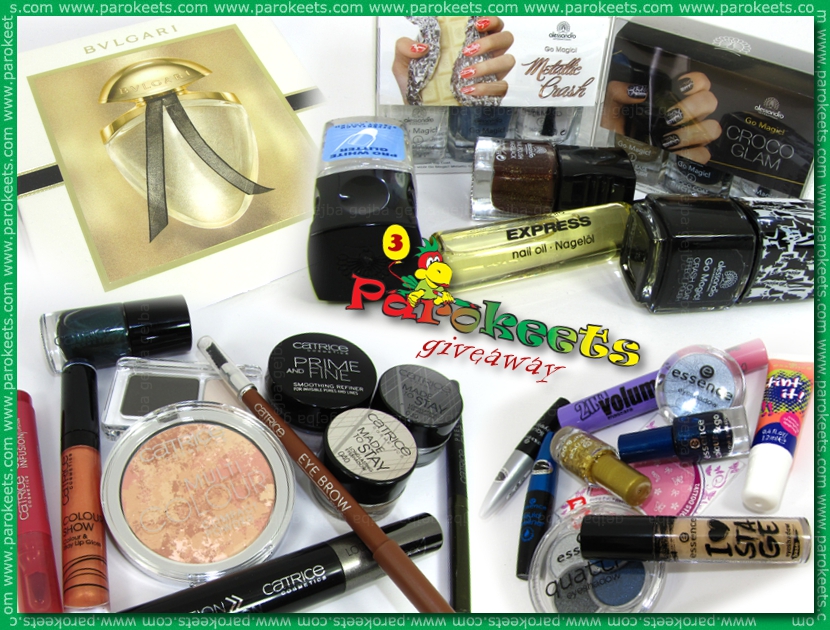 Alessandro: Metallic Crash Blue Marine set, Croco Glam gold/black set, Crash Coat, Express nail oil, Pro White Glitter, Belle Mademoiselle;
Bvlgari: Mon Jasmin Noir 25ml;
Catrice: Prime and Fine, Made To Stay 030 and 040, Evolution to Revolution black mascara, Double Espresso Macchiato, Please!, Rose Beige mattifying powder, After Eight nail polish, Sun Kissed gloss, Wildthing, Meet Mrs Rosevelt lipstain, Blond But Brow'd;
Essence: Make It Golden, Hard To Resist nail polishes, French Forever stickers, 2in1 volume mascara, liquid eyeliners, I Love Stage esb, Turn To Lucky tint, Denim 4.0 quattro, Yea Eye Can! eyeshadow.
As GFC is retiring on Parokeets blog Google+ and newsletter subscription will be replacing it. The choice is yours – choose the one you like the best. And if you pick both options – you get additional entry. If you don't pick one, your entry will be deleted.
For in depth rules please read Rules – giveaways on Parokeets blog post. All the additional entries will be available in this giveaway.
Giveaway is now CLOSED.