This is one product you probably heard me mention quite a few times. I bought black Alessandro Go Magic! Crash Coat as part of the as part of the Royal Crash set almost a year ago and it is still my favorite black crackle … in category "huge cracks".
I bought few other black crackles in the meanwhile, but I alway turn to this one when I'm cranky and want to have perfect black crackle (for my taste of course). Problem is that I have only 5ml bottle, so I was saving it for those special occasions.
Now they added 10ml black Alessandro Go Magic! Crash Coat to their regular stand.
From what I can see, it's similar formula as in Royal Crash set. So the polish cracks really well, is easier to apply because of the bigger brush, and it doesn't chip so I don't have to use top coat over it as I prefer the matte finish. Do shake well before you use it.
I applied Crash Coat over eight Alessandro shades – from yellow to purple-gray.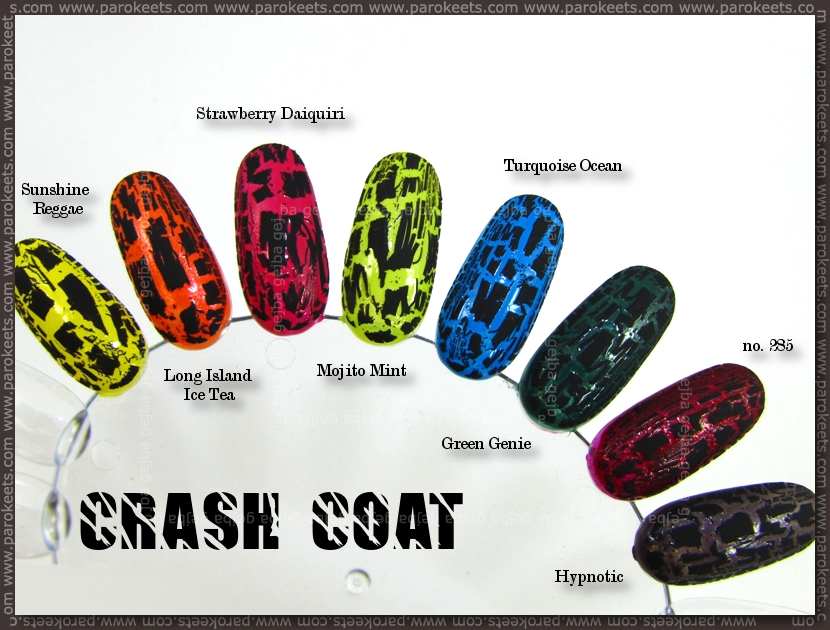 All that rainbow reminded me of the sun and one of those fruity ice cream sticks that go from the yellow through green to orange on the top. So I layered Sunshine Reggae, Mojito Mint and Long Island Ice Tea (yeah – I miss the warmer temperatures ) and then added Alessandro Crash Coat over it. Not very photogenic combo, but it looked really yummy in real life. One thing you really should keep in mind is that this crackle is very strong, so you have to have pretty dry manicure (if you're doing this kind of manicure) if you don't wish for the Crash Coat to rearrange colors a bit.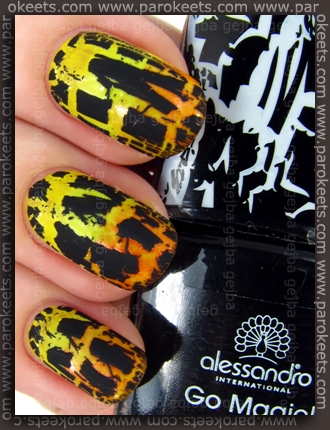 Price: 9,95 EUR (13,7 USD) for 10ml (0,36 fl.oz.). I know – not cheap.
How do you like my mani? :D
*Polish was sent to me for review purposes.