We were nominated by Moonchild for The Versatile blogger award. I rarely write this kind of posts. Mainly because I don't have enough time for everything that I would like to do and I prefer writing posts about cosmetics. So the tag posts stay unwritten most of the time. But today I'm feeling adventurous and I thought it would be fun to write a tag post from time to time.
Thank you, Moonchild for the award!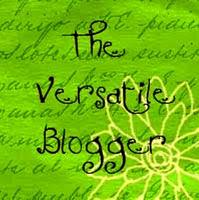 The rules:
Thank the person who nominated you, state 7 interesting facts about yourself, and nominate 15 of your favorite bloggers. :)
7 facts about myself:
I love drinking tea. I drink all kinds of tea. My least favourite is black tea though.
I like watching TV Series. Right now I'm watching White Collar.
I like going to the cinema. Last movie I watched was the Sherlock Holmes: A Game Of Shadows.
I love animals. I have a cat and three aquariums with fishes. My parents have ducks, hens … I love them all! I could spend hours just watching and photographing animals.
I used to be a cheerleader in high school.
I would love to learn how to draw (well). Not so long ago I bought a bunch of colored pencils … well see.
The obvious things: nail polish, make up, photography … My sweetheart said that these are the things that define me, that's why they just have to be on this list.
I wish there was more written what this award is all about, so it would be a bit easier to nominate other bloggers. Well, I nominated the ones I like to read and the ones I think are versatile.
My nominees for the versatile blogger award:
femketje
Nicole
Shaina
Biba
KrvavaMeri