I was really hoping I would have time to go to the store and take a look at the whole Alessandro Track Me limited edition once again to see if there are any other interesting shades available. But as it looks like I won't be going anywhere near the Track Me stand for few more days, so I guess I better just publish the nail polish swatches that I have.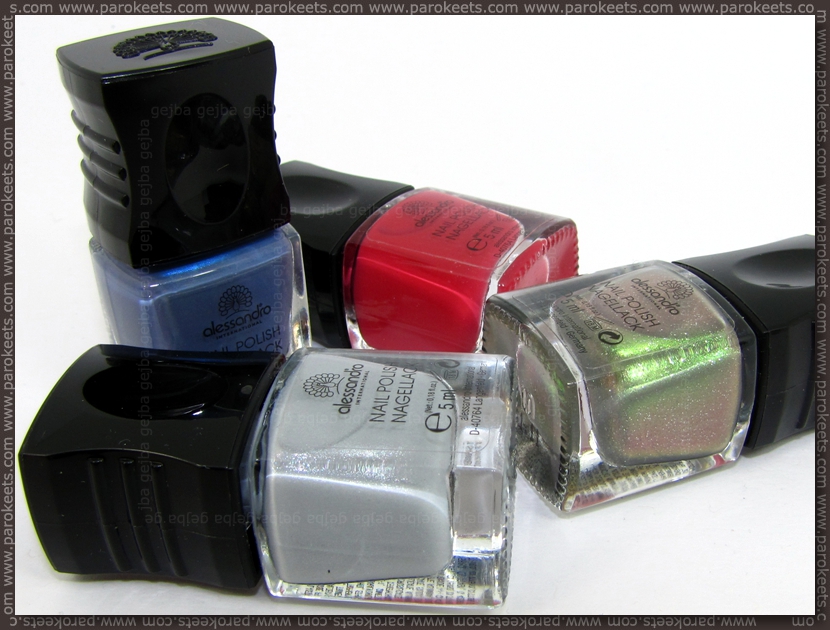 The star of Track Me LE is without the doubt Clubbing Reflection nail polish. Now this green-copperish duochrome with silver glitter is so unique and interesting that I just had to love it. I used 3 coats for the swatch because duochrome effect is more and more visible with each additional coat. But nothing beats the application over the black base as you can see in Alessandro Track Me video.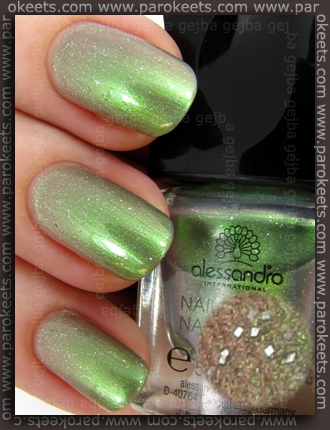 Alessandro Blue Marine is another interesting shade. It had purplish gray base and lots of bluish shimmer. You can see purple flashes in the polish, but since shimmer is really fine I can not tell if purple tones come from very slight duochrome effect or they added little bit of purple shimmer. This shade also looks better applied over darker base. Brush strokes are slightly visible. I used 3 coats + top coat.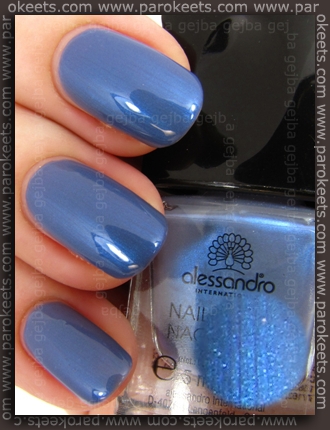 Alessandro Grey Shatter is light gray shade with lots of tiny multicolored shimmer. I liked the formula a lot – smooth and nice to apply. 2 coats + top coat.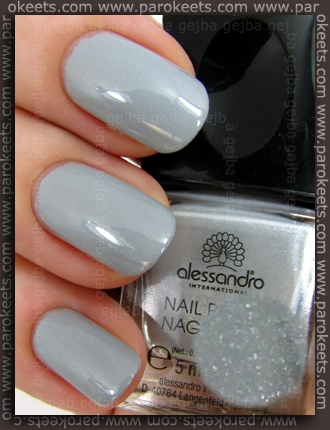 Alessandro Red Tango is pretty but I would say more pink with lots of red than red shade. Red Tango has even better formula than Grey Shatter – if you're skilled with a brush you can get away with one coat. 2 coats + top coat.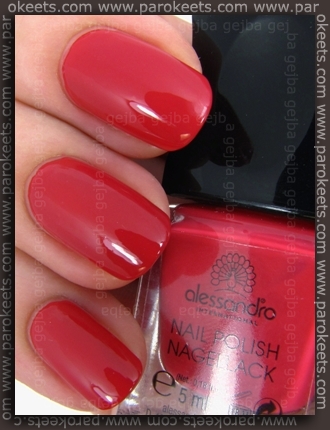 First chance I get, I'll check rest of the available shades in Alessandro Track Me limited edition. I caught something shiny on the stand and I'm curious to see how pretty is that polish at closer inspection. :D
Price: 4,95 EUR (6.5 USD) for 5ml (0,18 fl.oz.) nail polish.
For the end – YT video with nail wheel swatches and my ramblings.
* I received all shades except Clubbing Reflection for review from Alessandro Slovenija