Catrice Nymphelia limited edition is out! At first inspection of the stand I bought 3 nail polishes. Brown one wasn't that special and I already have Rambo No. 5, so those two I left in the store. I was sooo sad that all the blushes were sold out … and I wouldn't even want it that much if Maestra didn't say how lovely the tester looked on me. But my darling came to the rescue and sacrificed part of his lunch hour to go to the store where it was still available.
Catrice Be Pool was the first shade I tried out and first time I used new brush. You can see how that went in Catrice Nymphelia video. :D It was kind of stressful moment for me – can you imagine how disappointing would it be if one of your favorite brands switched brush to something unusable? Thankfully Catrice didn't go overboard with width, so the brush is still OK. Maybe those of you with smaller nails will have to switch techniques, but as far as I can see majority of "non-polish-addict" users prefer one (2 max) stroke application anyway.
Be Pool is limited edition color, so if you love this gorgeous blue-green shimmery nail polish, now is your chance to get it. I used only one coat of base coat but there was no staining whatsoever. Will be reaching for this shade again.
It seems to me that Catrice changed their formula – polishes are not as thick as they used to be … at least those nail polishes that I tried so far. First five nails were little bit awkward to apply (I'm sure camera in front of me had nothing to do with it … yeah right), but then application went smoothly. I used 2 coats + top coat.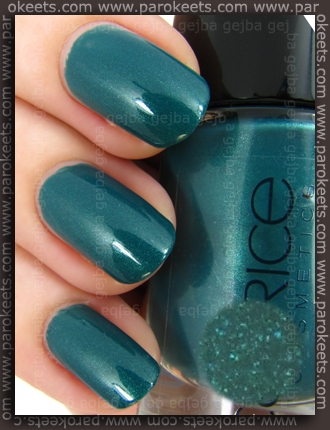 Catrice Fred Said Red has even thinner formula than Be Pool. This pretty warmer medium red will be part of regular line, so no rush to get it in this limited edition. VNL is still visible after two coats, but if VNL does not bother you – 1 coat can be enough for nice application. I flooded my cuticles twice as I kept expecting thicker nail polish. Shame on me. 2 coats + top coat.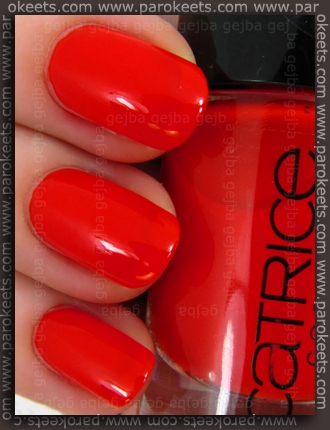 I apologize in advance for disastrous swatch of Catrice Salmon&Garfunkel shade. This nail polish looks to me like nude apricot shade. Do keep in mind that it looks slightly darker on nails than it does in the bottle. One moment this shade is a little more on pinkish side and other on orangey one. Of course my camera saw it as heavy duty orange and when I tried making photo with camcorder it came out completely pink. fail. This polish look a lot prettier IRL. Most realistic color is shown in video at the end of the post. Color as shown on the photo is the one I see under artificial lighting (but less on the orange side). Application was pretty nice for almost pastel like nail polish. 2 coats + top coat.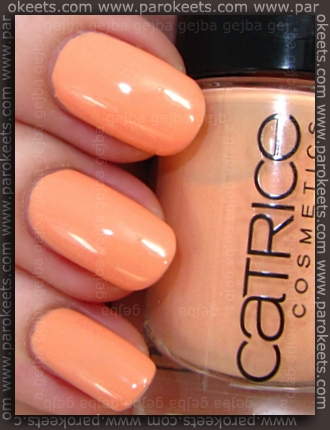 Catrice Nymphelia LE Dancing Nymph marbled baked blush is also available only in this limited edition. I'm not a huge fan of shimmery blushes, bronzers and highlighters, but I like this blush. I can't really see any shimmer on my face, more of a glow … but then again I have no idea how will Dancing Nymph look like in sunlight … hopefully not to shimmery. Brownish-orange color is perfect for me (I have pale, yellow to neutral skin-tone). I like the fact that blush is appropriate for those of us who are blush shy, but at the same time buildable for those of you who want more color.
The second time I stood in front of Nymphelia stand, I bought Have You Seen Alice? Intensif' Eye baked eyeshadow. I liked both eyeshadows, but as they're not that cheap I decided to get greenish-blue shade with pretty dark base. I applied it over Rival de Loop esb and it turned out as dark as you can see on the swatch. On the eyes I applied it over Essence It's A Snow-Woman's World liquid eyeshadow and it came out a lot lighter.
Prices:
10ml (0.33 fl.oz.) of nail polish – 2,59 EUR
6.3g (0.22 oz.) of blush – 4,69 EUR
0.8g (0.028 oz) of eyeshadow – 3,99 EUR
Video review:
Have you tried new Catrice nail polish brush? Do you like it more or less than old one?