I got two duochrome nail polishes from Misslyn Peacock limited edition. Chameleon because I wanted to compare it with Chanel Peridot and Leguan which I liked the most. Maestra already wrote very detailed review about Peacock collection, so I won't go into the details.
Just wanted to show you my current manicure – Misslyn Leguan (no. 729) layered over Color Club Where's The Soiree.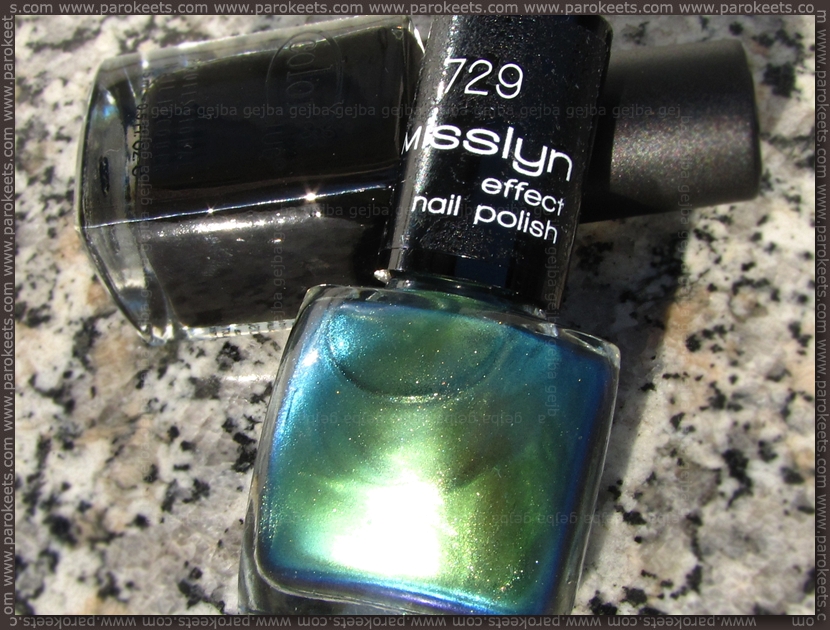 Effect itself I love, but I have few grievances with this manicure. First – Leguan is way to frosty and opaque for layering … for my taste of course. Maybe the manicure would be more to my liking if I used 2 coats of Leguan, but even one coat wouldn't dry (with fast drying coat) so I was hesitant to apply second coat. But with such a strong metallic/frosty effect, I'm not sure I would have gotten better result. I'll have to try this nail polish over dark green base to avoid the harshness of black base and in different formula to see if the slow drying time was caused by conflict with Where's The Soiree nail polish.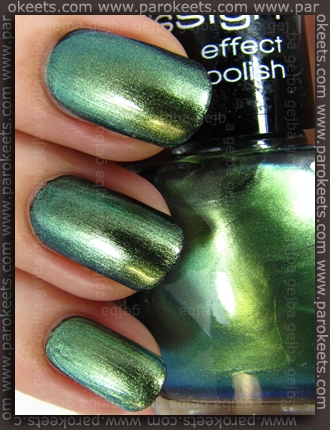 Anybody tried layering Leguan over Misslyn black nail polish? How was the drying time?