Since the flu is almost completely gone and I'm feeling much better, I think I'm ready to write a little something about beauty related things again. Today Avon is on the menu. Are you excited?
If I'm not mistaken I got Avon's Glitz & Glam make up palette for Christmas. The color selection is very nice. Purple and gold look very chic together. What I really like about this palette is that there is a blue toned and also a red toned purple in it. That way the palette is more versatile. I don't think this palette is still available …
What I do not like that much about this palette? The eyeshadows are hard and the color payoff is not awesome. It's OK, but not very impressive. That's also why I haven't even given this palette a proper chance to prove itself. Until a couple of days ago … when I tried it properly (over an eyeshadow base). And you know what? It's better than I thought it would be. But still, the eyeshadows are too hard for my liking. Here is the make up that I've done using only the Glitz & Glam make up palette.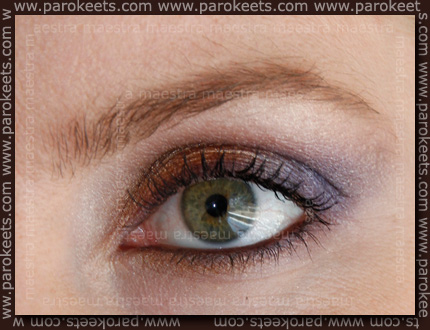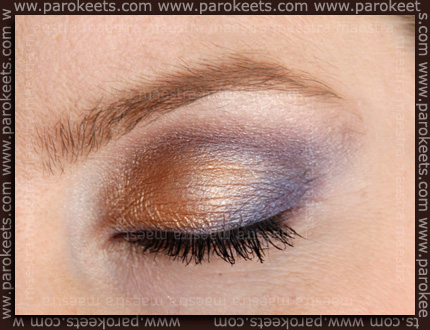 To compliment the make up I painted my nails purple using the Avon's Violetta Sparkle nail polish, which is a dark purple polish with gold tiny flakies. I love how the dark purple and gold sparkle look. The application didn't cause me any troubles. There are two coats shown in the photos below.
That's it for now about Avon. As Gejba already mentioned, that we were contacted by Avon's representative to review some of their products. So you'll read more about Avon's products in the future. I decided I'll test some of their foundations. So far I only got testers to choose the proper shade for me. I took a photo of all the shades that I got …
… and that's all I can "say" about it at the moment. I'm still waiting for the full size products. When I get them … let the fun begin!
What do you think about the Avon's foundations or their eyeshadows?
And one last (not make up related) photo, because I've been there not so long ago …
Mostar, beautiful city in Bosnia! That's all I have to say today.