I was searching for Catrice Heavy Metallilac for some time and finally snagged it couple of weeks ago. I was curious to see if the nail polish is really as special as everybody claimed … and I wasn't disappointed.
With my stash of purples and violets it's hard to impress me, but I loved this shade. Main draw with Heavy Metallilac polish is for me the way warm and cool colors blend, violet and purple mix … Application was nothing special, but as with any metallic nail polish you have to watch out for the streaks. I used two coats + top coat. Poshe top coat was obviously not the best choice as it shrunk the polish quite a bit. Or maybe I used it at the "wrong" time. I was hurrying with application as we were already late for picnic, so …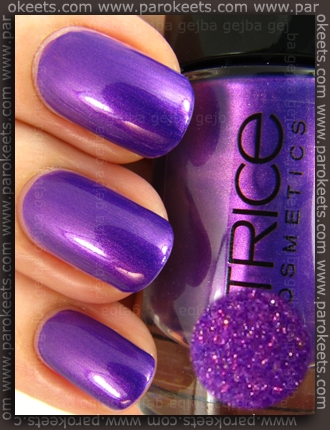 I added Finger Paint Twisted on my ring fingers. Here is (not so great) detail of the combo.
For the end – few of the photos from the picnic … first we got stuffed and then went for a walk.  :D
Happy Easter for all of those who are celebrating.