I'm into coral shades lately. I must be as I lost count of how many of them I wore in the last few weeks. Catrice Pimp My Shrimp is gentle coral shade which I love mainly because it's not overpowering color – not too orange or pink – so it was perfect for the experiment I had in mind.
Application was nothing out of ordinary, consistency is not too thin or thick, so thumbs up for the formula and 2 coats are enough for full coverage. I guess I don't have to tell you that this is creme finish.
As much as I love to wear corals I hate taking photos – they always looks either to orange or pink. In reality color is not as washed out as in the photo, but as I'm not master of color touch ups, this was the best I could do.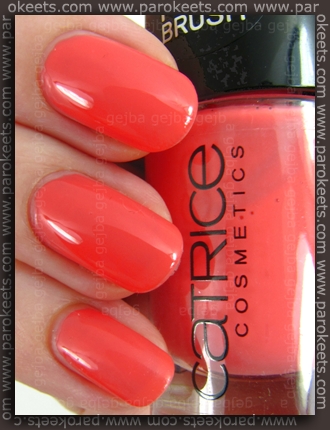 Essence Studio nails 24/7 nail base
For the last month or two I've been using Essence Studio nails 24/7 nail base and so far – I love this base coat. I have noticed longer stying power, less staining and my nail are firmer. I don know if this base coat will work out in the long run (my nails tend to get too hard and start splitting if I use too much of "firming" nail polish) when used alone, but in the worst case scenario I'll still be able to use it for every second manicure. I prefer matte finish in my bases and milky white-ish color is always a plus, so this one is like dream come true for me. :D
I chose Pimp My Shrimp shade as a test color in combination with 24/7 as base coat and Poshe fast drying top coat. I can not believe that after wearing it for whole week to test the combo, I forgot to take photo of the result.
The conclusion was: I had slight tip wear next day that remained almost the same throughout the week. We had picnic on the day 7 and nobody noticed that manicure was not perfect (nail growth was already showing it's teeth tough) only that it matched my T-shirt. :D
Anyone else tried out Essence 24/7 nail base? How do you like it?