If you love scented nail polishes and hand creams, then latest Alessandro limited edition called Ice Cream Bar is something you should check out. You can choose from 4 different scents (matching ones for nail polish and hand cream): Vanilla-Milk, Mango-Papaya, Lime-Vanilla, Strawberry-Mint.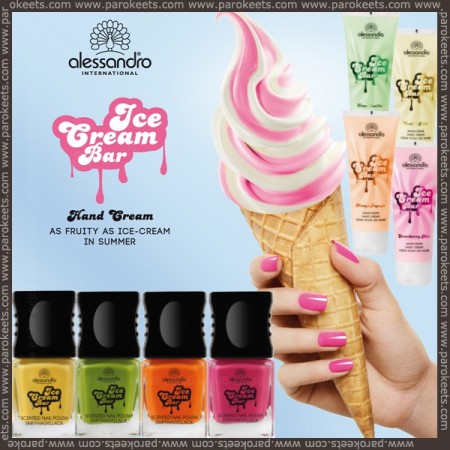 I loved the ice cream on the promo photo (it brings back lovely memories from childhood), but I was skeptical about the scent thing. I seriously dislike nail polishes with strong almost perfume like scent … and almost all I have tried so far, had that sort of smell. I know most of the women love scented things, but I'm not among them.
You should have seen how careful was I to open the bottle and first smell "wet" nail polish. Fju – nothing overly sweet came out, so I proceeded with the application. First thing I noticed was the fact that scent is not overpowering. It's more fresh and subtle fragrance, with hint of sweetness. The closest thing I can compare it to, are some of the fruity softeners.
I swatched and reviewed: Mango-Papaya and Lime-Vanilla nail polishes + Strawberry-Mint hand cream.
Alessandro Mango-Papaya nail polish was the first one I tested. Color is very nice slightly washed out orange shade. This one had slightly "fruit candy" smell … but the sweet note was not really pronounced. Polish is darker on the nails than in the bottle. Formula was on the thicker side and easy to apply. I used two coats and noticed that these nail polishes dry little bit faster than usual formula.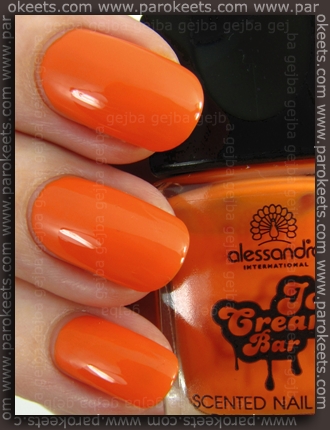 Alessandro Lime-Vanilla is muted yellowish green shade. I can't say this is my kind of green. Formula and application were same as with Mango-Papaya. I smell more lime than vanilla, but it's not aggressive scent, so I guess vanilla does play some part in it. :D 2 coats + top coat.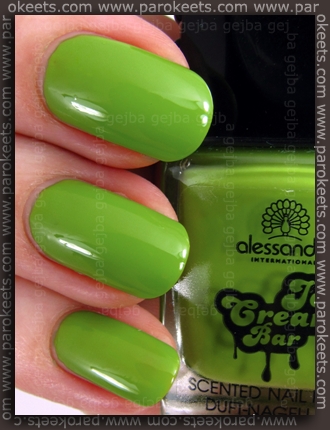 I had very specific plans for Mango-Papaya, but image from Bundle Monster 201 plate (again) refused to cooperate so lost the will to proceed with planned mani. I love that image but it's *beep* to transfer onto the nails intact: a) if I roll it or b) center if I press it. I'll have to work on this image as I like it too much to give up. :D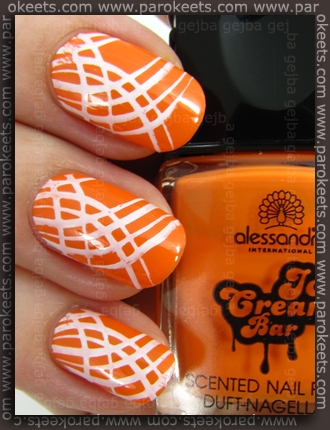 Lime-Vanilla was selected for newspaper nail art technique … OK, little bit modified one. I don't really keep spirits at home and I ran out of the ethanol for medicine purposes, so I used spray-on hand sanitizer to "soften" the nail polish. I used one with isopropyl (rubbing) alcohol. It's really not good to inhale that stuff, so I went outside and sprayed the alcohol onto my nails (skin was protected with oil), waited for 30 seconds and then repeated the process. Then I applied piece of newspaper over the nail and pressed it down. I was in a hurry so managed to unevenly spray (who knew such thing was even possible ) the alcohol over some of the nails … shiny bits should have been dead giveaway that alcohol didn't do it's job all the way. I let it dry and then applied top coat over the manicure.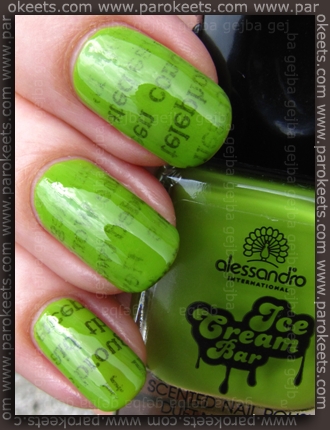 Alessandro Strawberry-Mint hand cream has very light formula with sodium hyaluronate, macadamia oil, aloe gel … I used only smaller amounts of cream as it contains glycerin, but the effect was still moisturizing and slightly nourishing. It absorbs pretty fast, but leaves very fine film. Color is light pink and smells like strawberry candy.
Price:
10ml (0,34 fl.oz.) nail polish – 9,95 EUR
75ml (2,54 fl.oz.) hand cream – 12,95 EUR
Which of the four scents/colors intrigues you the most?
*I received items for review from Alessandro Slovenija