In the past year or so BB Creams are becoming the next big thing. It seems that every company is putting its own BB Cream on the market. If you are new to BB Creams or you do not know, what a BB Cream is, HERE is a link to a short description of BB Creams. I liked the idea of BB Creams, so I tried two of the affordable ones that are available in Slovenia – Garnier – Blemish Balm and L'Oreal – Nude Magique.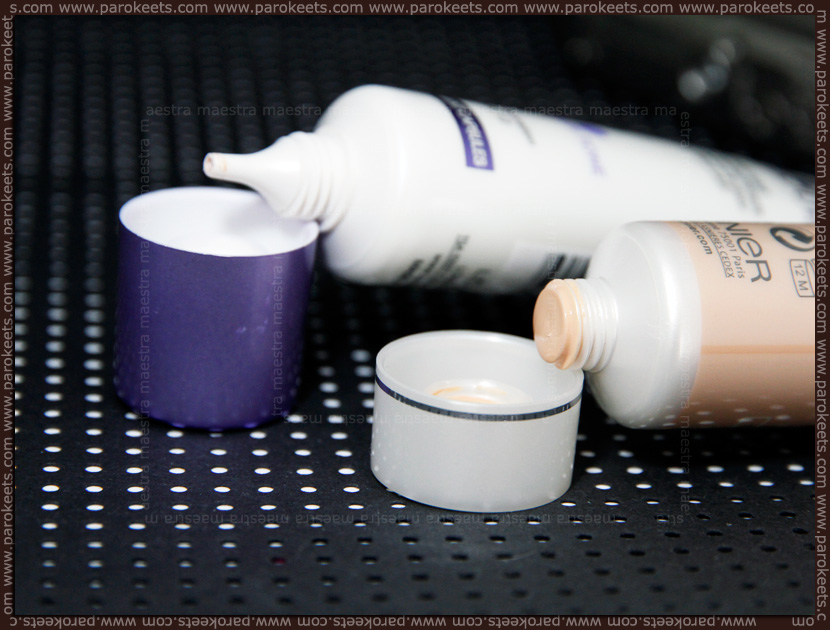 After a couple of days of using the products I can write my first opinion about these products.
Garnier – Blemish Balm (in Light for combination to oily skin)
SPF 20, 10€, 40 ml of product.
Light, liquidy cream, that covers surprisingly well (light to medium coverage). Although I have normal to dry skin, this product isn't drying on my skin. Actually my skin looks greasy and shiny after just one hour of application, which I think it's funny, because I have normal to dry skin. Application is easy with fingers or with a brush. My complaint is the alcohol denat, which is third on the list of ingredients. And you can clearly smell the alcohol when you are applying the cream. Another complaint of mine is the packaging, which is a tube. I would prefer a pump or at least a much smaller hole. This stuff is very liquidy and it's very easy to get way too much product out of the tube.
L'Oreal – Nude Magique Bb Cream (for fair skin tone)
SPF 12, 12€, 30 ml of product.
This product is interesting, because of the way it looks in the tube. The cream is white and it has tiny dark spots in it. At first it looks like some kind of scrub or something. But the tiny black spots are actually "smart pigment capsules to correct tone, cover imperfections and refine skin structure". The capsules react with skin contact (or with rubbing). I thought this is interesting concept.
In comparison to the Garnier BB Cream this one gives you less coverage. I'd say it's light coverage. The finish is more matt and it stays matt for quite some time.
Some comparison photos.
Straight out of the tube.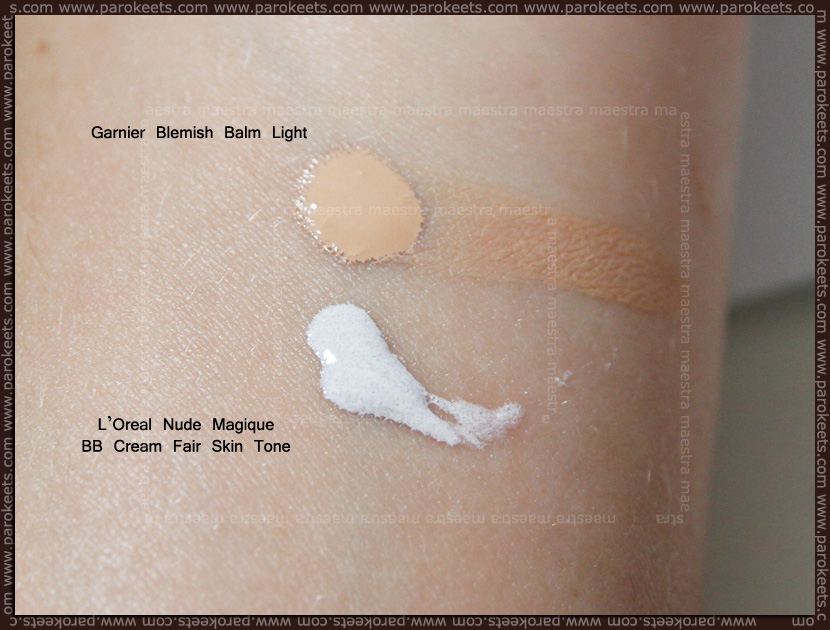 Blended.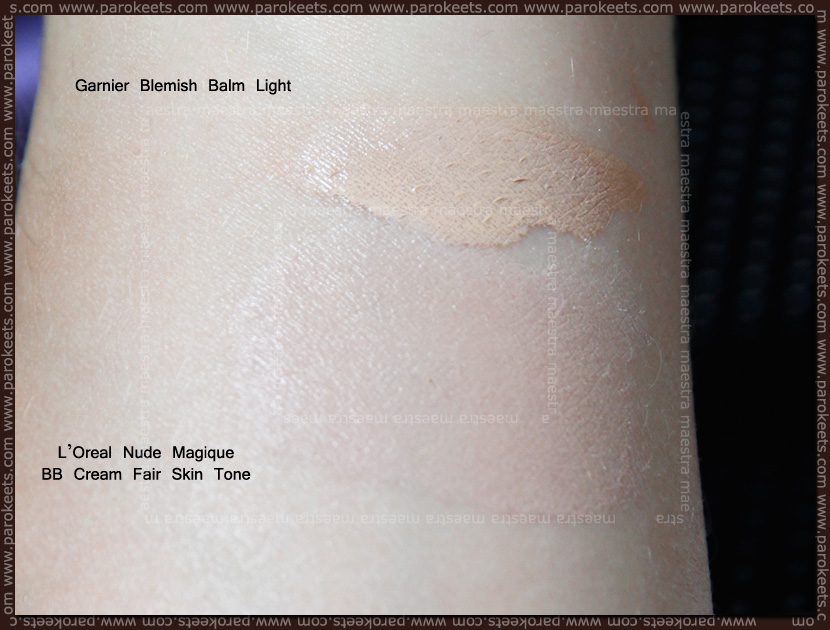 On the skin.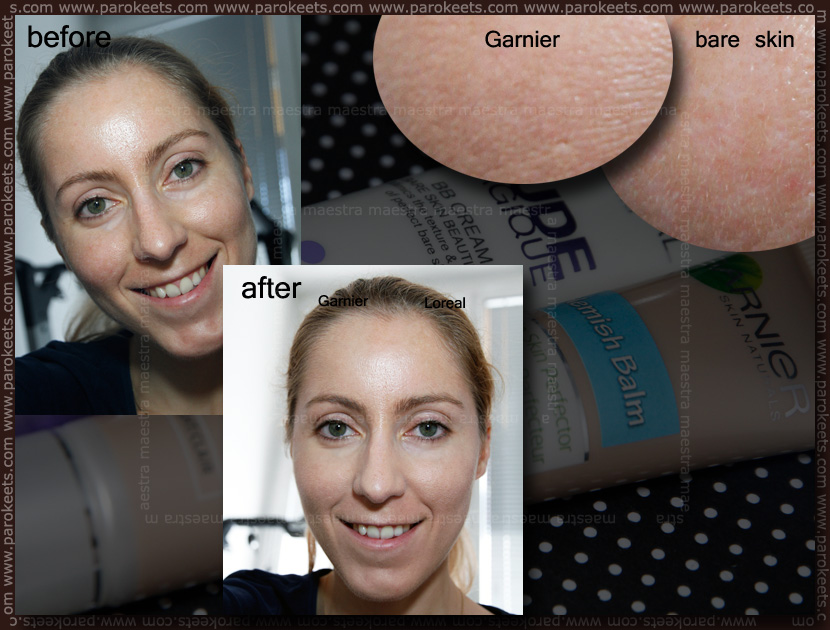 Ingredients.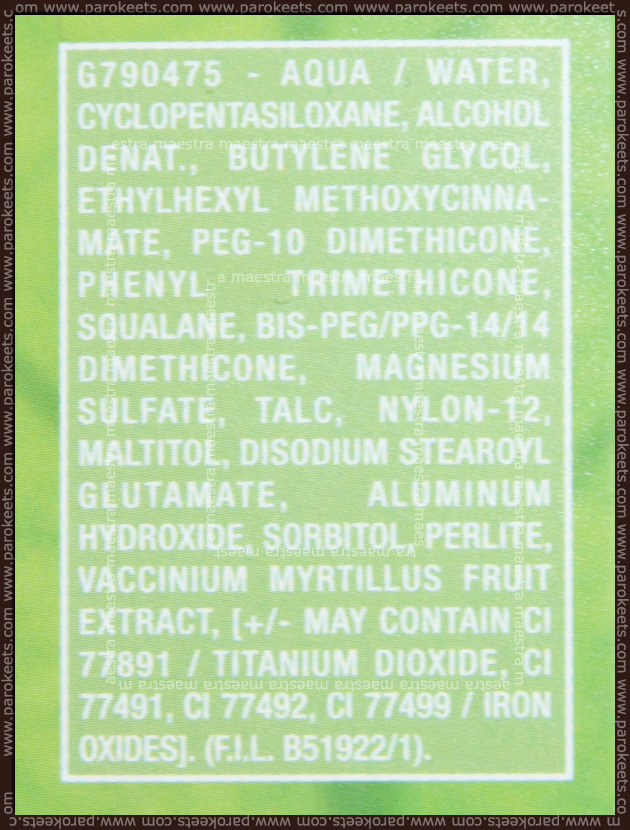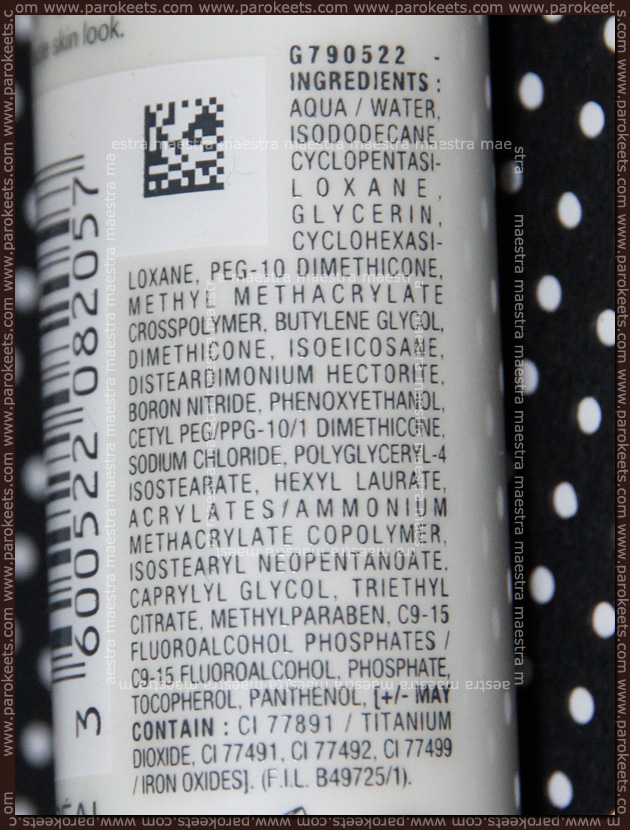 All in all I think both BB Creams are nice. If I had to choose I'd choose the Garnier one, because it looks slightly nicer on my skin and it is cheaper, but the L'Oreal one has also some advantages (packaging, finish).
Now I'm curious if you have ever tried these two BB Creams and which one do you prefer? I'm also interested if you are a fan of BB Creams and which one is your favourite?