New Deborah Pret A Porter 2012 mini nail polishes finally arrived in Slovenia. You may remember from last years collections that I loved Deborah mini nail polish collection – they have great colors, formula is OK … So it's no wonder that I was really anxious to see 2012 shades.
This time Pret A Porter minis coincided with lots of other interesting editions, so I got only two. One nude and one purple shade.
I'm still searching for THE nude nail polish and gave a go to Deborah's Get The Nude Look. I saw that undertone was not perfect, but I was hoping for at least passable result … no such luck. Formula was good and so was application but the color washes my hands out. Funny thing is that this polish varies between grayish cast to the yellowish one and neither looked good on me.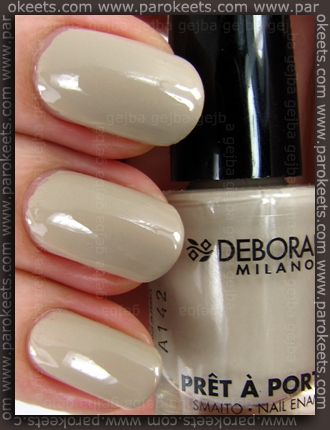 Deborah Purplish is a "must have". Rich purple shade filled with holographic glitter in different shapes. Application was fine, decent coverage after 2 coats. I hope I managed to capture the essence of this nail polish in the photo, but it had to be little blurry to achieve that.
Price: 2,40 EUR for 4,5ml.
Which of the 25 new shades is a must have for you? I would like to get few more, but am overwhelmed by all the new nail polishes surrounding me.