Sorry you had to wait little while longer than usually for winner of our Essence Braking Dawn giveaway … job of sorting everything was long (and boring ).
From 176 entries for Essence Breaking Dawn nail polishes random.org chose number 131 …
Congrats, Tweedledee!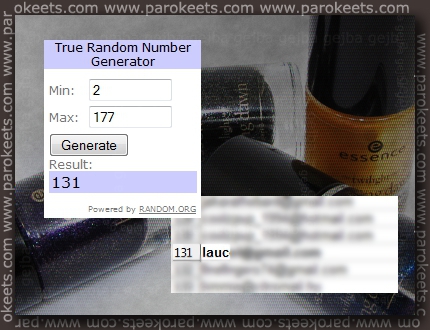 I'll just quickly go over few questions:
– the only way to enter is through our giveaway application/form whatever you wish to call it
– yes, you still get 2 extra entries if you write (link + photo) about our giveaway in your current post (no need to make one exclusively for our giveaway if you don't wish to do so). Sidebar also get two entries.
– you can get 1 extra entry by publicly posting anywhere on Internet (everything except spamy sites is OK – we just have to be able to see it). That goes for G+ too (sharing of our G+ giveaway post is also fine). Pinterest – you can repin the photo I post on my Giveaway board. And the list goes on and on and on …
– as always you can contact us on Facebook, Twitter, by email … if you have any question/doubt …
Have a lovely Halloween if you're celebrating one.