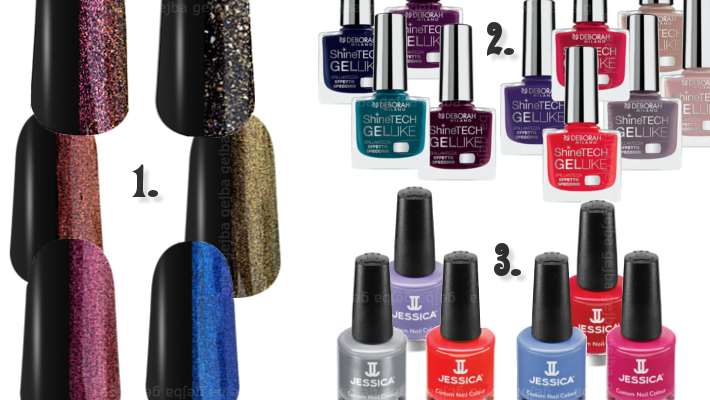 1. Alessandro – GO MAGIC! Effect Topping limited edition
Newest Alessandro limited edition Effect Topping will consist of 6 10ml toppers. I adore toppers (you probably remember my CND effects obsession ). Judging by promo photos I only dislike coppery one (and we all know how that usually turns out ).
Both top "sparkle" finishes look lovely, blue and gold one also look promising … Thankfully this LE will have testers, so no problems with wondering about application, color …
P.S. I love Alessandro byline for this LE – Pimp Your Nail Polish.
2. Deborah – Shine Tech GEL-LIKE
Deborah is bringing us whole new nail polish line called – Shine Tech – GEL-LIKE. As the name suggests, they're promising us gel-like look with high shine with great pigmentation, long staying power (with help of the new top coat), new brush …
We'll be able to chose from 10 shades that seem to be limited edition if I'm not mistaken. Peacock Couture is on top of my WL, but frankly, I see only one or two shades I wouldn't like to own.
3. Jessica – It's A Girl Thing limited edition
Guess which song inspired this Jessica LE. I'll give you a hint – just want to have fun …
I find it interesting that I like the cooler part of this LE more than warmer one. Silver, blue, purple look quite appealing to me.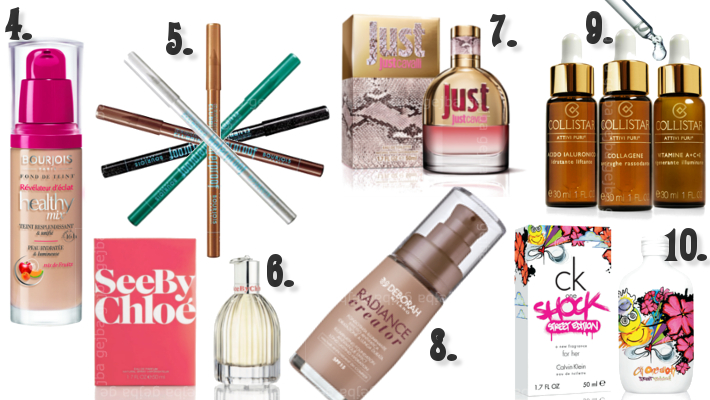 4. Bourjois – Healthy Mix liquid foundation – RELAUNCH
Bourjois is relaunching their Healthy Mix foundation. New bottle will be similar to their 1,2,3 foundation, they added some fruit extracts + they promise more shine.
I'm already testing new foundations and first impressions are good – new version works better for me than the old one.
They're also launching new BB foundations Maestra already wrote about.
5. Bourjois – Contour Clubbing Waterproof eyeliners
Last new product from Bourjois are new shades of Contour Clubbing Waterproof eyeliners. I remember Maestra liked hers, so I'll be checking them out. I just hope not all of them are good, as I like all the colors. :D
6. Chloe – See By Chloé perfume
Unfortunately I can't use perfumes, but as majority of our readers loves them, I decided to add them to "new in our town" posts.
From Chloe comes new fragrance classified as trendy, moderns and bold. Main notes are jasmine and ylang-ylang with secondary ones being vanilla and sandalwood.
It's available in 3 sizes: 30, 50 and 75 ml.
7. Roberto Cavalli – Just Cavalli perfume
Second fragrance coming to our shelf is Just Cavalli. Another floral scent, this time with neroli as main actor.
Who does creator envision it for? Young, playful and seductive women.
8. Deborah – Radiance Creator liquid foundation
Deborah will also be launching new liquid foundation – Radiance Creator. Fju – they're promising a lot: glowing skin, good staying power, moisture by hyaluronic acid, SPF 15 …
Once again the lighters shade is 00 Ivory (yes, I have yellow undertone) which is my shade in Comfort Mat line, so I'm hoping I'll be able to try out this one too.
9. Collistar – Pure Actives serums
Collistars new Pure Active serums are the only thing I added to the list. Why? I must admit I'm seriously intrigued by their promising simple formulations (I'm judging by their description as INCI list is not added).
For those of us with allergies, simple formulations are holy grail – way less chance to get reaction to this kind of products. Other major plus – simpler formulas have proven themselves to be a lot more efficient than those with lots of different types of active ingredients.
Serums will be available in 3 versions – collagen, hyaluronic acid, A+C+E vitamin mix. My WL would go like this:
– vitamin mix (C and E combination proved to be successful one, wondering if vit A will be in form of the "acid" version)
– hyaluronic acid (mooooisture for my poor dehydrated skin)
– collagen (not so sure how collagen is efficient when used topical, so I'm putting this one last)
10. CK – One Shock Street Edition (for her) eau de toilette
Tangerine, bergamot with sweeter notes of prune + dark chocolate … I'm imagining the smell in essential oil combo and it smells great. :D
This one comes only in 50 ml bottle and guess who it is meant for? Yup – fun and modern … for young women.
---
If you could pick only one product – which one would it be?