I received 3 of Alessandro Sweet, Sweet Flowers LE nail polishes few weeks ago, opened the box and started to drool over pastels. After few minutes I wondered if I should go check my temperature, put them on my swatch table and let them rest for a while.
It's really weird that I actually started liking pastel shades. I always found them to be useful as nail art base, but they usually strike me as to pale/cool to be worn by themselves. I'm blaming the winter weather we're having this spring for my sudden craving for pastel shades.
Alessandro Sweet, Sweet Flowers LE is inspired by the 70's and combines soft pastel shades with bolder and darker colors. I have 3 pastel colors to show you – yellow, gray and purple.
First one I had to try, was Alessandro Sunny Glow – pastel yellow shade that brightened one of the foggy days. It's yellow and pastel, so don't expect poetry like application. On the other hand it was easier to apply than most of yellow pastel nail polishes. 2 coats + top coat.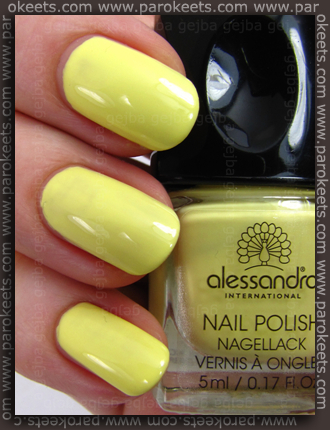 Next one was Alessandro Grey Sparkle. I don't really get the name, but it is one of the prettiest light creme gray shades in my collection. It doesn't look off on me and is lovely base for nail art experiments. Application of this one was the best, pretty normal I would say. 2 coats + top coat.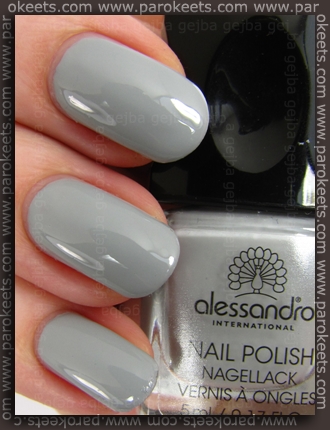 Last one I wore for a week … and I didn't even want to upgrade it with anything. So unusual for me. Alessandro Powdery Pastel is very light cool purple (almost pastel lavender) shade. Application was easier than with yellow shade and not as easy as with gray one. 2 coats + top coat.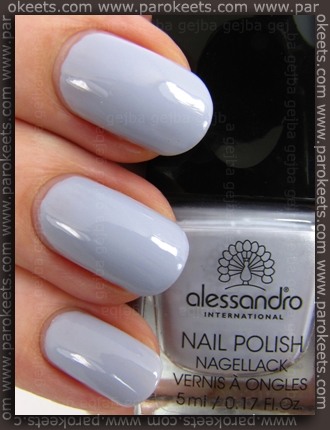 As I liked all 3 shades, I wanted to check out other 7 in this collection, but it's still not available in Slovenia. Judging from promo photos, light peach shade could be interesting, maybe even one of the pink ones … now I have to go put on green nail polish just to get out of this pastel funk.
And of course I have to mention that the face behind the look is Slovenian model called Natalija Osolnik.
[box type="shadow" align="aligncenter" ]See anything in this collection that needs to be yours? Or are you one of those saving all the pennies for Thermo Twist?  [/box]
*I received items for review from Alessandro Slovenija