I love it when weather is sunny and warm so I can go outside and take swatches without fussing about color correction … Warning may be in place – you'll be seeing more makeup swatches as I have to take advantage of great weather we're having. :D And as soon as my nails get back in order I plan to swatch some of my glitter/shimmer/holo nail polishes.
Today I took some time off to swatch Maybelline Color Tattoo 24hr cream eyeshadows. Maestra bought me 2 last year in USA, I got one in neighboring Austria and as we finally have them in Slovenia, I picked last two in my own country.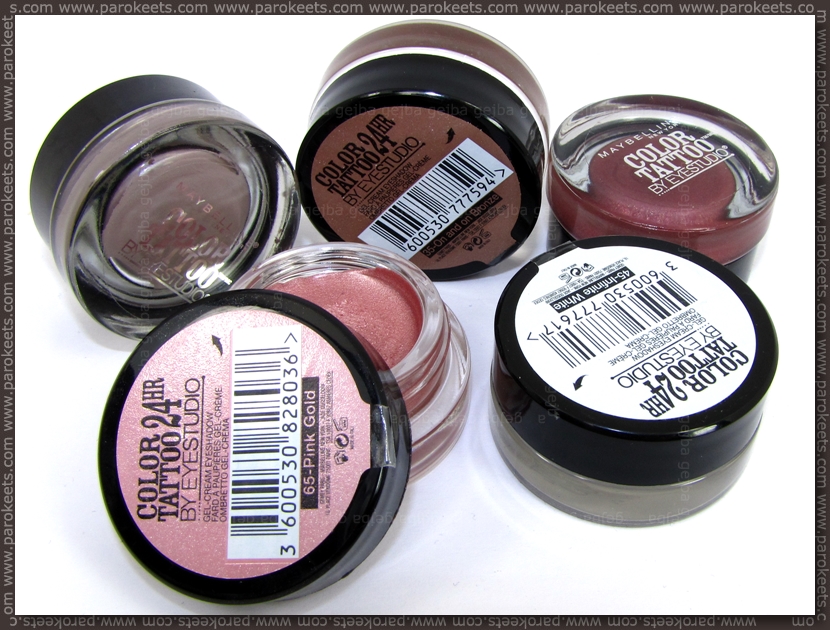 I have only one matte shade. It's called Tough as Taupe (USA shade that looks almost identical to European Permanent Taupe) and leans more to the cooler brown tones. Great color for shading eyes (and face), but it does not have as long staying power as shimmery ones nor does it work quite as well as secondary eyeshadow base. But I still love it and wish I had more of matte ones. Because even shorter staying power is better than with most of other secondary bases and I love using it under my powdery matte eyeshadows.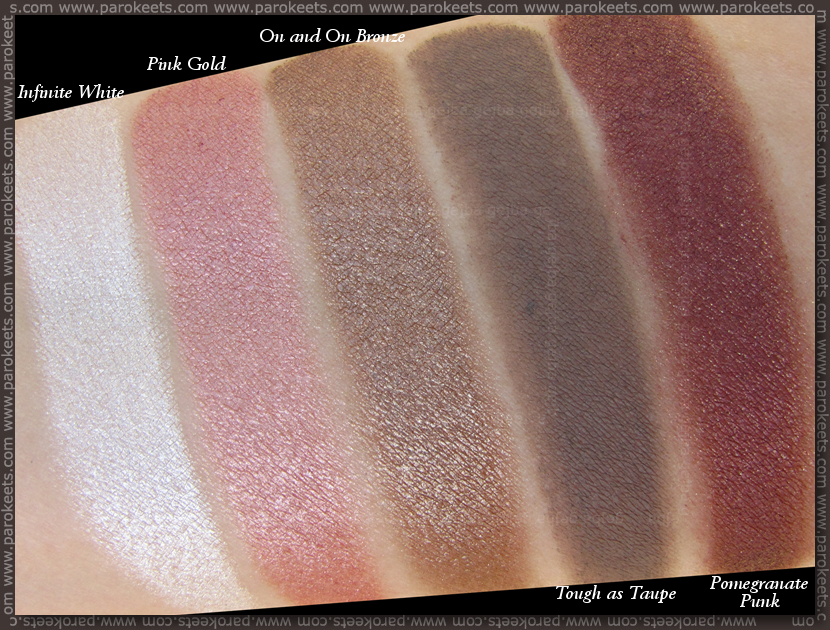 On and On Bronze in one of my darlings and most used color. Works great as base (secondary on extra oily eyelids, but can be used on it's own on other types of skin). Bronze color looks nice with my skin tone and works wonders for those with lighter eye shades. If there is neutral bronze shade, than this is close to it, as looks lovely on my friends with cooler skin color as it does on me.
As in On and On Bronze, Pink Gold and Infinite White also have almost satin like finish. I prefer Pink Gold of the two as it look more natural on me. It works great as a base – I especially like it under pink, peach and brownish eyeshadows. Infinite White can be blended into nice sheer shade for highlighting brow bone or little bit bolder white for inner eye corners. But I don't use it as much as pink or bronze shade.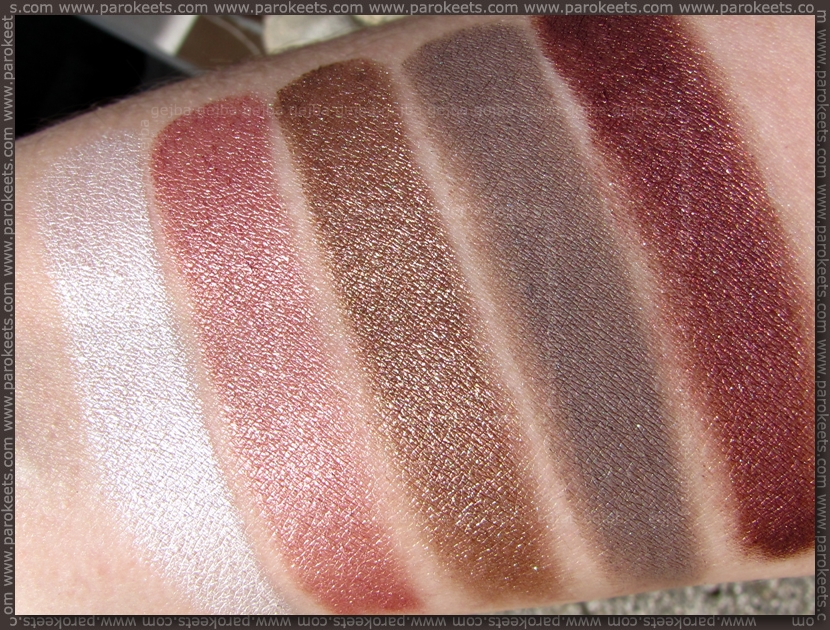 Pomegranate Punk (USA shade) is lovely dark purple-brown shade with gold(?) shimmer to it. Color it self if really pretty and makes eyeshadows pop, but I just don't use it as much as other shades.
Video review of the first 3 shades I owned:
Price in Slovenia: 4,95 EUR.
I sincerely wish they came out with more champagne satin like shades in their regular line and not just LE for USA market. I mean really, how many of you would say no to that kind of super useful shade?