Currently I'm not in the group of nail polish lovers who can stand to have manicure more than few days on, but in the last year or so I got many questions about semi-permanent starter kits in our drugstores that I had to share the cliff notes about the latest newcomer – Alessandro Striplac. Well – not really the same thing, but something in the same family of products.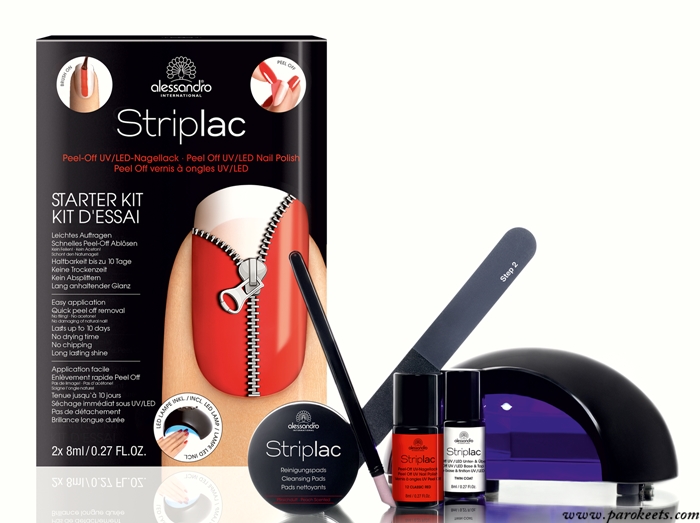 Let's start from the beginning – what do you get in Alessandro Striplac starter kit:
UV/LED light
1x Peel Off nail polish in "Classic Red"
1x Peel Off base and top coat
1x cleansing pads
1x 4 multifunction file
1 x cuticle pusher
How does Striplac work? Base and top coat are pretty self explanatory, but I personally was curious about the rest of procedure (bare in mind I never had close contact with any kind of gel or semi-permanent nail polish just heard about tons of layers). In essence you just apply color nail polish just as you would apply and other regular nail polish and put it under UV/LED lamp for 60 seconds.
The coolest part is removal – you peel it off! This is the part where I paused. If this thing really lasts on your nails for 10 day in perfect shape, does not damage your nails, is biodegradable and you can just peel it off when you get bored with it, then it might be worth investing in. I know 10 days is way to long time for me to have one color on my nails, but at the same time I envision months in near future that I'll be so busy I won't even have time to put manicure on. So something that lasts week or so could be interesting addition to my collection.
Color nail polishes are not cheap, but they do come in 24 different colors which means everybody can find something for themselves.
I don't know about your countries, but in Slovenia, we'll be having presentation of Striplac on 23rd of May. If time and health permit, I plan to go see this wonder and judge for myself if this is something appropriate for me. 100 EUR investment is not really small, so it's great that you can see for yourself if you and your nails like the product.
Has anybody by any chance tried out this set? If not – what are your thoughts about Alessandro Striplac?