Few weeks ago I was invited to I love… event in Ljubljana. As it usually happens with me, I had important meeting at the same time on the other end of the city. But trust me, if I had any wiggle room, I would prefer to sit in beautiful garden and enjoy in nice products than rotted in musty bureaucratic offices. And then I get photos of the event and I go AAAAAAAAAAA. :D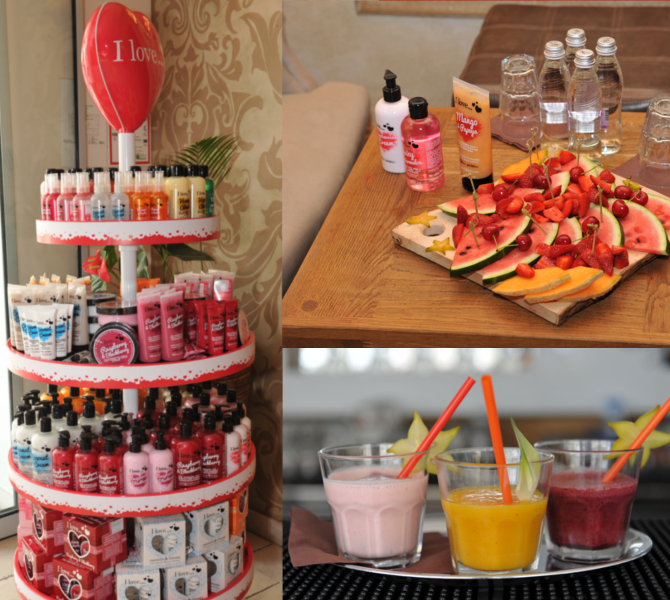 I love… brand had a makeover not so long ago – new design and fragrances were the heart of it. Their philosophy is based on a paraben free products with great scents and ingredients kind to the skin. Here are few of the new scents – Minty Choco Chip shower gel is already mine and Choca Mocha lala will definitively follow.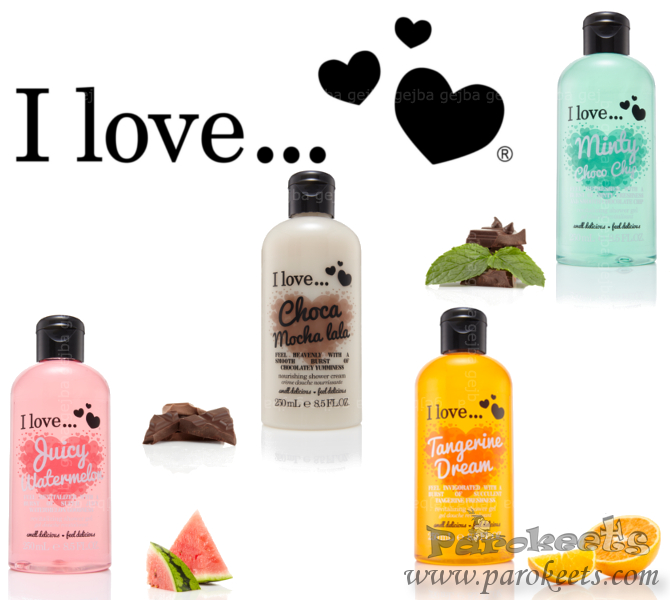 This is how my I love… collection looks at the moment: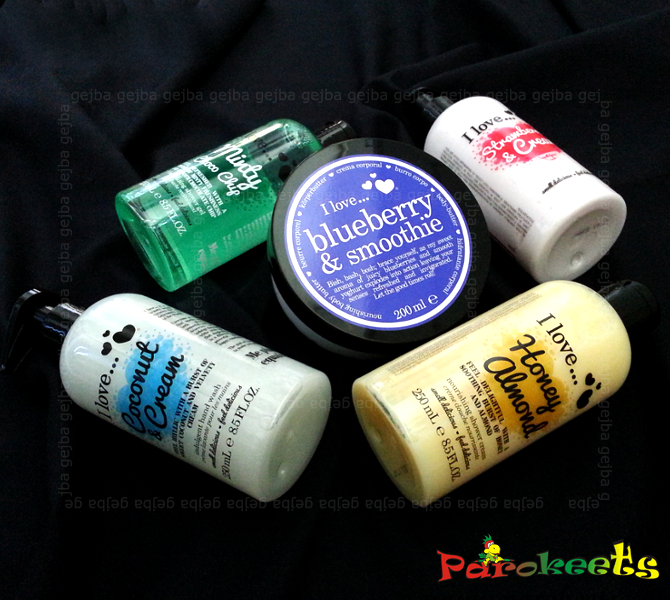 Minty Choco Chip shower gel is something I would recommend to all After Eight chocolate lovers. But beware – I start to crave chocolates minute I open the bottle. I bought this gel for my better half, but I too reach for it. Especially after long and sleepless night when I need something to wake me up … besides few cups of coffee.
I love… Honey Almond shower cream I like more though. To make long story short – I received this cream for review, but … I don't really like honey scent and I hate almond one. So it took me a while to test this product. Truthfully I don't really smell one of the other scent as being prevalent. If anything my brain is telling me this combination smells more like TIGI oatmeal something shampoo but in much less perfumed version. I like feeling shower cream left on my skin more than gel one. It's not that huge of a difference, but still, enough that I will first try out all shower creams and possibly bubble baths and then go onto gels. Funnily – I tried 5 different scents so far from I love… and Honey & Almond is my favorite. 
Third item that made it into my "I'll buy again" category is hand wash. I liked I love… Coconut & Cream most by description, so I went for the coconut scent. I have 2 demands from the hand wash – they can't dry out my hands more than necessary and I can't stand those artificial perfume scents … you know, those that you tend to associate with cheap. You can definitively smell coconut after washing hands, but the scent is not overpowering. Not really sure what cream is suppose to smell like, but I'm guessing I wouldn't really like it … good thing I smell only coconut after washing my hands, right? 
I only tried out other 2 products. If I reach for paraffin products it's always in colder part of the year, so they'll have to wait for the really testing. I like the pump in I love… Strawberry & Cream lotion but scent is not my favorite one. On the other hand I love… Blueberry & Smoothie body butter has nice berry scent with sweet note and I loved smelling that one on my skin. I would say that would be my favorite over the lotion as my skin likes it better – softer …
Here is how my shopping list for I love… products looks like: Raspberry & Strawberry bubble bath and shower cream, Mango & Papaya hand wash, Choca Mocha lala shower cream + lip balm. One of things I also liked were their gift packages.
In Slovenia prices go like this:
500ml bubble bath and shower cream in one 4,99 EUR
200ml exfoliating shower smoothie 4,99 EUR
250ml moisturizing body lotion 4,59 EUR
200ml body butter 5,19 EUR
250ml shower gel/cream 3,49 EUR
250ml hand wash 3,39 EUR
Available at: Beautique, Maximarket, Tuš drugstores, Ilirija (click2chic.si)
*Honey&Almond and Strawberry&Cream I received for review purposes, body butter I got as gift with purchase