One of the most requested posts in the latest FB giveaway were fall lipsticks and nail polishes. I started preparing both posts, but until they're ready, let's take a look at upcoming fall 2014 limited editions.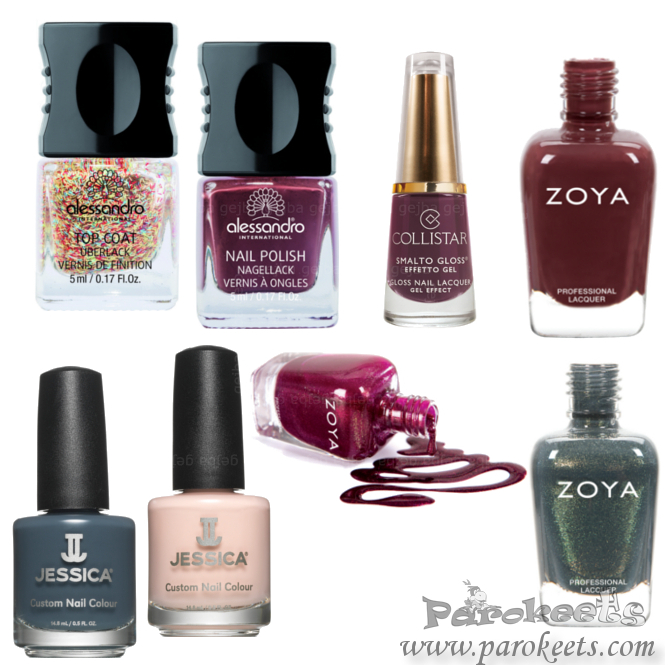 Alessandro Material Girl
From the look of it, Alessandro chose 5 creme nail polishes ranging from light pink, blue, dark purple. To spice things up, they added Feather Heart topper with colorful stripes.
Collistar Italian Beauty
Fall collection from Collistar is home to three new shades: Anna burgundy, Sofia red, Paola green. I think all of them are cremes. My deepest wish is that Collistar bring back shimmer/glitter beauties as Melanzana Glitter. It's not that I dislike their creme nail polishes – they are usually good quality and in lovely shades, but those older glittery nail polishes were simply epic.
Jessica Autumn in NY
Jessica decided to bring fall colors from New York with her Autumn in NY collection.Color palette ranges from gray, olive green to light pink. All in all pretty much classical fall colors in nail polish world.
Zoya Entice & Ignite
Zoya once again prepared sister collections for us – one in creme shades and other in sparkling tones. Teigen (spill) and YUNA drew me the most, but I also like half of the creme shades.
[divider]
Which of the fall limited editions won you over?