I went scouting last month. It seems to be "organic" cosmetics boom in my country, so I checked out "natural" lip balms. Majority was nothing write home about, but few stood out from average. Today I have for you review of the first one.
Burt's Bees bought me with its cute gift packaging. And this is not even the first time I bought this exact gift set. Trouble is I always think somebody needs it more than I do (good lip balms are really hard to find). This it the first set I finally got a chance to try out. I do find it funny that I always buy the same set – lip balm has great ingredients and cuticle cream is raved about all over the blogosphere.
Burt's Bees mango lip balm
This is medium hard waxy lip balm with well chosen ingredients. Only thing I wasn't crazy about is the (natural) aroma. But I gave up long time ago that users will turn away from scented and sweet tasting products. Just so you know, I blame you and not manufacturers. :D To be honest, I like the smell. Not a pure mango as it seem extracts give it a little bit of twist. This is the lip balm I currently keep on my working desk as it gives me little bit of energy boots. Not to mention my lips adore this lip balm. Big plus in my eyes is also satin and not greasy finish.
Feeling on the lips is not overly slick, greasy or sticky. I get slight tingly feeling right after I apply it, but it goes away almost instantly. I love the fact that it nourishes my lips and protects them from wind and cold. As the wax is not in the mail role here, lip balm won't turn rock hard on your lips when temperatures drop to "human unkind" numbers.
I suspect lanolin is the one responsible for long lasting protection against dehydration and elements. This fact pushed Burt's Bees mango lip balm in my top 5 category. I just love the fact I don't have to reapply it all the time (yes, Sahara dry lips need constant TLC even if you use lip balms with good ingredients).
Burt's Bees lip balms earned permanent spot in my lip balm collection. Next time I'll try out one of the other versions/scents.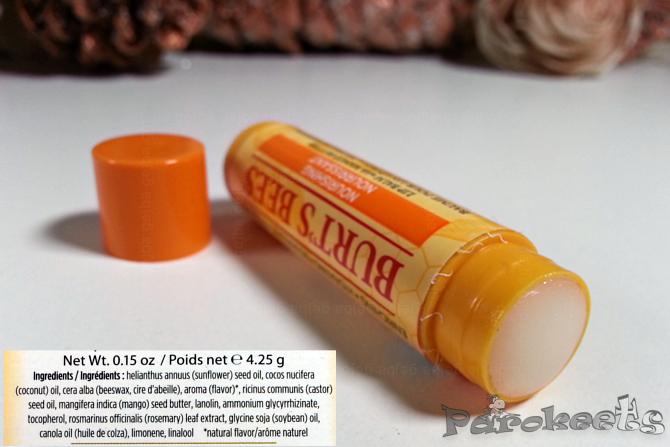 Burt's Bees Lemon butter cuticle cream
I still haven't finished testing cuticle cream, but I know enough to give you my first impressions. Like lip balm, cuticle cream too has great ingredients: wax, oils, butters …As ointment is not purely on oil base it is not as greasy. For me, that is a huge plus. I have the look of "oil-slick" hands. I like than transfer in not drastic, so I feel confident doing paperwork when I have this cream on my cuticles. You can smell lemon(grass) quite a bit, but not in overpowering kind of way.
Price for this set was 7-8 EUR. It can be cute individual gift or a stock-filler.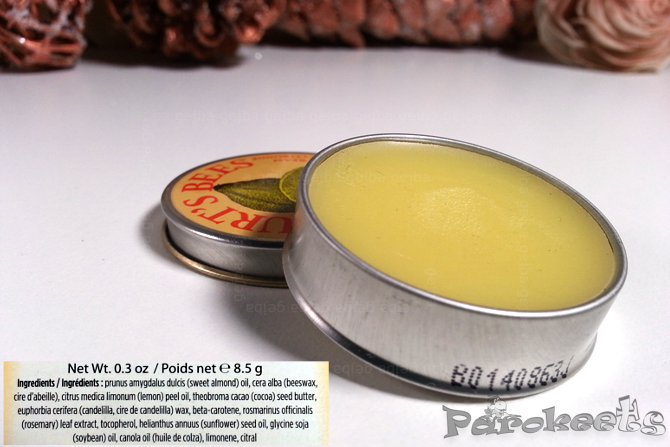 [divider]
I liked both products so much, that at least one of our readers simply has to try them out for herself. Thanks to Burt's Bees Slovenia, you won't be getting only "my set", but also Beeswax lip balm and lip gloss in shade Whisper.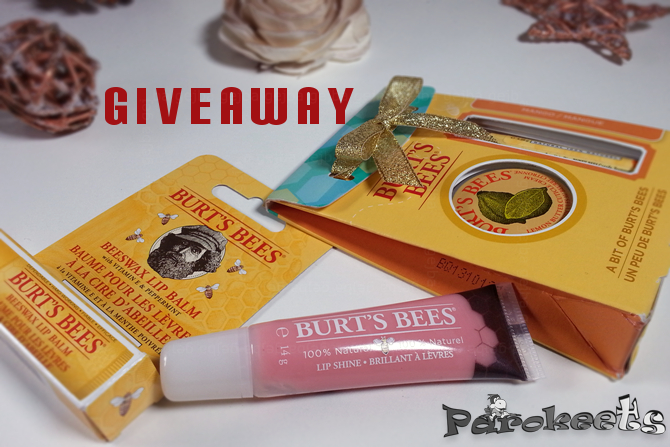 To enter this giveaway, please go to below application. The only mandatory step is answering in comments below this post which Burt's Bees product is your favorite or which one would you like to try out the most. If you wish to improve your chance of winning, you will have additional options (Bloglovin, newsletter …). By no means mandatory, but I would greatly appreciate every one of them.