Deborah Secrets of the SMOKEY EYE caught my eye as soon as I saw PR photos. I bought quite a few as Christmas gifts as I like quality of both Nude palettes … not so much that of other 2.
Nude Beige was the one that I bought for myself. Name of the palette tells you all – this is collection of 6 eyeshadows in natural tones. If I only rate this palette color wise, I would say this is one of the prettiest nude drugstore palettes. They did fantastic job choosing which beige and brown shades to put in Nude Beige palette. They started with off-white eyeshadow, with fine shimmer. Personally I prefer shimmer for highlighting over matte, even though I'm hardcore matte eyeshadow fan. Shimmer or satin simply tends to look more natural and effective highlighter than matte finish.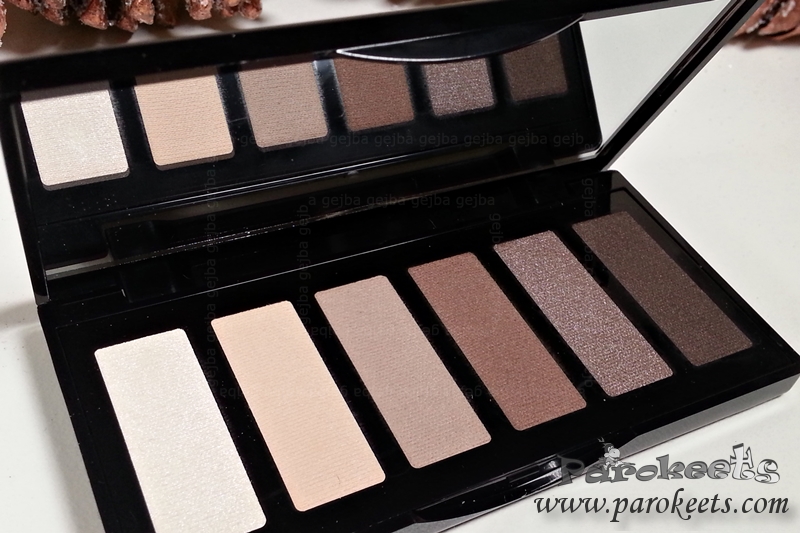 Second shade is pretty similar to my skin tone so I tend to use it as all over shade when I'm doing one of those "put makeup on in 5 minutes" situations. Finish? I think they went for the matte one, but it's more satin-matte.
Third one belongs into the family of taupe shades. Perfect color for quick eye contouring aka crease color.  As I prefer matte colors in my crease, this eyeshadow is pretty much perfect for my needs. Finish is very similar to the one in eyeshadow no. 2.
With no.4 pigmentation kicks up. First three are pigmented just not as much as last three. No. 4 is warmer brown eyeshadow with same matte finish as the no. 2 and 3. It blend nicely and this one is also my crease color + for outside corner.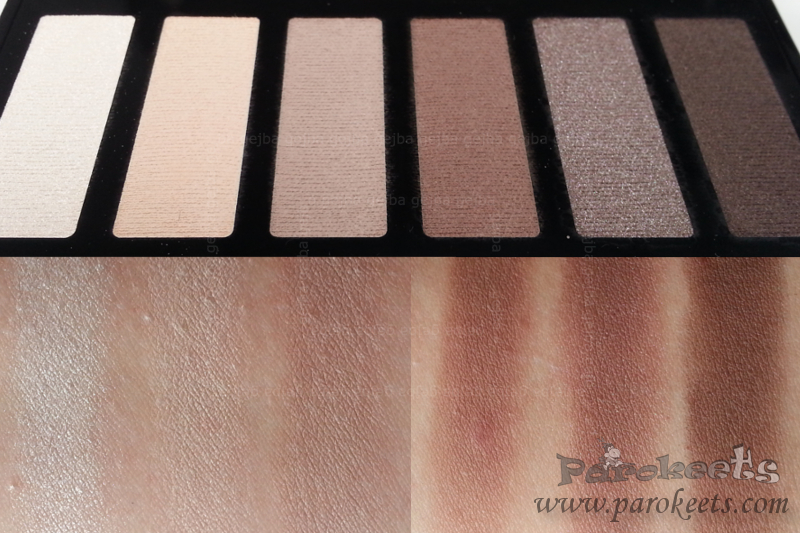 Next one is cool browns shade with tiny shimmer. There is nothing wrong with this eyeshadow, but it doesn't fit into my routine so I don't use it much. Pretty much all the time I go for this eyeshadow I end up with smoky eye for daytime … and then I add dark lipstick and my "natural" look goes bye-bye. :D
Darkest eyeshadow in Nude Beige palette is dark brown one with slightly shimmer finish to it. I use 2 layers to get pretty and long lasting brown color. It performs well in crease too as the shimmer is not really visible.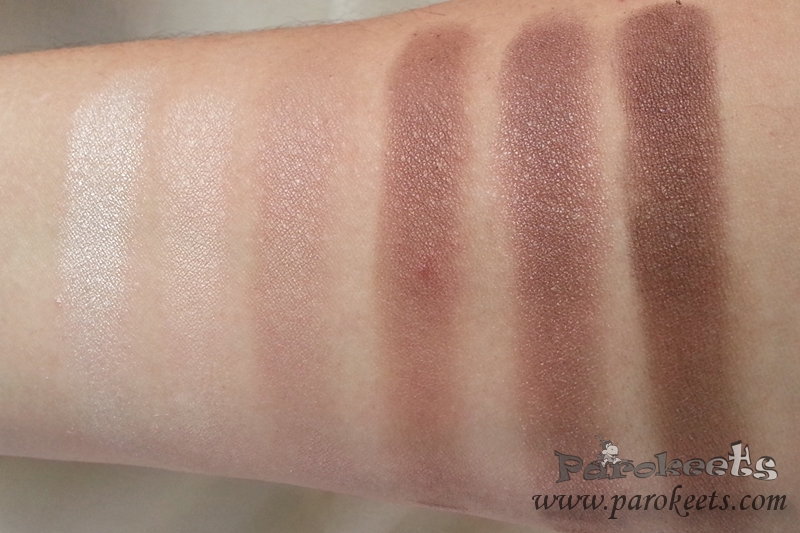 Formula is dusty, but that is something I see lots of times with drugstore eyeshadows. I tapp of brush before application and don't end up with panda eyes … quick and effective method. If eyeshdows were "cremier", then this palette would be perfect for even wider range of users. I tested transfer with Zoeva 234 and MAC 239 brushes, but as those 2 are great at its job as is, I tried it with Essence brushes as well – no issue there. This palette received few bonus points because colors did not start to fade that fast … primer or bare eyelid.
Packaging is plastic and looks durable. You get very useful mirror and no crappy applicator which makes palette smaller and easier to store and transport. Weight 5g, cost 12 EUR, shelf-life 24 months after opening, make in Italy.
Swatches are made over base and in 2-3 layers.
Which Deborah product is your favorite and why?