I would say Tara is one of the Slovenian beauty bloggers I like the most when in comes to the nail art, but it goes even beyond that – she is one of my favorites worldwide. She has eye for colors and design that melts even my "simple manicures only" heart.

Just look at this stunning spring manicure she made for guest post on our blog …
---
Hello ladies,
I am Tara from The Beauty of Nail polish blog. Nail polishes and nail art are my passion, so when lovely Gejba asked me to write a guest post for her blog, I just had to say yes. I am following Parokeets blog for a long time and I was admiring her work for ages. Also, I saw some of her and Maestra's work over at Nail Polish Forum and so everything started…
When I asked Gejba, if she had any »requests« what I shall write about, she gave me totally free hands, so this is what I ended up with. I like spring very much, and you all will agree that tulips are the flowers of spring. And they look even better in sunset, right?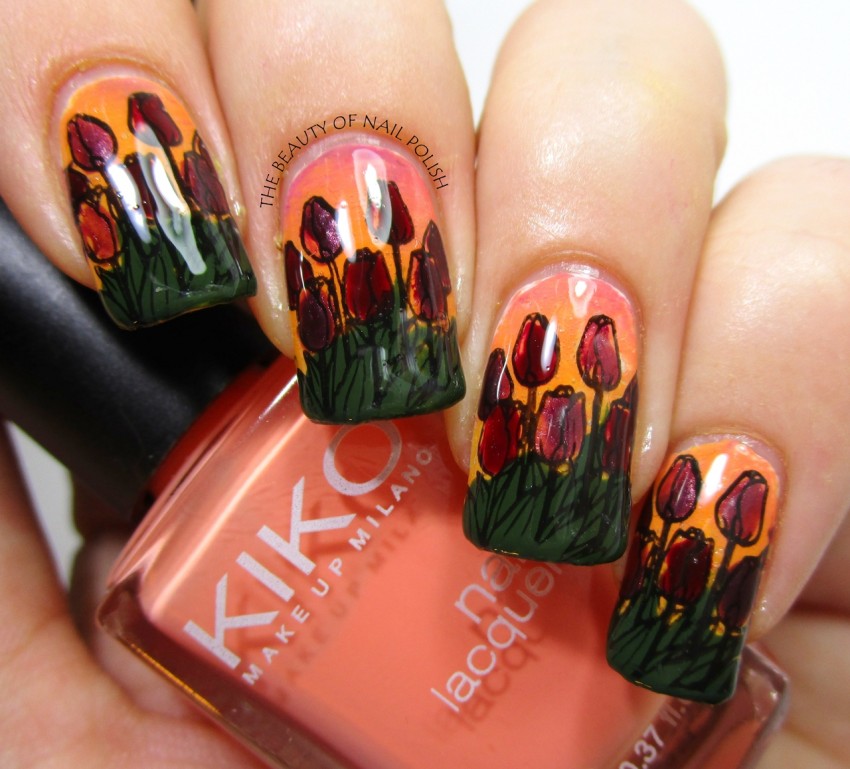 I started with my favourite Catrice – Brightening Base Coat. Then I did the sunset gradient using my new Kiko polishes: Canary Yellow, Tangerine and Light Peach and the purple China Glaze – X-Ta-Sea. I am not sure if you are familiar with my technique for making gradients, so I will just mention I am doing them with a fan brush and not using a make up sponge. There is a tutorial on my blog, so if you are interested in details, head over and check it out.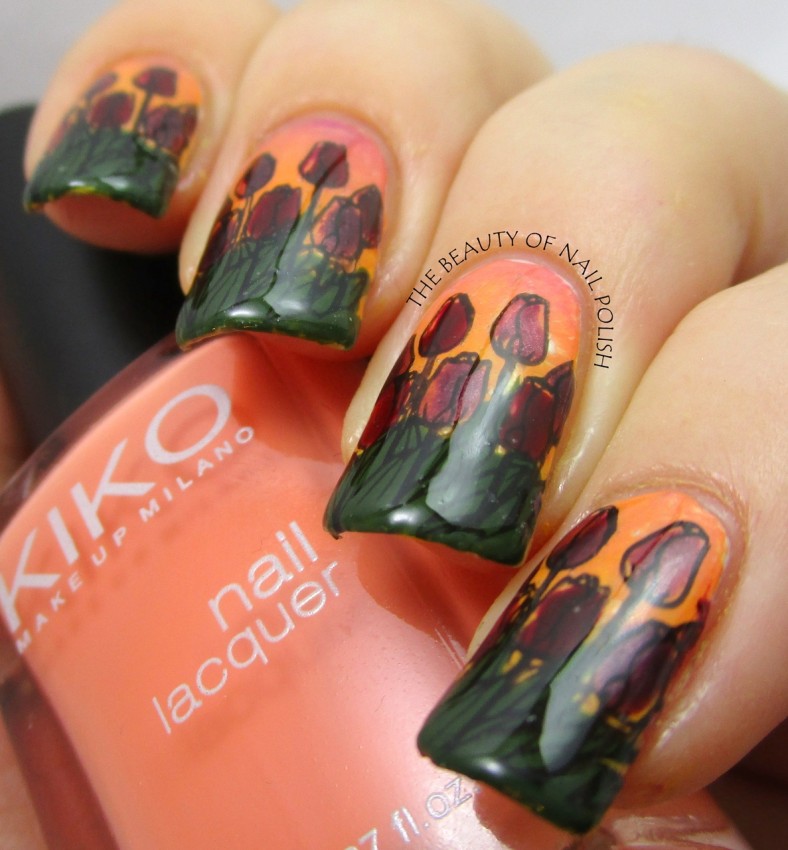 I used my beloved MoYou London Pro 08 stamping plate and Mundo de Unas – Black stamping polish to make my stamping decals (this tutorial is also on my blog). The tulips are filled in with OPI – Vampsterdam and Dance Legend – Katya. Grass is painted with Sally Hansen – Ever Green.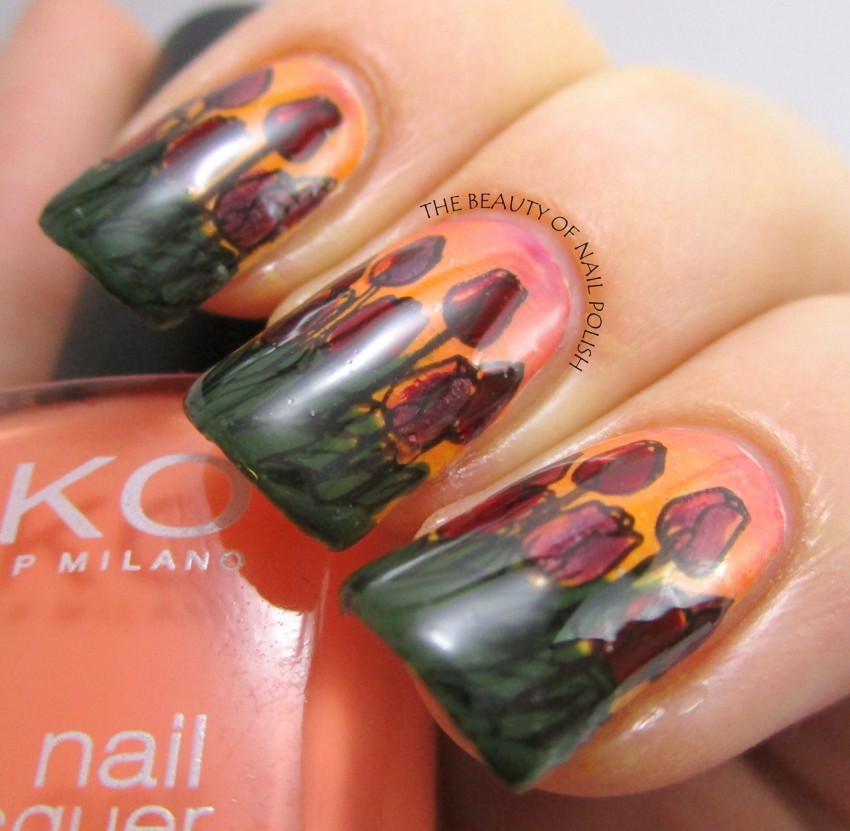 I transfered the decals to my nails using Essence – Sealing Top Coat. I did some fast clean up, and applied a coat of Poshe in the end.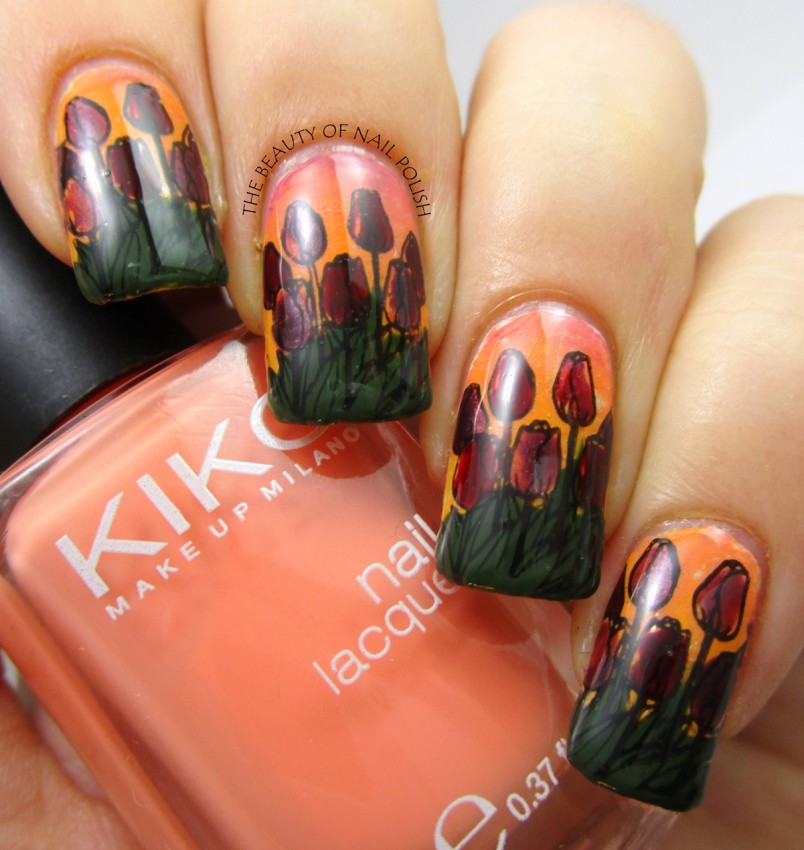 We came to the end of my today's guest post. I hope you enjoyed reading my post and looking to the pictures. Also, I hope this manicure brings some spring into your life as well… And of course, thank you Gejba for inviting me – it was my honor!
♥ Thanks ♥
Tara