Majority of posts on Parokeets blog are written with make-up enthusiasts in mind. I always picture one of the Parokeets ladies, fellow blogger or one of our readers on the other side of the conversation.
I love debating with you about different finishes, limited editions, bristles … details that tend to bore others to death, while we can chat hours about our love and hobby – make up.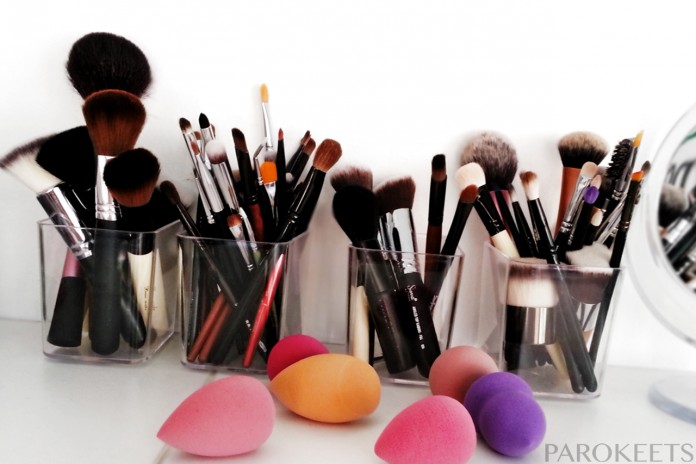 Today's post will be little bit different. I am dedicating it to my friends, colleagues and new mom's who tend to ask me how to achieve simple make-up with minimal amount of products. They don't really like cosmetics products, time is precious, but usually want to cover up under eye bags, blemishes, even out skin tone …
Main request is for a short (not likely to get from me), concise and in laymen terms.
And if I throw in direct link or store where they can buy items, they promise to bribe me with coffee.
I'll be merging all posts that have potential to fit into this category under Back to basics tag.
Dear friends, we will start with the toughest lesson (their words not mine) – make-up brushes and sponges.
As soon as they see my brush collection they star to panic thinking they have to have just as many. NO, you need only few. If you love the results, you will add others later on.
I usually don't recommend they go for inexpensive drug store brushes. Of course you can find good ones once in a while there too, but for little more money you get the quality and durability which are rarely found among the cheapest ones (shedding, bleeding, less control …).
Liquid foundation – sponge or brush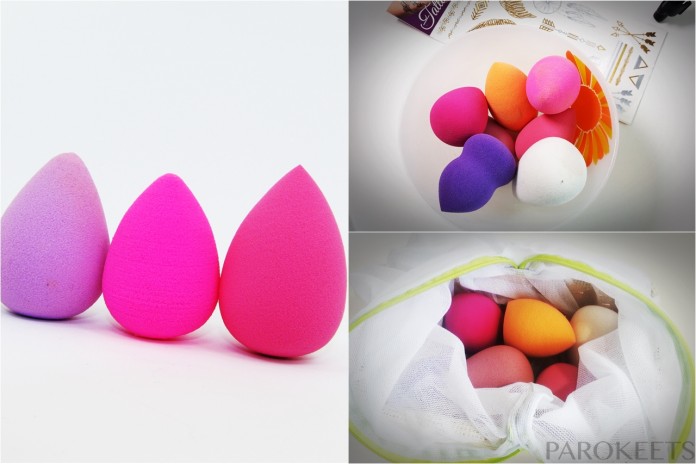 My deepest recommendation would be original Beauty Blender sponge. Market is overrun with "dupes", but I have yet to find one that is truly worthy to be called that. They may look the same, but quality is not even close. I still have my first Beauty Blender I bought YEARS ago and it survived my not to gentle cleaning + washing in the washing machine for the last 6 months or so (40°C to 60°C + green Persil gel in washing net). Only now am I starting to notice small damaged areas, and I suspect I managed to make those with long nails and even rougher washing than usual (serious lack of time).
Closest dupes I could find are Real Techniques and partial Beauty Bay sponges. But they lack endurance of Beauty Blender, are harder to clean and tend to absorb more foundation.
How do to use Beauty Blender: first step is to wet it, second remove extra moisture with small towel.
Personally I like to apply foundation on the back of my hand to warm it up, followed up by transfer with fingers on the areas needed. I usually end up with large dots of foundation all over. Last step – I stipple foundation all over the face. In less than a minute, I have flawless applied foundation.
If your skin is dehydrated, patchy or "fury", then sponges are usually the best and quickest way of applying your foundation.
PLUS: can be wash just prior to application, there is no drying time involved. Narrow side doubles as corrector applicator.
I like Real Techniques Expert Face Brush too, but sponges apply foundation better on my dry and patchy areas. That is why Expert Face brush is currently delegated role of applying cream products as contouring, blush …
Blush, bronzer, contouring – brush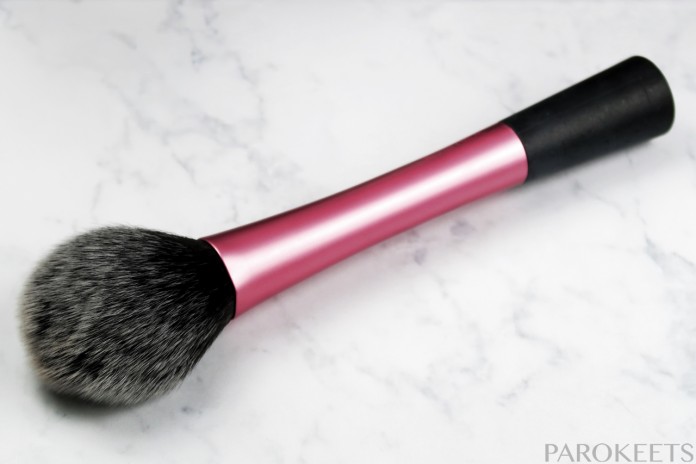 My fingers are simply itching to make you life complicated and recommend 3+ brushes, but will try to stick one brush only – Real Techniques Blush Brush. It is possible to use this brush for contouring under your cheek bone (it is hard to join Kardashian clan look with this brush), as well as applying blush on your cheeks (or join clown union).
How to use: for contouring either dip (if they very pigmented) or swirl (less pigmented ones) into contouring product. When you are done with contour, swipe it off onto paper towel and proceed with blush. You can even repeat for highlight providing you are not using heavily pigmented products.
Finish off with Beauty Blender which is bound to have at least little of foundation leftover on it and blend the edges – tap the sponge over the outer edge.
It is possible to use this brush for bronzer and finishing powder too, but I would prefer to have something larger for those two.
Eyeshadow – brush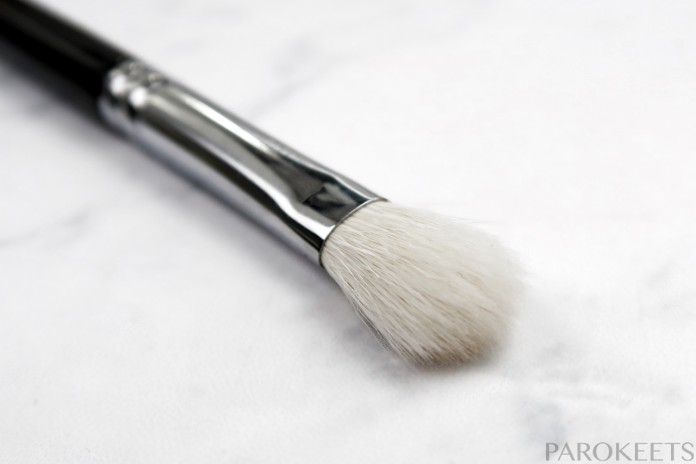 You want only one eyeshadow brush? Erm, that is kind of hard for me to even imagine, but I will give it a try.
Zoeva 227 Luxe Soft Definer is good for applying eyesadow over the whole moving lid and for shading a crease (deepest part of the socket). You can further minimize number of products if you use your face contouring powder or bronzer as your eyeshadow crease colour.
If you don't have super pigmented eyeshadows, it should be possible to wipe off previous 2 colours and use it for under brow highlight too.
I would suggest at least on narrower and softer brush for smudging out the liner (cotton swab is possible replacement, but they tend to irritate my sensitive eye area) and double it as precision tool for highlighting inner eye corners.
Hygiene and brush cleaning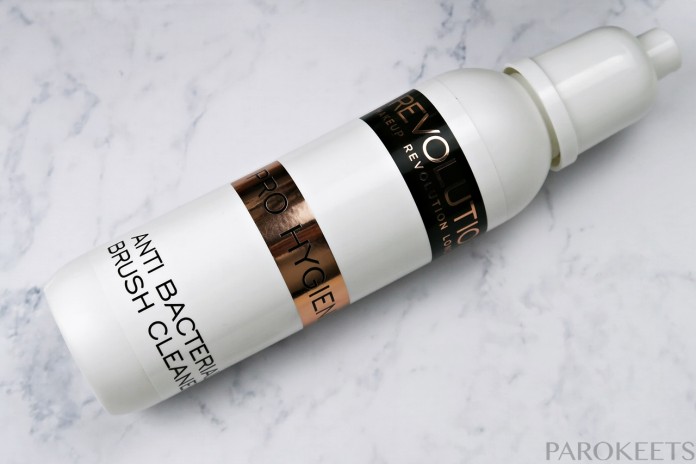 True – you really have to watch out about hygiene of make up brushes. It is better to have less of them but in duplicates if you know you won't have time to clean them regularly.
I extend time between washes with the help of Revolution Anti-Bacterial Brush Cleaner. I got it for a review long time ago, but have been using it on regular basis for the last 6 months or so. It cleans really well and it doesn't have ill effect on my skin even if I don't rinse brushes under water.
Other options are medical grade disinfectants (Spitaderm), but I find them more suited for artificial bristles (Real Tecniques) than natural ones (Zoeva 227).
If I use brush or sponge with liquid or cream products, then they're off to "to be washed" container.
Best effect in my opinion is achieved with dish soap (without conditioning ingredients). I leave my brushes to completely dry, then dip it into pure soap I previously poured into my palm. Swirl it and then rinse everything out with water. They dry laid down on the towel.
Where to buy:
Beauty Blender: Muller Austria, Cult Beauty (cheapest option is to order set of 2 sponges)
Real Techniques Expert Face brush: HQ Hair, Moja Drogerija
Zoeva 227 Luxe Soft Definer: Zoeva (227v is too soft for my taste, but the best for those with sensitive skin)
Revolution Anti-Bacterial Brush Cleaner:

Make Up Revolution

, Licila.si
[button color="" size="" type="" target="" link="https://www.parokeets.com/en/2015/03/zoeva-brushes/"]I am only now starting to try out Zoeva face brushes, so I will keep this post updated if I find one I like more than mentioned ones.
I recommend you read Maestra's post, where she reviewed 10 of them! CLICK ME. :D [/button]