Just as I was getting out of cream nail polish season, Avon surprised me with their new Gel finish polishes loaded with shimmer. At least it looked as shimmer at first glance. Once I started removing manicure, I realised it was glitter. :D
In the end I loved 5 nail polishes out of 6. Formula is similar in all 6, but some were easier to apply than other.
Avon Berry Shimmer is a beauty that immediately won me over. Pretty berry shade with cool toned glitter and if push comes to show – I can use 1 coat for full coverage.
Pink Shimmer is another shade with great coverage. Good pigmentation and easy application trumped pink colour, so I wore it with joy. :D Again – cool toned shimmer/glitter. Primarily in silver tones.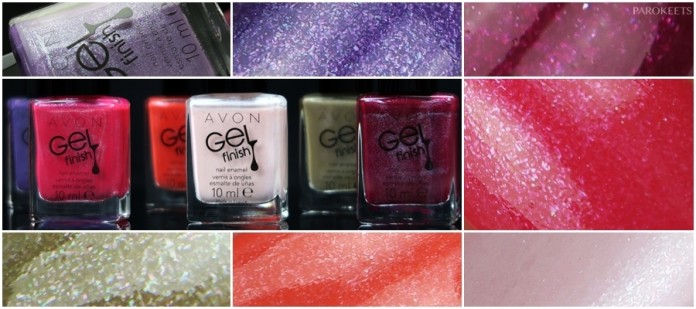 Coral Shimmer is another proof that Avon has a way with coral shades. This year, they leaned more to the orange side, but is still very wearable mix of orang and pink. Silver glitter gives this polish depth and spark to make it even lovelier. Perfect spring-summer shade.
Sheer Shimmer was harder to apply than first 3 nail polishes. Less brush strokes = prettier manicure. I struggled with first application, hence not so pretty swatch. Second time around I managed to find balance with how much should be loaded on brush and it made my job a lot easier. Pale pink shade is also loaded with silver glitter.
Lavender Shimmer is another of more problematic shades. Easier than Sheer shimmer, but not as nice as other nail polishes in this collection. Colour is perfect for all of you cool toned purple lovers.
Nude Shimmer is ugly duckling among the crew, but with good formula. I seriously do not feel this colour, but know some of you will adore it. :D
Which of the AVON nail polishes is your all time favourite?