It is crazy to think that it's been 15 years since the brand Essence was launched. Essence has been featured on our blog many many times since the beginning. In fact there's over 400 blog posts marked with Essence category on Parokeets. Crazy, right? I guess that shows that we have been obsessed with the brand.
Let's take a walk down the memory lane, shall we? I guess not a lot of our current readers remember the days when we started writing Parokeets blog. You know over 8 years ago not a lot of people in Slovenia were talking about Essence. Not a lot of people were stopping at the stand. Not a lot people had the faith in their products. Probably because of incredible low prices. And low prices usually mean poor quality. Well, I was also very skeptical at first. Back then I was crazy into nail polishes. I bought almost every single nail polish I could find around here. The stranger colors the better. And Essence was one of the few brands that actually had some fun colors to offer. And they were constantly bringing out new ones. That's how and that's why my love affair with Essence started. I still have a big drawer full of Essence nail polishes. Here are just a few I took out of the drawer. Who remembers these?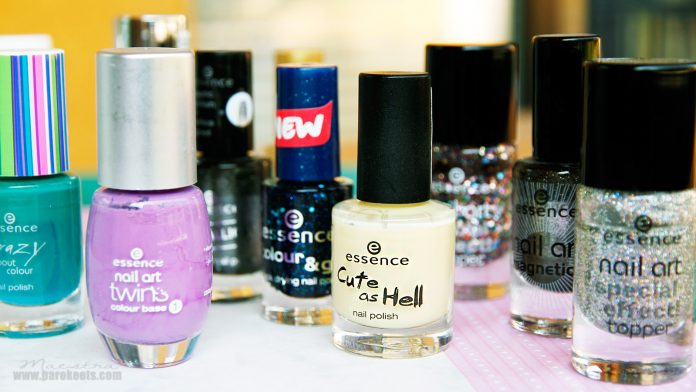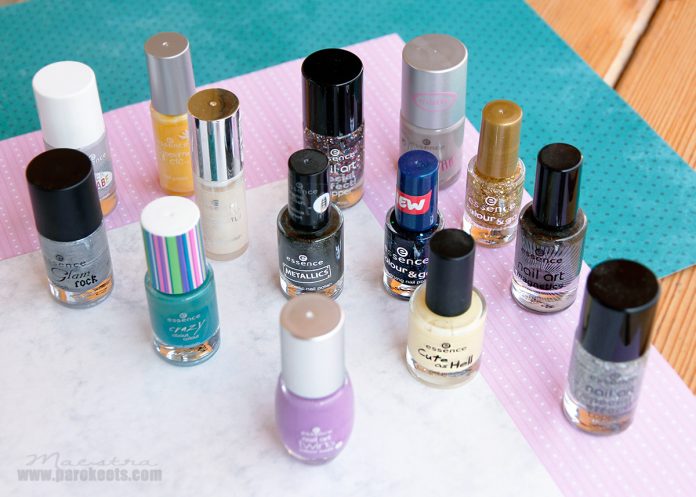 And the more nail polishes I bought, the more I wrote about them, the more people started to buy them. At least here in Slovenia. At one point it got a bit crazy. It was in those days when Essence was only available in Muller drugstores and Beauty World. I remember days when I was chasing down all the limited editions. Especially the nail polishes. And as soon as I got home I swatched them all and immediately started to write a blog post about my newest acquisitions. I am pretty sure that Parokeets blog was one of the main contributors why Essence gained more and more fans in Slovenia. Limited editions were sold out immediately. So, … many years later and Essence is still very popular in Slovenia. Luckily nowadays it is easier to get all the limited editions as Essence is available in most of the stores where make up is sold. Huray! I am extremely happy that the brand is so successful. Last but not least I just have to mention our lovely Natalija. She is the brand manager for Essence here in Slovenia. Her passion for the brand is admirable. Working with her is a pleasure. "Natalija, keep up the good work!"
Happy Birthday Essence!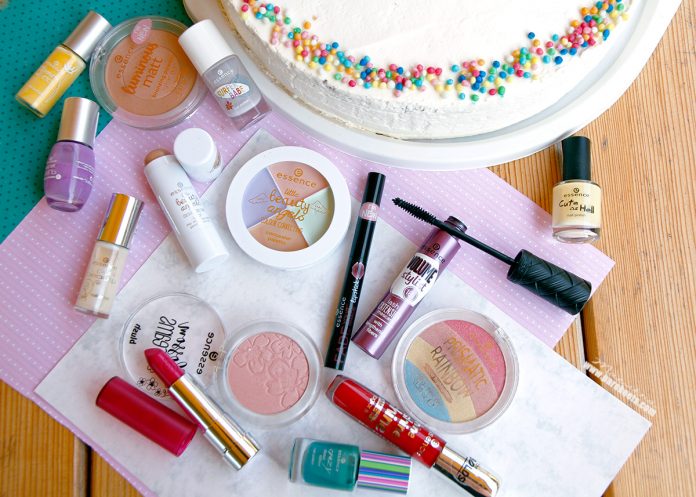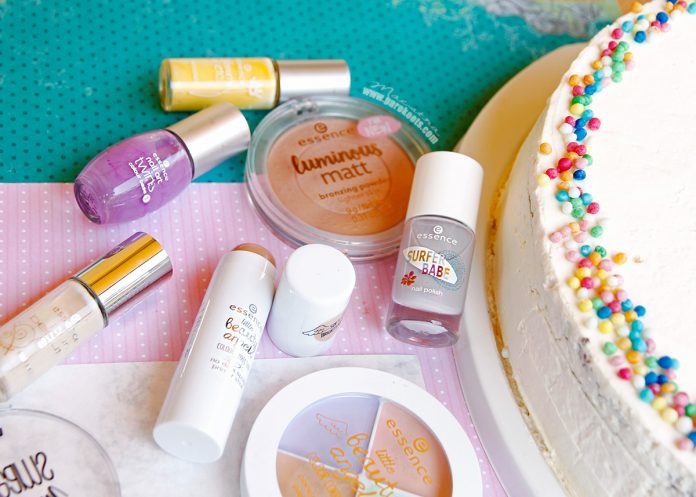 First post ever on Parokeets dedicated to Essence.
Swatches of nail polishes.
Dated over 8 years ago.
Spring / Summer 2017 update
Review, thoughts and my wish list
I am sorry for the long intro. If you made it through, I applaud you! Bravo! Let's jump to some product photos, swatches and my thoughts. I have a quick overview of the new products, my top picks, some flop products and I am also sharing my wish list with you.
Top picks
Luminous Matt Bronzing Powder in 01 Sunshine – It is a wonderful warm toned bronzer with a low shine. It has yellow undertones. I love it and have been using it since the day I bought it. It might be too dark if you are very pale.
Out of Space nail polishes – These are just incredible to look at. If you are a nail polish lover, you have to have these! Incredible effects.

Gejba has some great swatches for you.

My Must Haves Palettes & Refills – Great idea! The color selection of eyeshadows is very nice. I swatched the eyeshadows in the store and they seem nice. I do not have any of these at home, so I do not have a proper review for you. To be honest I didn't have good experience with Essence eyeshadows in the past, but these seem really nice and I have quite a few of them on my wish list.
Wish list
Granite Rocks topcoat – Applied on wet nail polish it creates marmor effect. What? Sold! I need it!
Out Of Space nail polishes – I need to have at least one. Which one do you recommend?
Honey Care Hand Mask – My hands and cuticles are in poor condition at this point, so I need to try this.
My Must Haves Palettes & Reffils – As said above. The idea is cool and the eyeshadows swatched nicely.
Micellar Water – I am a huge fan of micellar waters. Hopefully this one is effective at removing make up. If so, it could be my go to micellar water for traveling because it is packed in a 50ml bottle.
Meh products
Volume Stylish 18h Lash Extension Mascara – Diamond shaped brush, with fibers. The formula is dry. The mascara didn't do much to my lashes. No actual volume, no added length. I am not a fan of it.
Rainbow Highlighter – Great idea. It looks crazy and cool at the same time. It can work, but is not fool proof. It is a high shine product. The pigmentation is great. In fact it is too pigmented for such a rainbow highlighter. If you mix all shades carefully you get a gold highlight. It can be also used as an eyeshadow palette, but … who wants a high shine red and blue eyeshadow. Eighties are long gone. It is a cool product too look at. A much nicer and user friendly rainbow highlighter is hidden in the Blossom Dreams Limited Edition.
Fade Your Shade in Ombre Parfait lipstick – is a very pigmented and very dark lipstick in a slim twist up packaging. As said the pigmentation is great but it goes on patchy. This product is meant for creating ombre  effects on the lips. As shown in one of my previous posts. And for that it is good.
Shine Shine Shine Wet Look Lipgloss in the shade 13 Red Carpet Starlet is a highly pigmented lipgloss. As the name suggests it looks wet and juicy on the lips. It does move a lot and has a tendency to bleed and it transfers to the teeth easily (look at my photo below; photo taken 10minutes after application). The scent is very strong, sweet. While I love the color and it look cool in the photos, I do not like the consistency nor the scent.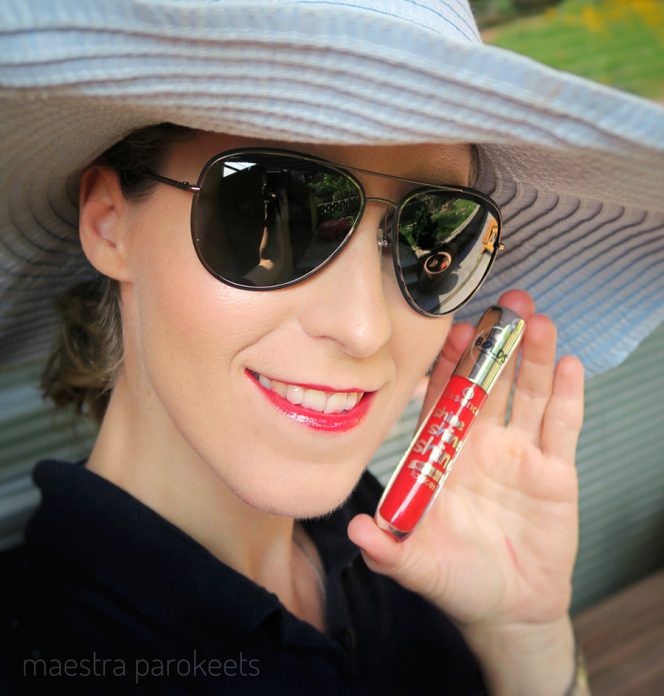 Blossom Dreams TE
The centerpiece of the Blossom Dreams collection is most definitely the rainbow highlighter. It is indeed beautiful. If you can still find it, grab it! I only have the Call Me Coral blush from the collection. It looks nice in the pan and has lovely blossoms embossed. Unfortunatelly it doesn't show on my skin at all. It looks like a high shine highlighter on me.
Little Beauty Angels Colour Correcting
This one is all about colour correction and pink, green and nude colors. "Pink gives a tired skin a wide-awake look, green neutralizes redness, nude corrects skin irregularities." I don't care much about the color correcting palette, because it is too waxy and the product slips on my skin. I actually really really like the Primer stick in 03 On My Covering Mission, which covers or better to say neutralizes my dark, blue undereye circles well. The texture is  nice, lightweight. It seems like it is a cream to powder formula, but not drying or too powdery. I like it a lot.
What are your top picks from the new update?
What is on your wish list?
Let me know in the comments!