Caudalie skincare was not a love at first sight. Ingredient wise it didn't stand out and looked pretty average to me.  I only bought and tried out few of their products because all my friends raved about the brand. Result – I liked one less than other.
In case you are not familiar with Caudalie – French winery family branched out into skincare cosmetics so everything revolves around grapes and wine. Products are made in France from their "wine" leftovers so their brand does appeal the geographer in me. As sustainability is dear to me, I gave them one last shoot.
BBMU II  was it. I talked to their cosmetologist at our main beauty blogger conference and she told me right away that I seriously strayed from the products she would have chosen for my skin-type. Oversensitive, dehydrated and oily skin requires more that 5 minute consult, so she invited me to their salon for a treatment.
I did leave my contact info, but truth to be told, expected them to never ever contact me again .. like 90% of brands that get my direct treatment. :P
I was truly surprised when the invite actually came. Niko Veger was my partner in crime. We checked everything out and then proceeded to THE chair. :D
VIVADERM – Slovenian online home of Caudalie and DermaEden cosmetics: http://vivaderm.si/prodajni_program/
Caudalie GRAPE WATER
Beautician Petra gave off good vibes at our first meeting so I relaxed and let her do her magic. She tried out glycolic acid, masks … but the grape water … completely won me over. WOW – refreshing, but slightly nourishing and kind of locks water into the skin.
Bonus points – it is not perfumed.
Rich in moisturizing polysaccharides, mineral salts, and potassium, Grape Water has an intense hydrating ability to retain water and support skin's hydro-lipid barrier.
Shake before use.
Here is how I use grape water:
in the summer to refresh and soothe skin
as additional step to add moisture (before cream/oily and after active)
to reduce cakey look of the makeup
when my skin starts to act-out, I use only grape water and base cream
!IMPORTANT! – grape water is NOT their cult Beauty Elixir. Elixir contains essential oils and lots of alcohol which makes it complete unsuitable for my sensitive skin. I dislike Elixir, but I do see why people love it – it gives longer staying power to makeup than most of the fix sprays out there. Plus it has one of the finest mists out there.
Price: 200ml 12,80 EUR | 75ml 7,35 EUR
INCI: vitis vinifera (grape) fruit water*, vitis vinifera (grape) juice*, nitrogen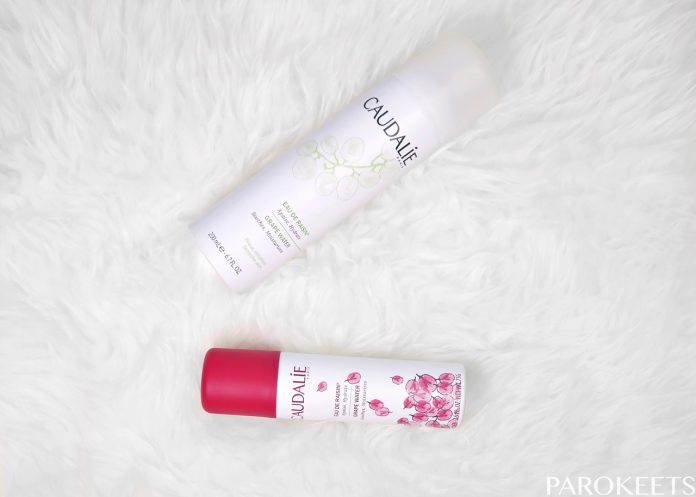 CAUDALIE VINE[ACTIV] eye cream
I do feel that eye creams are needed in my skincare routine. They have to maintain higher standard that regular creams and difference if noticeably when you have as problematic eyes as I have. But finding one that actually does something more, now that is the challenge.
VineActive cream did not promise to be revolutionary if you judge it by ingredients, but quickly became regular in my routine. Main problem in explaining what it does.
I am almost 40 year old mom of little princess who still has sleepless nights. You can imagine how my under eye circles look like – darkish, dry and wrinkled area of doom. :P
VineActive makes whole zone fresher. It moisturizes, nourishes, stretches …
Concealer is easier to apply over it, doesn't get so much into the wrinkles and glides on.
I wanted to compare effect of Caudalie cream with The Ordinary Caffeine Solution 5% + EGCG, but I quickly gave up. TO Caffeine dries out my under eye area so much, I ended up putting Caudalie over it immediately after. Kind of pointless comparison, right? :D
Price: 28,50 EUR | 15ml (shelf life 6 months after opening)
INCI: water, glycerin*, butylene glycol, isononyl isononanoate, caprylic/capric triglyceride*, cetearyl alcohol*, hydrogenated vegetable oil*, peg-20 stearate, cetyl alcohol*, tocopheryl acetate*, palmitoyl grape seed extract*, carbomer, ethylhexylglycerin, arginine*, cyathea cumingii leaf extract*, escin*, ammonium glycyrrhizate*, caprylyl glycol, hamamelis virginiana (witch hazel) leaf extract*, calendula officinalis flower extract*, xanthan gum, picea abies extract*, tocopherol*, helianthus annuus (sunflower) seed oil*, ascorbyl tetraisopalmitate, sodium phytate*, polysorbate 20, glyceryl caprylate*, cinnamic acid*, levulinic acid*, sodium levulinate*, palmitoyl tripeptide-1, palmitoyl tetrapeptide-7, citric acid* (194/002 ) *. plant origin.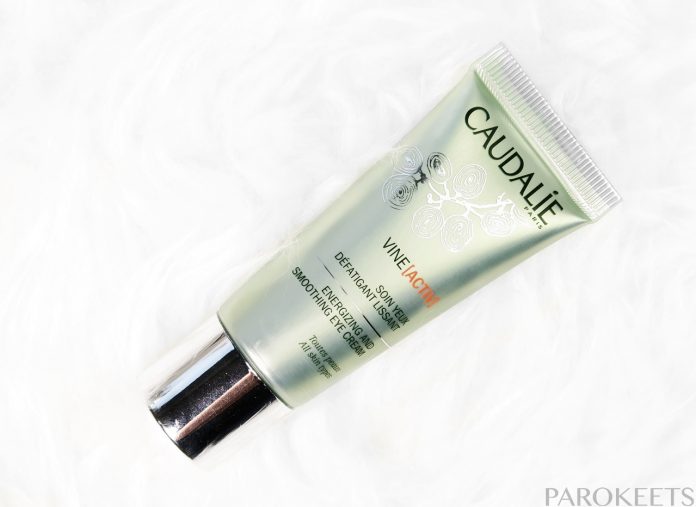 CAUDALIE VINOPERFECT ESSENCE (concentrated brightening)
When Europeans try to make essences, it usually does not end well.
Caudalie description drew me in and it even looked promising INCI wise, but I was in the middle of moving and simply did not have the time or energy to look it up.
Then I got surprise package – LE Grape Water and essence. It felt like Christmas in July. :D
I lived out of the boxes for the better part of the summer, so I was not really consistent with my skincare. But Caudalie Essence was the one product that came to the rescue in the time of need – as toner and lightweight serum at the same time.
It does have watery like consistency, but also nourishing touch to it. Perhaps thanks to the glycolic acid?
No irritations occurred but it does have a strange smell. Naturally sweet sweet orangy tang? It is not pleasant or unpleasant but you get sort of aromatherapy from it. I know it sounds weird but it is best description I have. :D
I do not have feedback on whitening effect as I did not use it regularly for long period of time. What I can tell you is that pores look kind of blurred and whole complexion is more unified.
In the summer time I poured essence onto the cotton pad, but I apply it directly onto my face now as the heating period is already here. MANDATORY STEP – shake before use.
One of the rare products I see myself using up. :D
Price: 26,50 | 150 ml (shelf life 6 months after opening)
INCI: water, vitis vinifera (grape) fruit water*, citrus aurantium amara (bitter orange) flower water*, glycerin*, methylpropanediol, glycolic acid, sodium hydroxide, vitis vinifera (grape) juice*, caprylyl glycol, citric acid*, arginine, sodium benzoate, paeonia lactiflora root extract*, phenylpropanol, potassium sorbate, sodium phytate*, linalool, limonene.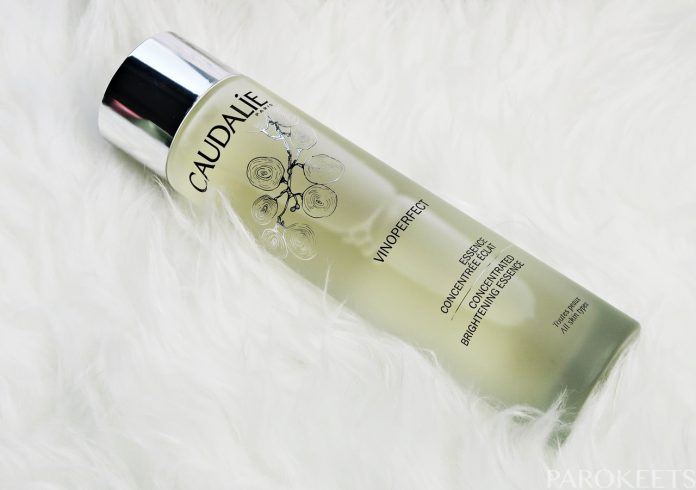 ---
What can I say – Caudalie still fascinates me. Why does it work so well even when ingredients are not that hot? Are polyphenols and minerals from grapes the answer?
Do you have favorite Caudalie product? Anyone tried Premier Cru The Eye Cream?
P.S. You have to try their tea blend if you are into detox. I loved it! :D
*some products were sent to me for review