Fotografija za našo bralko kokolo, ki je takole komentirala Catrice Bloody Mary To Go post:
Zelo lušn Sicer pa Catrice lakci so itak vsi fantastični.. Ma mam doma Essence Jelly baby Cherry Juice in se mi ne zdi, da rabim še enega takega rdečkota (čeprav si mogoče nista tko podobna kot mislim)
Primerjavi Catrice Bloody Mary To Go ter Essence Jelly Baby LE Cherry Juice sem dodala še Essence SYF Hot Red (krem finiš), ki služi kot predstavnik malo hladnejših rdečih tonov, vendar pripada še vedno isti družini skoraj nevtralnih rdečkov.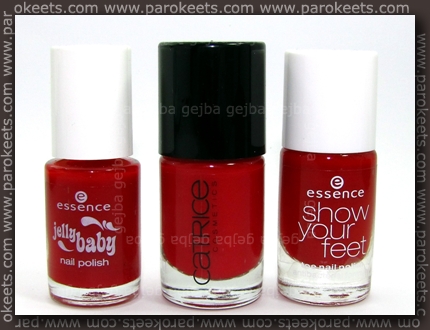 Cherry Juice je za malenkost temnejši in bolj hladen odtenek kot Bloody Mary To Go, ki se še za pikico bolj nagiba na nevtralno stran.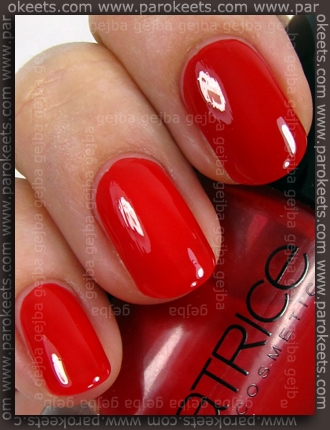 Tako Cherry Juice kot Bloody Mary To Go imata jelly finiš. Uporabila sem dve plasti + nadlak.
Čopič je neprimerljivo boljši pri Catrice laku.