Today I have some sugestions for "clubbing appropriate" make-up and nail polishes.
First is the green make-up…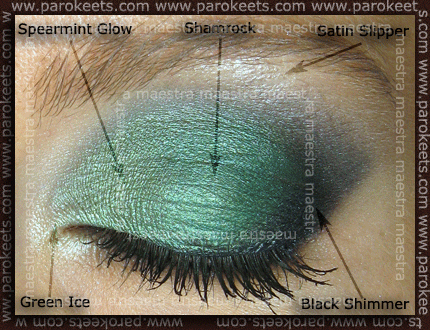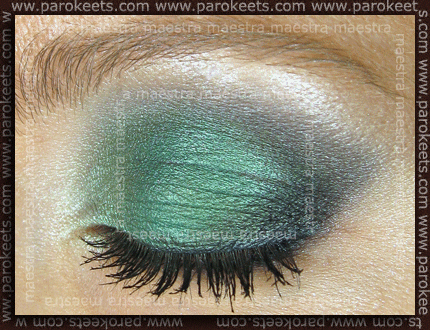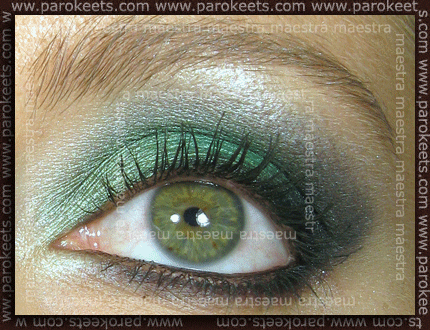 For this make-up I used NYX's Jumbo Eyeshadow Pencil in shade Dark Brown as eyeshadow base. It is creme dark brown shade. Than I applied Sweetscents mineral eyeshadows: Green Ice, Spearmint Glow, Shamrock, Black Shimmer and Satin Slipper.
Next one is the Creative Nail Design's Sour Apple polish, which is a light pastel almost neon green color. And for this one, my boyfriend sad it is very "clubbing appropriate" :cool: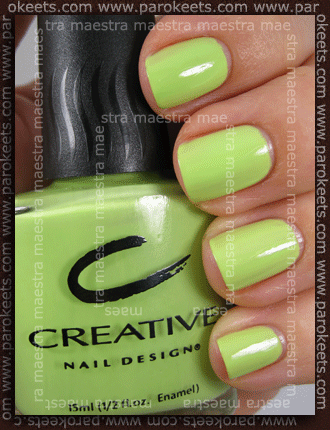 It is a bit streaky to apply, but if you are careful enough, than you can get away with only two coats as I did. I love this color! It is so unexpected and so bold. After some time I tried something and added one coat of CND's Leaping Lotus to Sour Apple. The end result was stuning…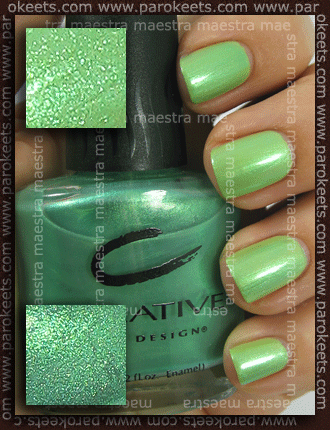 Leaping Lotus is beautiful blue-green color, but it is unfortunately sheer. You'll need at least three coats to be opaque. But it is perfect for layering. It would be incredible over black but let's leave that for other time.
The manicures above are definitely not for shy people and they will surely get all the attention they need :smile: But if you're not into bold shades, I sugest NYX's Las Vegas. A dark green jelly color with green shimmer to match the above make-up.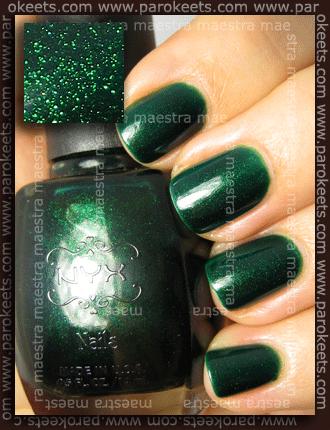 What do you think? Would you dare to wear Sour Apple on your tips?
Petek je in še to petek trinajstega :wassat: Upam, da ste dobro preživeli ta "zacopran" dan :devil: Moj je bil resnično fantastičen. Sploh pa ne verjamem v te "zacoprane" reči. Je dan kot vsak drugi in je datum kot vsak drugi. Jaz pravim, da je vsak dan lahko nekaj posebnega, če si ga le naredimo posebnega in se veselimo vseh lepih malenkosti, ki nam jih življenje prinese. Sicer pa, še je čas, da iz dneva naredite nekaj več :wink: Če se danes zvečer odpravljate kam ven in bi rade zasijale, imam nekaj predlogov…
Najprej en udaren make-up v zelenem…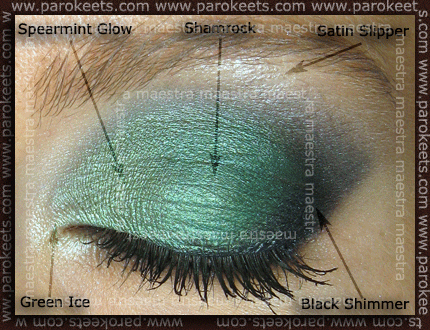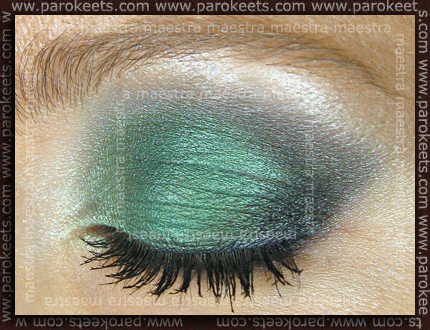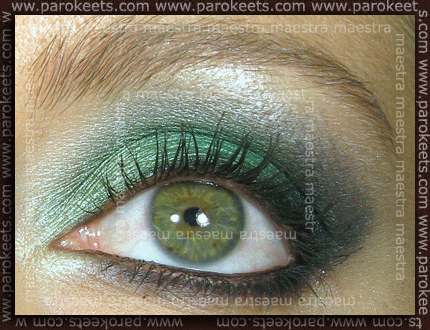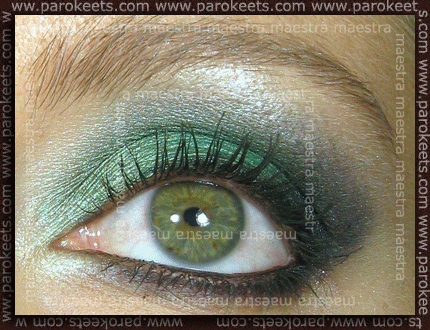 Kot podlago za tale make-up sem uporabila NYX  Jumbo Eyeshadow Pencil v odtenku Dark Brown. Gre za resnično temno rjav odtenek, ki je popolnoma brez bleščic. Je dobro mazljiv in dobro pigmentiran. Podlago sem dobro razmazala (tudi v gubo) s sintetičnim čopičem. Nato sem čez nanesla Sweetscents mineralna senčila v naslednjih odtenkih: Green Ice, Spearmint Glow, Shamrock, Black Shimmer in Satin Slipper. Na "waterline" sem nanesla črn svinčnik znamke Revlon. Na trepalnice dva nanosa črne maskare znamke Cover Girl. Rezultat je dokaj močen make-up, ki je primeren predvsem za večerne izhode.
Zakaj je sploh prišlo do te "clubbing" ideje? Včeraj sem v Supernovi v Ljubljani kupila dva odštekana laka za nohte znamke Creative Nail Design. Gejba je enemu izmed njiju, odtenku Sour Apple, rekla kar "strupenko" :biggrin: Ja, res je precej strupene barve, a kaj naj rečem, bolj kot je noro, bolj mi je všeč :cool: Ko sem lak nanesla na nohte, je moj dragi komentiral, da sem pripravljena za "clubbing". Tako je nastal še primeren make-up in rodila se je ideja za današnji prispevek. Da ne bom samo blebetala. Presodite sami, ali je res strupenko ali je res primeren za "clubbing"…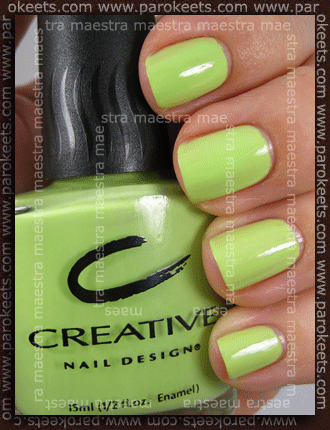 Gre za pastelno skoraj neon zelen odtenek. Nanašanje je dokaj enostavno. Malo je vseeno treba biti pazljiv, ker se lahko poznajo proge, a ni prehudo. Na zgornji fotografiji sta dve plasti. Perfetkno bi bilo, če bi nanesla še tretjo plast, a je nisem želela zaradi nekoliko počasnejšega sušenja CND lakov. Danes sem dodala še tretjo plast drugega odtenka, ki sem ga včeraj kupila. Leaping Lotus je naravnost čudovit zelen odtenek, ki se kar blešči, vendar je žal prosojen. Potrebuje vsaj tri nanose, da je zadovoljivo prekriven. In kako si olajšamo delo pri prosojnih odtenkih, za katere želimo, da bi bili prekrivni. Uporabimo ustrezen popolnoma prekriven lak za osnovo in nato čez nanesemo prosojen lak. Tako lahko dosežemo neverjetne kombinacije. Kaj več o tem kdaj drugič. Tokrat sem ustvarila naslednje…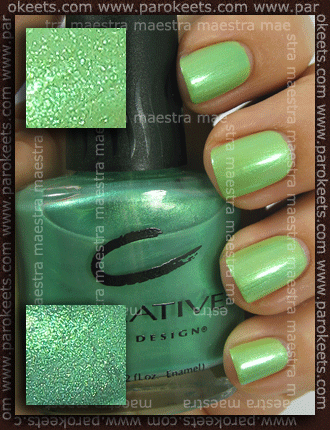 Na zgornji fotografiji prikazuje zgornji majhen okvirček detajl iz nohta, spodnji okvirček pa detajl iz stekleničke. Leaping Lotus je nekoliko ublažil divji izgled "strupenkota". Rezultat je izreden. Takšna manikura pa predvsem primerna za poletje, ko je ko je koža malo zagorela. Primerna pa je zagotovo tudi za večerni izhod, kjer bodo takšni nohtki definitivno pritegnili pozornost :wink:
Imam pa še en predlog za ujemjočo manikuro k zgornjemu make-up-u. Temno zelen lak za nohte. Predlagam odtenek Las Vegas znamke NYX. Izredno lep temno zelen "jelly" odtenek z zelenim šimrom.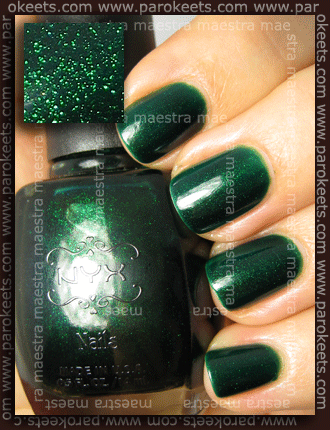 Kaj menite? Ste dovolj divje narave in bi si upali izbrati "kislo jabolko" ali bi raje kaj manj kričečega?