Since I don't like bright colors much, I'll be using red, purple, maybe dark blue or green colors all spring and summer on. Maestra tells me I'm the winter gal all year around. :cool: I have to remember the tip and stock my nail stash in autumn and winter.
One of the creme polishes in my collection is OPI Little Red Wagon, the last mini from the Holiday in Toyland set.
Beautiful red – I can not decide weather is neutral, warm or cool shade. You change lighting – polish changes the undertone. :biggrin: I had no problem with application, staying power was good – around 3 days with minimal damage.
Under bright light (2 coats):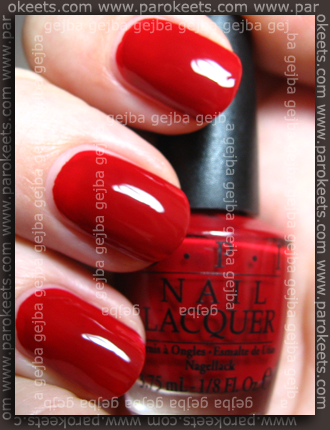 In the sunshine (2 coats):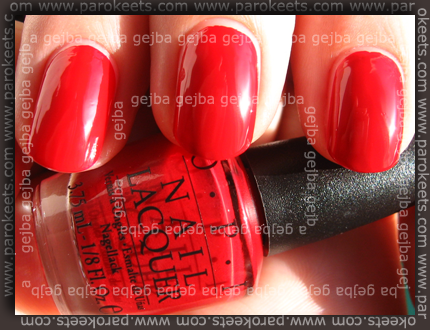 Ker nisem ljubiteljica svetlih odtenkov, bodo pri meni tudi spomladi in poleti prevladovali rdečkoti, vijole, mogoče se bo prikradel kak temno moder ali temno zelen lak. Maestra mi pravi, da sem čisto "zimski" tip, ker mi poletne kolekcije enostavno niso všeč. Si moram zapomniti ta namig in si jeseni ter pozimi narediti malo večjo zalogo lakov. :biggrin:
Eden izmed redkih krem lakov (tudi ti mi niso ravno pri srcu) v moji kolekciji je med drugim OPI Little Red Wagon, še zadnji mini iz kolekcije Holiday in Toyland.
Zelo lep rdeč lak za katerega bi se zelo težko odločila ali je nevtralen, hladen ali topel. Sem sklenila, da je lahko karkoli. :silly:
Bila sem namreč sveto prepričana, da gre za nevtralen odtenek, ki v rumeni svetlobi potegne bolj na toplo stran, dokler me Maestra ni na dnevni svetlob vprašala, kako to, da imam gor hladno rdečo. Sem celo popoldne strmela v lak in ugotovila, da ima prav … na indirektni dnevni svetlobi gre za hladnejšo rdečo (na direktni je v mojih očeh topel odtenek). Na srečo mi paše v vseh treh barvnih stanjih. :cool:
Pod močno lučjo: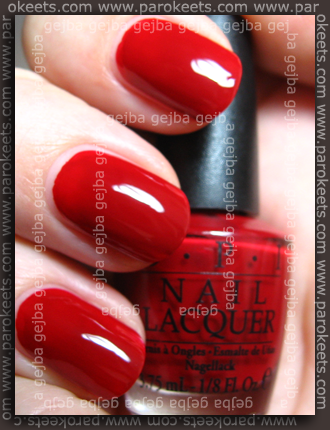 Na soncu: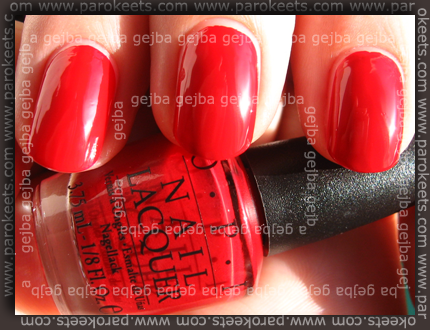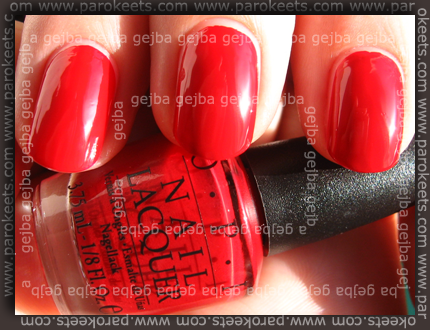 Na vseh slikah sta 2 nanosa.