I've had this one on my wish list for ages, but I just couldn't decide to order it. I mean it's a beautiful purple color. The only issues I had with this one, was the finish. It dries completely matte and it has rough finish. I know that neon polishes usually dry matte. And the rough finish supposed to be because of the combination of neon base and shimmer.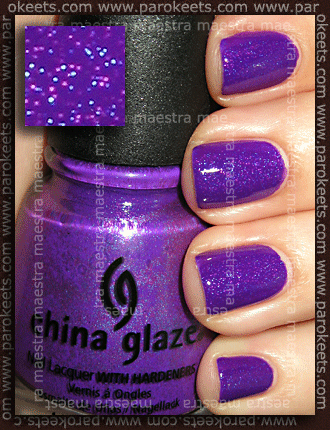 In the smal square you can see the blue and purple shimmer. The pictures show two coats with one coat of Poshe top coat, which smooths out the rough finish.
As with most purple shades, this one also was a problem child to photograph, because it turned out too cold and blueish. With some effort I managed to get more accurate picture.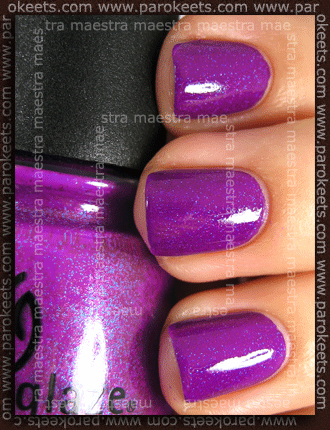 The shade changes a lot depending on the light conditions.
Flying Dragon is from the Ink collection. I have jet to show you Blue Sparrow from the same collection. Blue Sparrow is also neon shade, wich dries matte and has rough finish. I'll show it to you in near future. :wink:Ta odtenek je bil dolgo na mojem seznamu želja. Dolgo sem oklevala, ali ga naj naročim ali ne. Barva je fantastična živa vijolična. Motil me je edino finiš, saj se lak posuši v popolnoma mat in hrapav finiš. Mat zato, ker gre za neon odtenek. Hrapav pa zaradi kombinacije neon osnove in bleščic.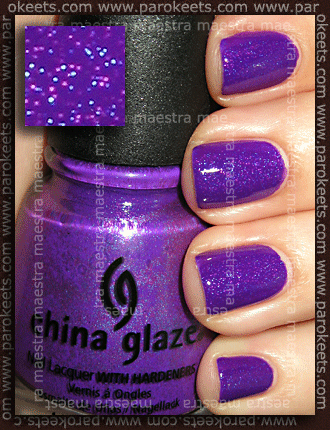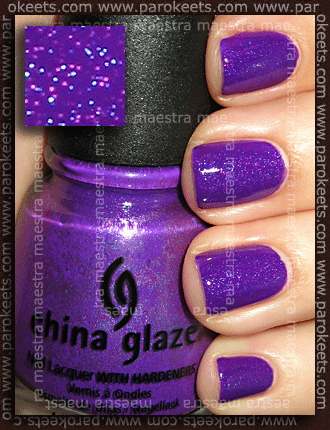 Zelo dobro sem ujela detajl, kjer se lepo vidi, da odtenek vsebuje moder in roza šimer. Na fotografiji sta dva nanosa in ena plast nadlaka. Končni rezultat je fantastičen!
Kot večina vijoličnih odtenkov, je tudi tale predstavljal kar nekaj preglavic pri fotografiranju, saj na fotografijah izgleda preveč hladen. Z malo truda sem prišla do bolj realne barve.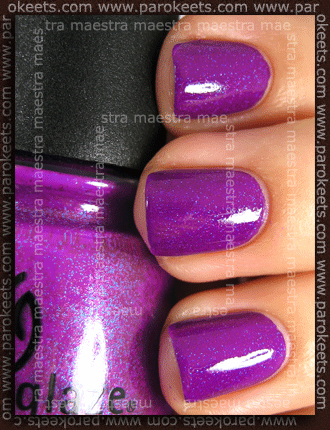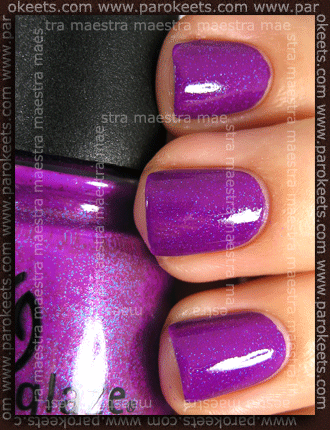 Odtenek precej spreminja barvo glede na osvetlitev in približno tak kot na zgornji fotografiji je pod močnejšo umetno osvetlitvijo.
Flying Dragon je iz Ink kolekcije, iz katere sem naročila tudi moder odtenek Blue Sparrow (neon), ki ima enake lastnosti kot Flying Dragon. Posuši se v mat in hrapav finiš. Fotografije zaenkrat še nimam. Jo pa lahko pričakujete v kratkem :wink: