I went a little window shopping. I'm looking for a green winter coat. I know it's a bit early for winter coats, but you know what, better too early than miss a perfect coat for me. :biggrin: So, as I was walking around I realised two things. First, it is indeed a bit early for winter coats and second, there are a lot of purple clothes coming up this fall and winter. Looks like purple is the color for this fall and winter. So here is a lot of purple for you today…
First is my yesterday's EOTD. I used several Sweetscents and Gosh mineral eyeshadows. I can't remember which shades I used, because I used a lot of shades and mixed and blended them together.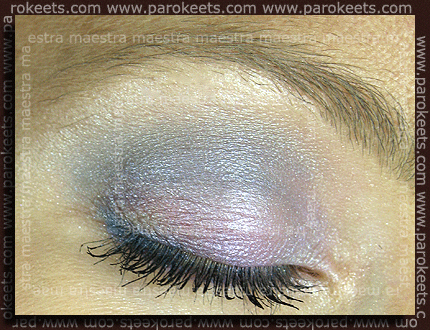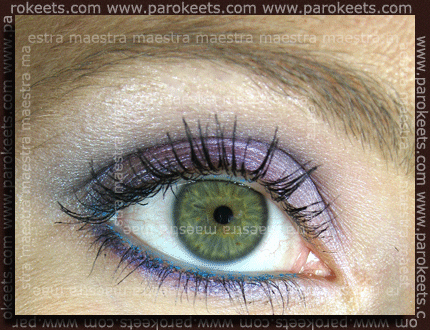 I used my new eyeliner from Bourjois on the waterline. The shade is 54 Bleu Clinquant from the Metallise line. I'm going to write a review about it in near future.
Next is my NOTD with Claire's nail polishes. The manicure was made in several steps.
First off, I painted my nails with Claire's nail polish in shade D65. It's a blurple (blue-purple) color. As you may already know, it's almost impossible to photograph blurples. They always look too blue in pictures. My pictures are no exception. Although, this blurple is more blue than purple IRL.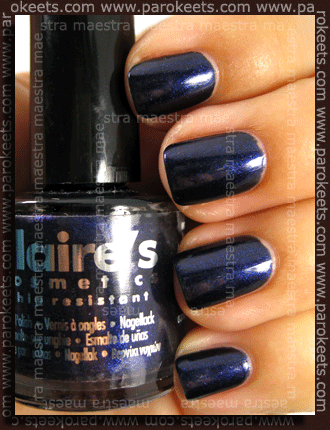 This is two coats.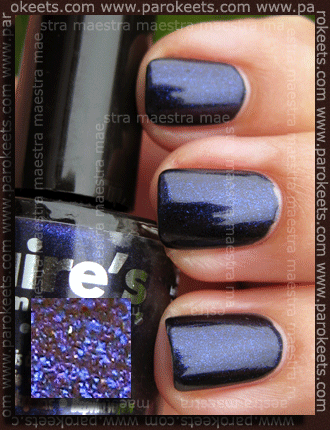 Than I added one coat of Claire's B64.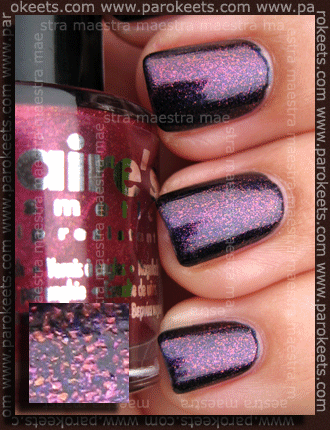 At the end I stamped over with Konad IP m21. I used Claire's B76 nail polish for stamping.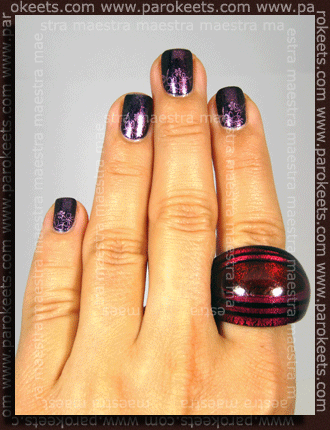 My mom's necklace…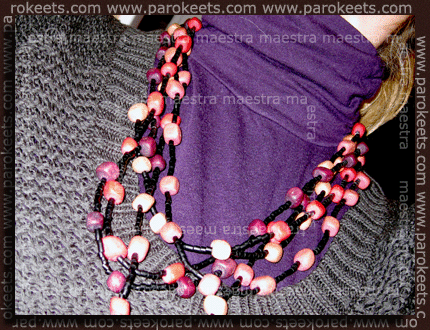 And one glowy picture for the end… :biggrin: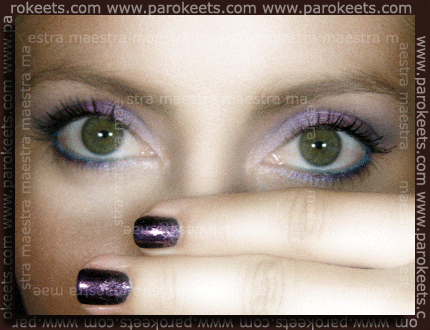 Letos pa je res že čas, da si kupim nov zimski plašč. V glavo sem si zapičila zeleno barvo. Včeraj sem se odpravila po trgovinah na lov za zelenim zimskim plaščem. Kmalu sem ugotovila, da je še malo zgodaj za kupovanje zimskega plašča.  :silly: A rekla sem si: "Bolje prej kot prepozno!" No, zelenega zimskega plašča še nisem našla, ugotovila pa sem, da je letos povsod polno vijolične. Očitno je to (ponovno) barva za jesen in zimo. Mene ne moti. Vijolično imam rada. Dokaz so naslednje fotografije…
Moj včerajšnji "make-up". Uporabila sem raznorazne odtenke mineralnih senčil znamk Sweetscents in Gosh.
Na "waterline-u" sem uporabila svoj nov svinčnik znamke Bourjois. Gre za odtenek 54 Bleu Clinquant iz linije Metallise. Daljši opis o tem svinčniku bom napisala v kratkem.
Manikura, ki je še vedno na mojih nohtih je nastala v več korakih.
Najprej sem nanesla dve plasti modro-vijoličnega laka Claire's D65…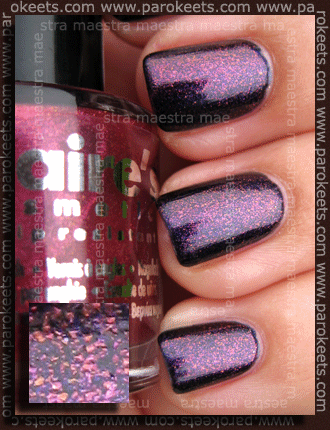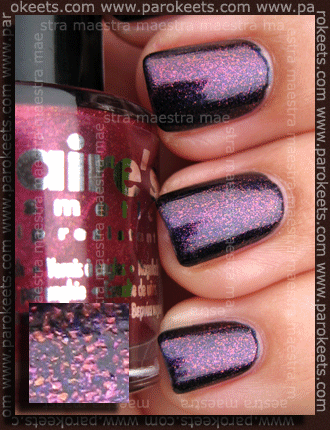 Za konec sem zgornjo kombinacijo še "pokonadirala" z lakom Claire's B76 in Konad IP m21.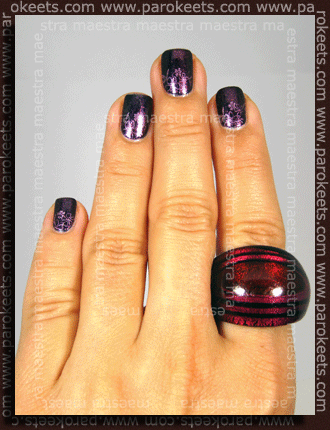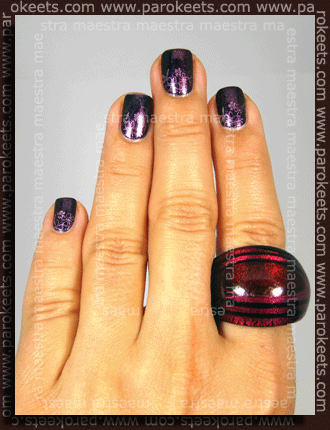 Mamina verižica…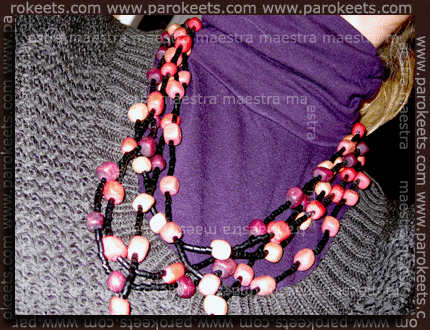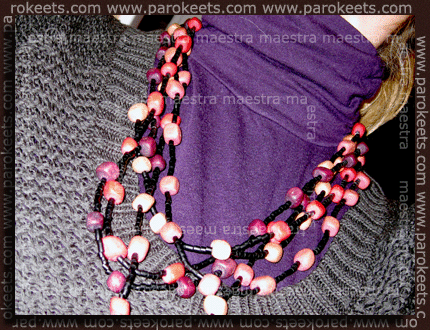 Za konec še bonus fotografija… :biggrin: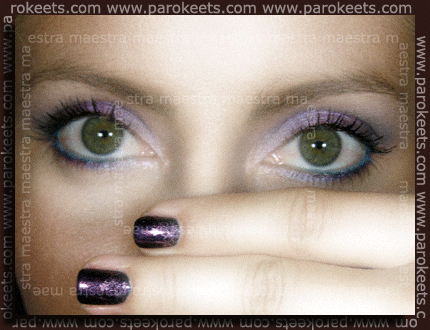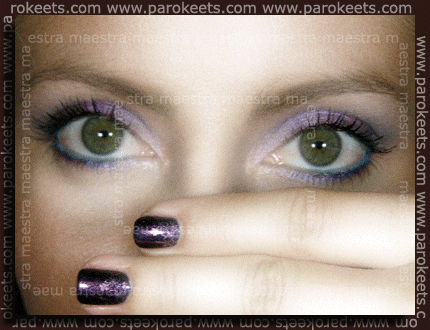 Kako se kaj razumete z vijolično? Ste veseli, da je ponovno "in" za to jesen in zimo? Ali zavijate z očmi?
Naknadno dodano: Ugotavljam, da številke na stekleničkah Claire's lakov ne predstavljajo številke odtenkov, saj imam dva različna odtenka z istima številkama. :roll: Kako sovražim to… :angry: