Catrice is bringing new products out for Spring and Summer 2013. This is my review about some of the new products.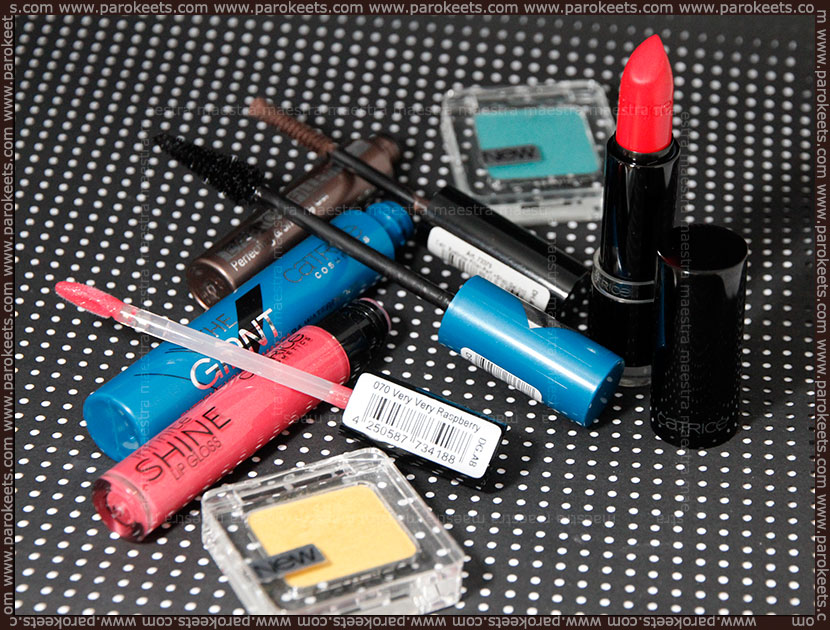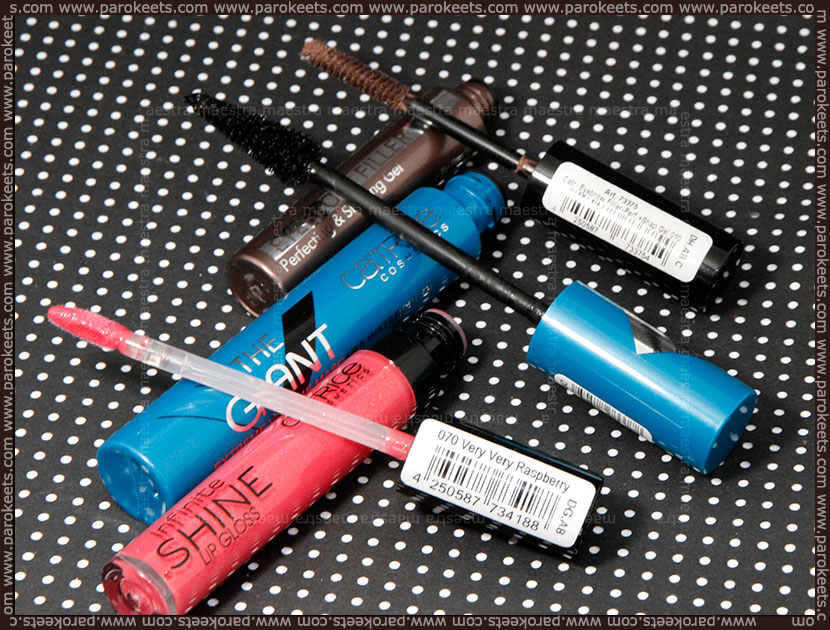 Eyebrow Filler – Perfecting & Shaping Gel
Naturally tinted Eyebrow gel, suitable for eyebrow colors. The fibers fill in small gaps – for dense and perfectly shaped eyebrows within seconds.
I've never had a product like this, so I was very excited to try it. At first I was disappointed. It hardly did anything to my eyebrows. After a while I got used to it and now I like it a lot and use it almost every day. What did I do wrong in the beginning? I probably just didn't put enough product on my eyebrows. I was afraid that I would put on too much and so I ended putting on too little. After I realized that it is not as pigmented as I thought it would be, everything was fine. Now I really like the product. I just wish it would hold in place my eyebrows better. And a big down side to this product is that there is only one color available.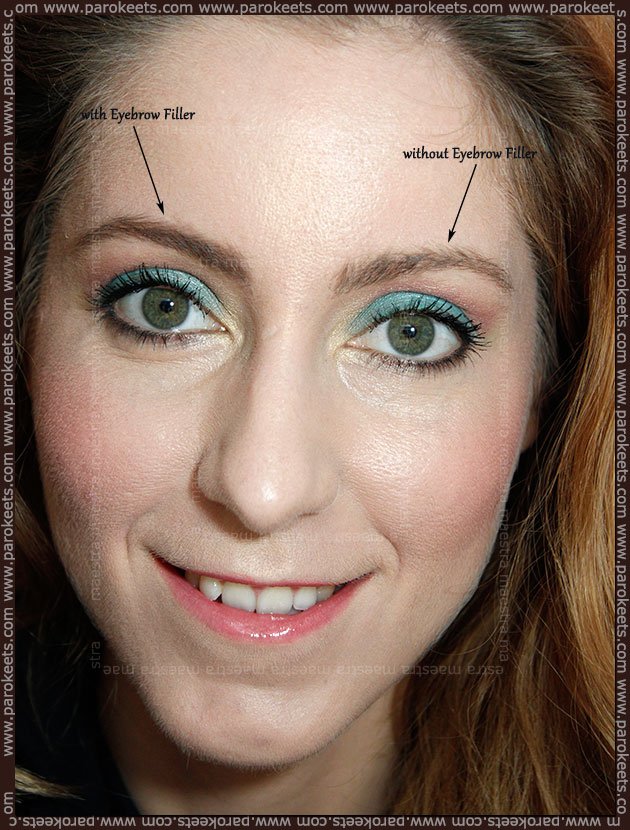 The Giant – Extreme Volume Mascara Waterproof
Extreme volume that lasts all day. "The Giant" Waterproof Mascara delivers a stunning look with bold and dramatic lashes. Thanks to the specially shaped XXL-brush, every single lash from the inner to the outer corner can be reached easily. Easy to remove with waterproof make-up remover. Ophthalmologically tested.
Let's got straight to the point. I do not like this mascara. I think that the wand (XXL-brush) is weird and it makes the application of the product harder (not easier). I just didn't get used to it. Yes, it is easy to get into the inner and outer corners with the thin side of the wand, but what about the really big side. I just do not get it. And the worst part is, they promise you "stunning look with bold and dramatic lashes". Well, it didn't happen to me (see the make up photos). I get more drama to my lashes with only one coat of my beloved mascara than I got with three thick coats of this mascara. The mascara (or the wand) separates the lashes nicely. The lashes do not get clumped even after three coats. It is one of those dry mascaras.
Infinite Shine Lip Gloss – 070 Very Very Raspberry
Lip Gloss for spectacular shine. Keeps lips smooth and intensely moisturized. Non-sticky.
I completely agree with the claims. The lip gloss gives a nice shine to the lips, it is non-sticky and the lips feel moisturized. I like it a lot. Great for everyday use. It gives a nice flush of color to the lips but is not very pigmented (see the make up photos). It doesn't stay long on the lips, but one can not expect that a lip gloss like this (non-sticky) would be very long lasting, right? :D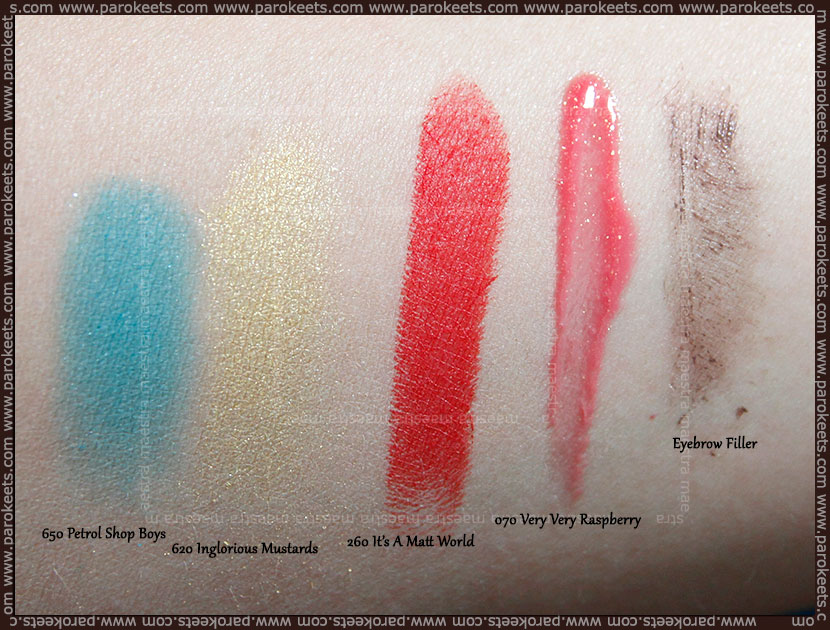 Ultimate Colour – 260 It's A Matt World
This is a beautiful and bold red matt lipstick. I love it! The pigmentation is great (see the swatch photo – only one swipe). It is long lasting. It doesn't really dry the lips out. I mean … yes, the feel on the lips is dry but not drying. If this makes sense. Very lovely lipstick.
Absolute Eye Colour – 650 Petrol Shop Boys and 620 Inglorious Mustards
Both of the eye shadows are very pigmented. Both are a bit too powdery for my liking. I love the gold one (Inglorious Mustards). It gives just the perfect amount of shine if used without the eyeshadow base. I was disappointed by the turquoise one (Petrol Shop Boys). The pigmentation is great when you first apply it, but it fades quickly. By quickly I mean like after a couple of minutes. I think it is because the product is very powdery. It is almost impossible to layer it, because the top layers just disappear after a while. While I recommend the gold eyeshadow, I do not recommend buying the turquoise one although it is a beautiful shade.
Here is the make up I did with the new products I got for review.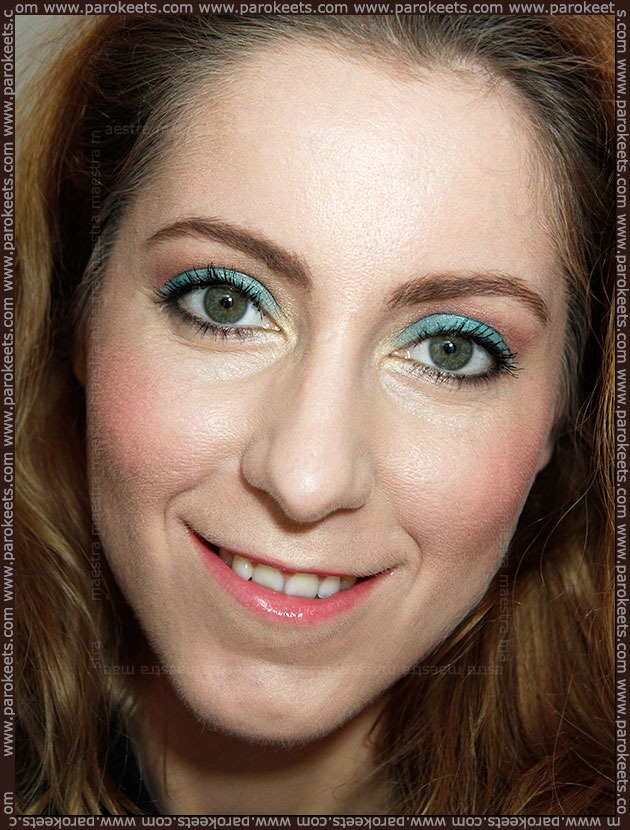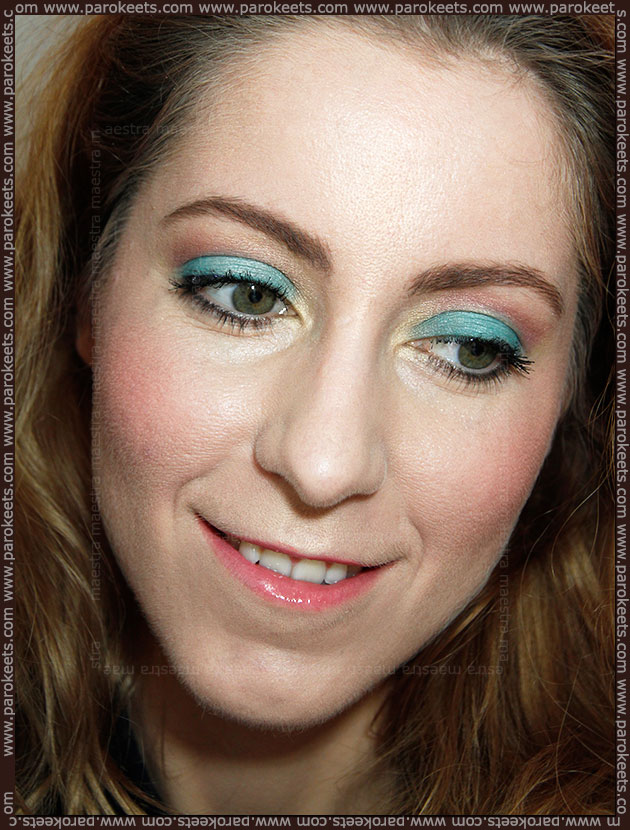 If you'd like to found out more about some other new products, Gejba posted a video review a while ago. HERE is the link to her post.
Now I am curious … Did you already try any of new products by Catrice? Which ones are your favorites? And were you disappointed by any of the products?
*the products were sent to us for review purposes

Catrice ponovno prenavlja svoja stojala. Nekateri izdelki gredo iz prodaje, veliko novih prihaja. Tukaj je moje mnenje o nekaterih novih izdelkih.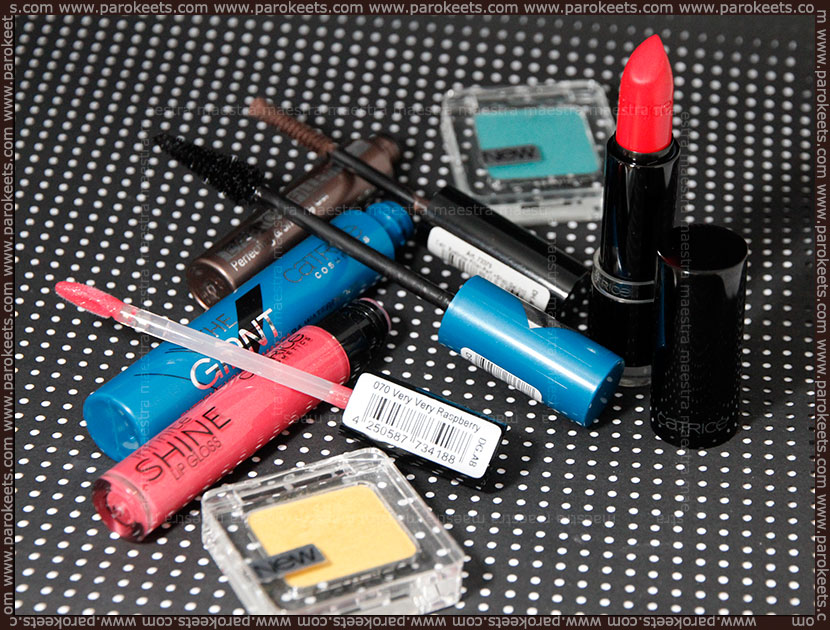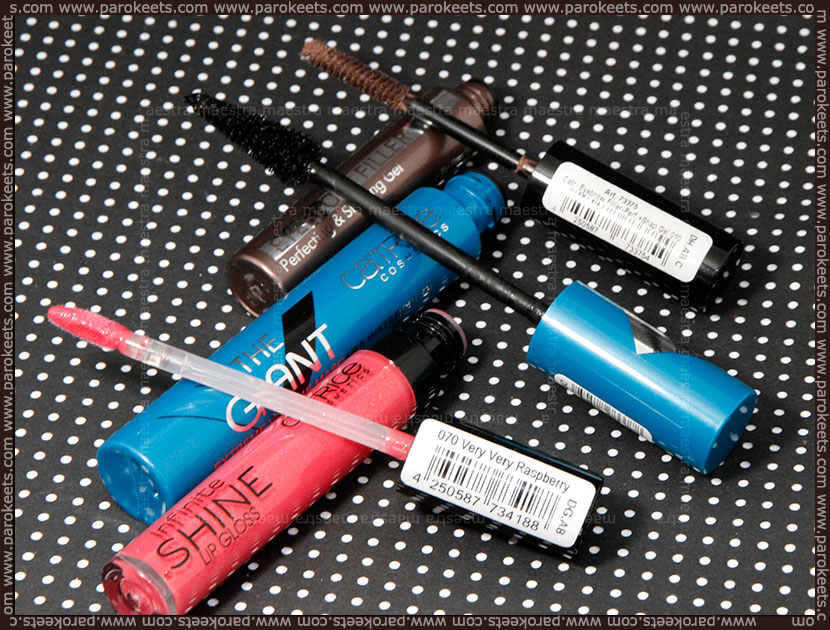 Eyebrow Filler – Perfecting & Shaping Gel
Goste, popolno oblikovane obrvi dodajo obliko in okvir očem. Naravno obarvan gel za obrvi neguje, zgosti in oblikuje obrvi. Integrirana vlakna v teksturi zapolnijo majhne vrzeli in nepravilnosti. Nevtralna barva gela za obrvi se ujema z obrvmi v vseh barvah. Enostavna uporaba, hitro sušenje brez zlepljenja.
Še nikoli nisem imela podobnega izdelka, zato sem se izredno veselila preizkusiti Eyebrow Filler znamke Catrice. Priznam, da me je sprva razočaral. Praktično nič ni naredil mojim obrvem. Čez čas sem se na zdelek navadila, se ga naučila uporabljati in sedaj mi je izredno všeč in ga uporabljam skoraj vsak dan. Kaj sem torej sprva počela narobe? Najverjetneje sem na obrvi nanesla premalo izdelka, saj sem se bala, da ga bom nanesla preveč. Saj veste: "Manj je več." V tem primeru se je izkazalo, da temu ni tako, saj izdelek ni tako zelo pigmentiran, kot sem pričakovala. Ko sem se na izdelek navadila, sva postala prijatelja. Želela bi si le, da bi moje obrvi bolj utrdil. Dodaten minus si zasluži, saj je na voljo le en odtenek, ki pa ne bo zadostoval za najtemnejše.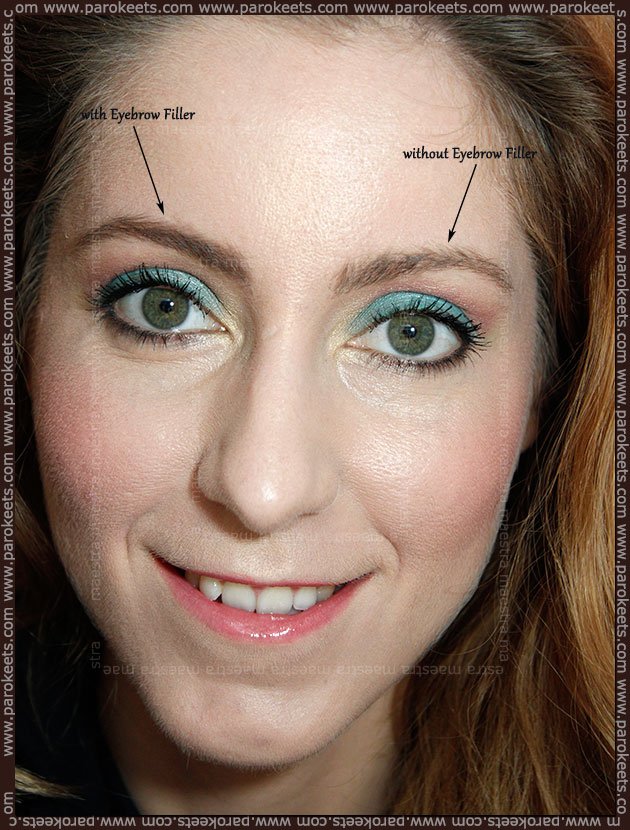 The Giant – Extreme Volume Mascara Waterproof
Velikan – sedaj na voljo tudi v vodoodporni različici. Za izrazit XXL volumen trepalnic. Skrivnost: interakcija edinstvene formule in posebno razvite koničaste mega krtačke. Ozka konica krtačke definira vsako posamezno trepalnico – tudi v kotičkih oči. 24 h vodoodporna tekstura zagotavlja 24 h dolgotrajnega, senzacionalnega volumna.
Ne bom ovinkarila, te maskare ne maram. Krtačka (XXL-krtača) je enostavno čudna in pri meni je samo otežila nanos maskare. Nikakor se nisem navadila nanjo. Ja, dejansko je z ožjim delom dokaj enostavno priti v kotičke in "pobrati" vse trepalnice, a ne razumem, kaj bi naj počel ta širok del krtačke. Mene samo zmede in na koncu se popacam. Pri vsej zadevi je najhuje to, da obljubljajo nek "senzacionalen in izrazit XXL volumen". Hmm … v moji tubi tega ni bilo (glejte fotografije make up-a). Več volumna dosežem z enim nanosom s svojo priljubljeno maskaro, kot dosežem s tremi nanosi opisane maskare. "The Giant" sicer lepo razčeše trepalnice. Tudi po treh plasteh se trepalnice ne zlepijo. Verjetno je razlog za to v tem, da gre za eno tistih "ta bolj suhih maskar".
Infinite Shine Lip Gloss – 070 Very Very Raspberry
Nova generacija CATRICE glosov za ustnice za intenziven sijaj in sijoče barve. Zaradi vlažilne formule so ustnice čudovito negovane, brez neprijetnega lepljenja.
S trditvami se popolnoma strinjam. Glos za ustnice daje ustnicam lep lesk, ni lepljiv in zdi se, da so ustnice navlažene. Všeč mi je. Odličen za vsakdanjo uporabo. Ni izredno pigmentiran, ustnice pa nežno obarva (glejte fotografije make up-a). Ni ravno dolgo obstojen, a tega od takšnega tipa glosov (ne lepljivi) niti ni pričakovati.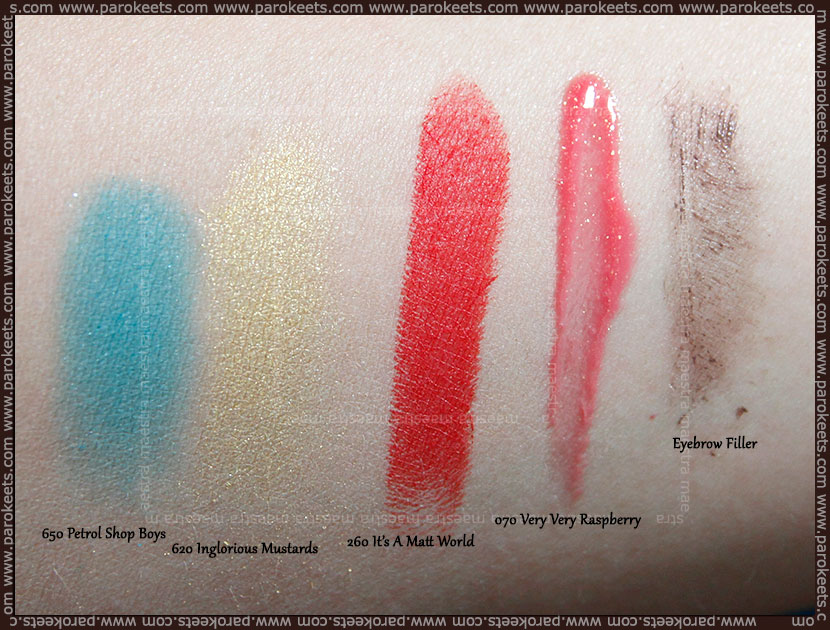 Ultimate Colour – 260 It's A Matt World
Gre za čudovito in živo rdečo mat šminko. Izredno mi je všeč! Odlično pigmentirana (glejte fotografije swatcha, kjer je samo en poteg s šminko), dolgo obstojna, ki ne izsušuje ustnic. Sicer je občutek na ustnicah nekoliko suh (logično, saj gre za mat šminko), a ustnic ne izsušuje. A veste kaj mislim? Zelo všečna šminka.
Absolute Eye Colour – 650 Petrol Shop Boys and 620 Inglorious Mustards
Obe senčili za oči sta dobro pigmentirani. Slabša stran je, da se obe senčili preveč prašita za moj okus. Zlato senčilo obožujem. Očem da ravno pravšnji lesk, če se ga uporabi brez podlage za senčila. Turkizno senčilo me je razočaralo. Sicer je dobro pigmentirano, a izredno hitro zbledi. Pod izredno hitro mislim … že po nekaj minutah je vidno manj barve na koži in deluje neenakomerno ter bledo. Rekla bi, da je razlog za bledenje v izredno pudrasti / prašni teksturi, ki ne dopušča, da bi se pigmenti prijeli drug na drugega, ko se senčilo sloji. Dejansko ga je izredno težko slojiti, saj zgornje plasti zbledijo skoraj takoj. Nakup zlatega senčila priporočam, medtem ko odsvetujem nakup turkiznega, čeprav gre za čudovit odtenek.
Sledi še make up, ki sem ga ustvarila s predstavljenimi izdelki.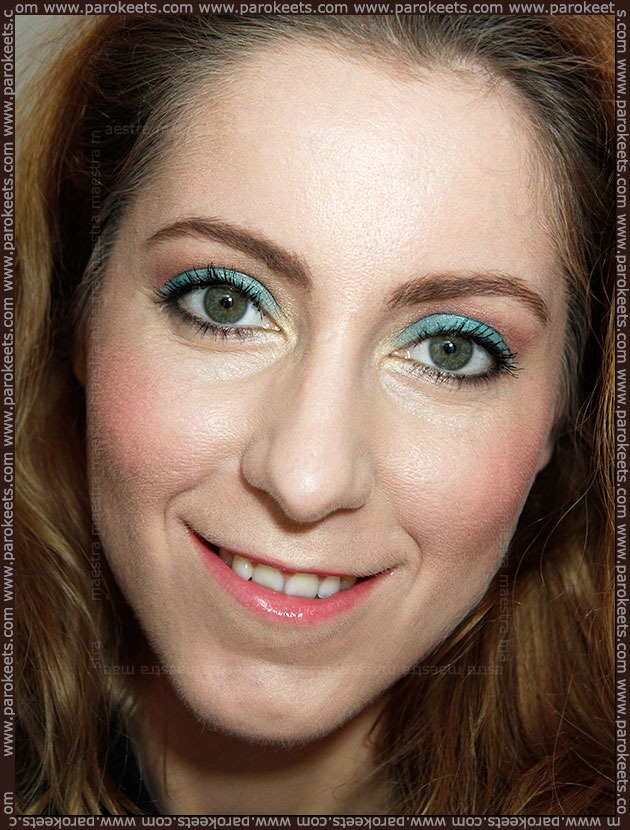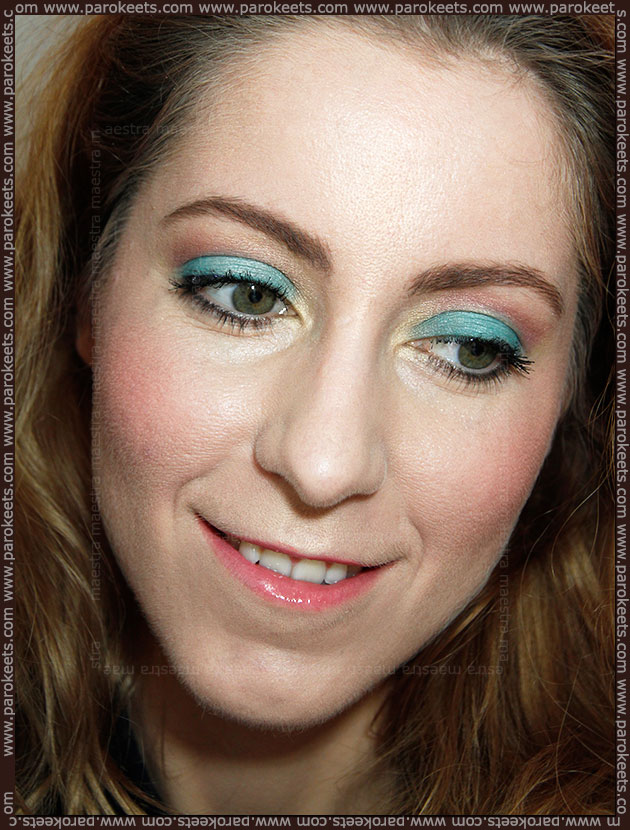 V kolikor bi radi izvedeli še več o novih izdelkih, vam predlagam, da si preberete preispevek, ki ga je pred časom napisala Gejba. TUKAJ je link na prispevek.
Sedaj pa sem radovedna … Ste morda že preizkusila katerega od novih izdelkov? Kateri je vaš favorit? Vas je morda kateri od izdelkov razočaral?
*izdelke smo dobile v testiranje