I'm not big fan of lipsticks, but I do stay loyal to Rimmel ones. I currently own three of them: 017 Dizzy (older Lasting Finish), 275 Dreamy (Rich Moisture) in 070 Airy Fairy (Lasting Lipstick). Even thou they're from different collections, they're very similar.
From left to right: Dizzy, Dreamy in Airy Fairy.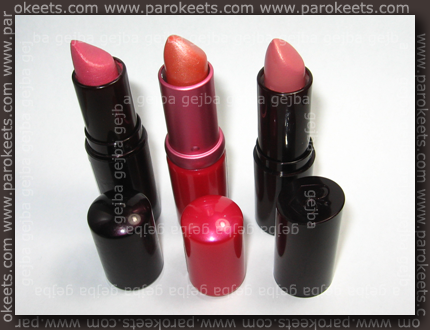 All of them are: easy to apply, moisturize my lips and are not overly pigmented. Packaging is nothing special, my favorite are those from the new line.
I don't remember how much I paid for them – but it had to be somewhere around 5 EUR.
Most used from the three is probably Dreamy – it goes together with almost every make-up I come up with. Base is pink-peach, which contains multi-colored shimmer.
The most pinkish in my collection is Dizzy – as you can see it was very popular for some time.
Airy Faire is more peachy and darker than Dizzy but has similar shimmer as Dreamy.
They're in the same order as on the first photo.