I abducted Maestras Alessandro 257 and 259 polish … just for a quick ride.
They have one thing in common – flakes.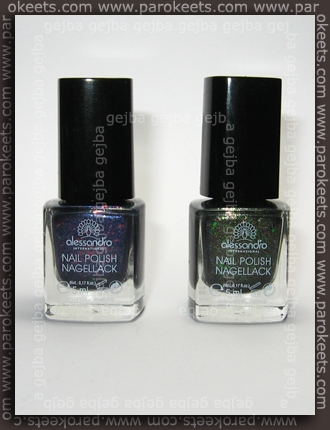 257 or greeny as I named it, is gorgeous. It has dark olive green base and lighter green flakes in different sizes and shapes.
Flakes loose their impact in the sunshine (olive base and copper shimmer prevail), but they really come to life in indirect lighting.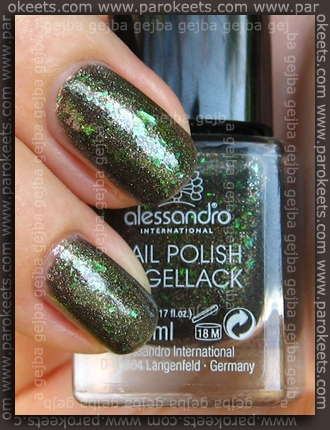 259 has violet-blue base and mainly copperish flakes (they can turn pinkish or orange in certain light). Every once in a while you'll spot green flake.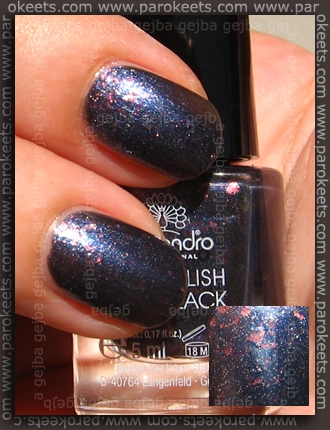 Flakes are not as pronounced as with 257 shade. In general I don't like combination of cool base and warm shimmer.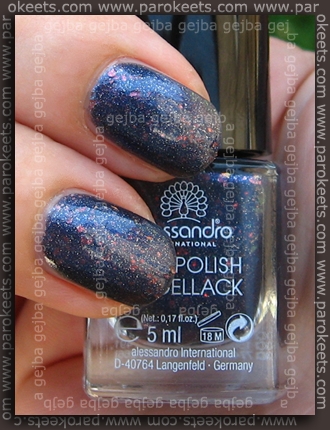 Greeny would become part of my collection if not difficult removing. I had to use extra strong nail remover and still din not manage to remove all of the flakes.
Application was great with both polishes. Each is shown with two layers, no top coat.
Like 261 shade, 257 and 259 are part of the Alessandro Vamp limited edition.
Price for one mini (5 ml=0,17 fl.oz.) is 4 EUR (5.5 USD).