OPI's My Private Jet was a long time lemming of mine. First picture I saw of My Private Jet was of course its grey and holo version. I wanted MPJ badly, although I read that it was pretty sheer. Than I found out, that there is a newer and not so holo version of MPJ, which I really didn't want. So time went by… Than I got my hands on the holographic Essence polishes and I was satisfied and in there was no need for MPJ. But not so long ago I saw the brown version of MPJ and I fell in love with it, as it's perfect greyish-brown with lots of shimmer. Of course I had to buy it and I love it!!!! Look for yourself…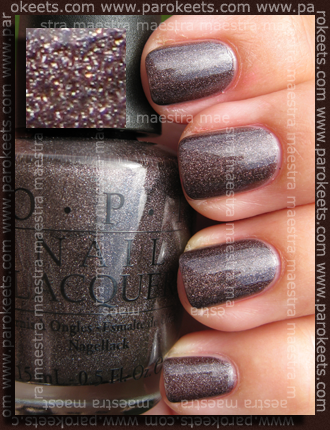 It went on very smoothly. No application issues at all. There are two coats in the picture.
This brown version also isn't a holo version, but if you look long enough and in the right lighting and from the right angle, you can find some holo effect.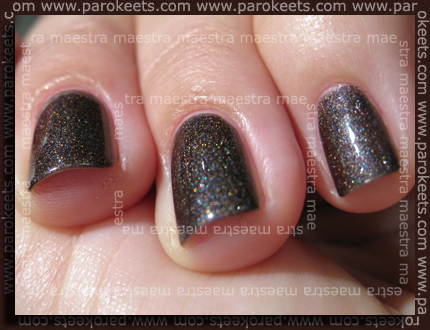 But the holo effect is really hidden and almost invisible, so don't expect too much. I don't care, because I love the color and the shimmer alone, the "from time to time holo effect" is just a bonus for me.
When I was finished painting my nails, I felt the urge to do some make up and I wanted to try my new Gosh – Kiwi eyeshadow. This is what I came up with…
I used these eyeshadows:
Gosh: Kiwi in Aqua
Sweetscents: Myst, Goldstone, Egyptian Green in Pink Opal
That's all for today.
What do you think about this brown version of My Private Jet? And what do you think about today's make up?
Oh yes… I have another thing to say or rather I have a hint for you. As you may have already seen, there is a giveaway running here on the blog, where you can "earn" some Eye Majic instant eyeshadows. Let me just give you a hint, that there is a charitable period comming here on the blog and the least you can do, is subscribe. Without subscribing you have no chance at all. And onother hint… There is a surprise coming up!