Just a quick post with my KOTD.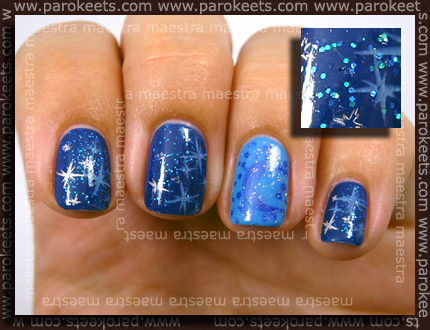 For the base I used three coats of OPI's Dating A Royal (darker creme blue) and No Room For The Blues (lighter creme blue). Then a stamped with the Konad image plate m25 (stars) and the Fauxnad image plate B22 (stars and the moon). I double stamped the stars, for which I used Avon's Silver Foil nail polish from the Mirror Shine line, then I used the Konad special polish in Pastel Blue. For stamping the moon and the stars I used Jessica's Fancy Fishnets nail polish. After stamping I added some glitter nail polish to it. On the darker blue I used Constance Carroll Glitzy in Aqua Sparkle, which is a sheer base with turquoise glitter. On the lighter blue I added the Bourjois Pillettes Disco from the Very Vernis line. This one is a sheer pink base with holographic glitter. The end result is very lovely. Sadly, the picture really doesn't show how cool the stars and the glitter top coat work together. The glitter particles are like tiny sparkly stars.
So, that's it. Have a nice day everyone!