Today I have for you a creme pink neon shade called Pink Parka. It's from Essie's collection for fall 2009, called Cuddle with Color. This collection is very funny and so not-Essie. It's a mixture of neons (for fall!!!), grey, brown-taupe, dusty rose and blue. I mean, for me, this collection is funny in a good way. Although there are tons of greys this year, I still love them. And neons for fall… what can I say… I have mixed feelings about neons for fall. I love the colors but I don't know if I'm going to wear them, when there is cold outside and leaves start to fall from the trees. And my tan is going to fade… I just don't know if I'll be in a mood for neons. OK, they'll keep and wait for next summer. But you never know, maybe I'll go a bit crazy this fall and winter and I'll wear only neons on my tips… maybe… we'll see…
Nevermind, it's still hot outside and I'm on a two weeks working vacation at the beach. Pink Parka is the perfect color for the beach. It's pink and it's neon.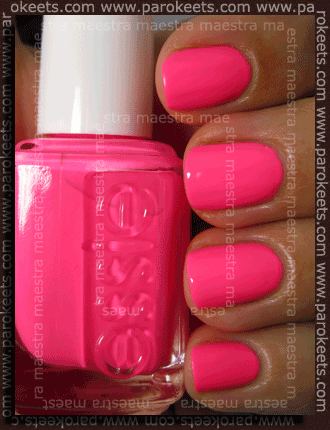 It applied decently for a neon. It dried matte. There are two coats in the picture with one coat of top coat.
What do you think about neons for fall?