Today I have a creme neon green for you. It's from LCN and the shade name is Neon 9. I've had this one in my stash for quite some time now, but I was a bit afraid of putting it on. I thought it would be too sheer and it wouldn't go with my skin tone. I was partly right. It is sheer, but not as much as I feared. However, I was totally wrong about clashing with my skin tone. I think it looks nice on me.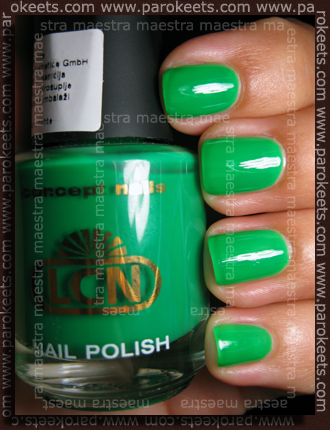 Because I knew I was going to sponge over the tips, I didn't care for the sheerness. I used OPI's Go On Green! for the sponging part.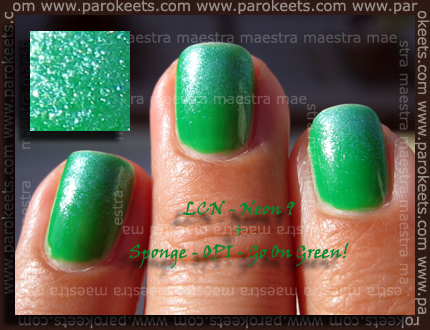 The tips looked like they were frozen. Cool effect!
Next I added some Konad. I used IP m24.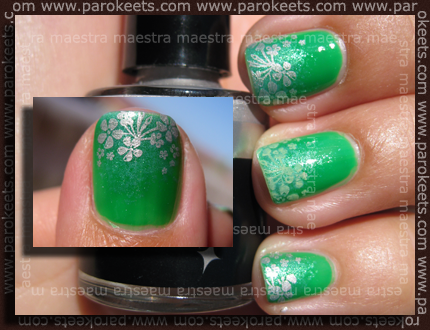 I used Avon's Silver Foil nail polish for stamping. What do you think? Did I overdo it? I mean, I can't decide whether I liked it better only sponged or konaded.
Next I have neon orange pedicure for you. I'm very shy with my toes, but I decided to show them to you anyway…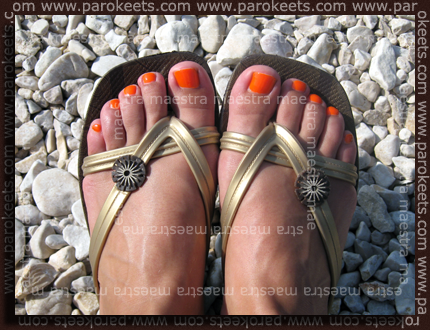 And I love those Ipanemas! I've had them for three years now and I wear them all the time in the summer. And they are still in very good condition.