Here is my recent NOTD…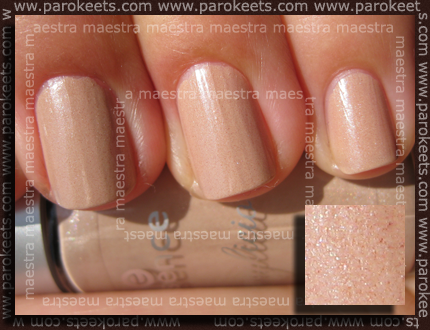 It's one coat of Iced Chai Latte from the Creamylicious TE from Essence. Mamy wrote: "Iced Chai Latte is very difficult to apply. It's streaky and dried too quickly. I can not remember the last time polish caused me so much trouble." Strange… My bottle was excellent and there is only one coat shown in the picture above. I really didn't have any application issues with this one. It's such a lovely nude color. Definitely a winner for me in this collection.
Next day I woke up with my nude colored nails and I knew I had to do something with them. So I decided to get to know the marbling technique a bit better. I tried random polishes and this is what I came up with…
For the base I used one coat of Iced Chai Latte.
The polishes I used for marbling:
Up left: S-he – 433 + S-he – 464
Up right: S-he – 433 + S-he – 466 + Essence – Creamylicious – Chocolate Shake
Down left: the same as up right
Down right: S-he – 464 + S-he – 466
And the only successful marble on my right hand…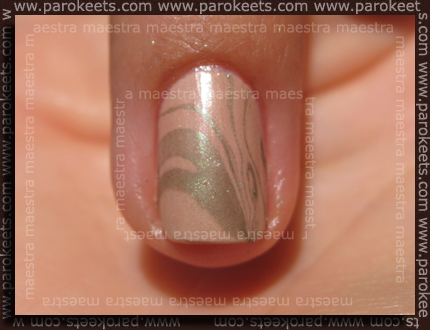 For this one I used S-he – 221 + S-he – 469.
I have to admit that this was also my recent NOTD, because I left it on for a whole day. For now I'm satisfied with marbling although I dislike it a bit, because I don't know how to manipulate the pattern.
Did you ever try the marbling techinque? What do you think of it?