I got these beauties quite some time ago. These are all oldies but goodies. They are from a CND's discontinued line. You all of course know by now about their new line with 50 creme shades and 15 effect. But I won't babble about the new line today. I'd like to show you three really lovely shades today. The names are: Black Platinum, Knight's Armor and Eskimo Kiss.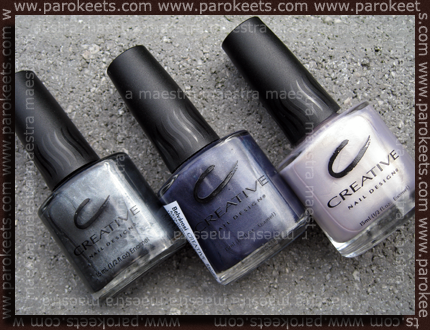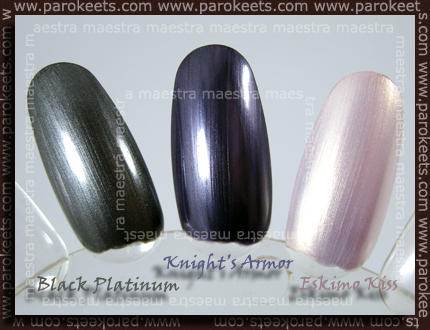 All have frosty metallic finish. That means that the brush strokes are visible. I'd recommend careful application and straight strokes with these. But brush strokes aren't so visible that they would bother me. Otherwise, I didn't have any application issues.
I'm going to write some more about Eskimo Kiss, which surprised me the most. I thought, it would be sheer, but it's really not. It's quite the opposite, it almost needs only one coat to be totally opaque. I did two coats, just to be sure.
From the pictures you can see, that Eskimo Kiss is a little duo-chrome. It shifts between silvery-white and pinky-peach shade. It's a wonderful shade and works well with Konad as well!