Nihrida asked me, if Essence – Meet You In Budapest was similar to Ciate Paint Pots – Superficial. So I made a comparison …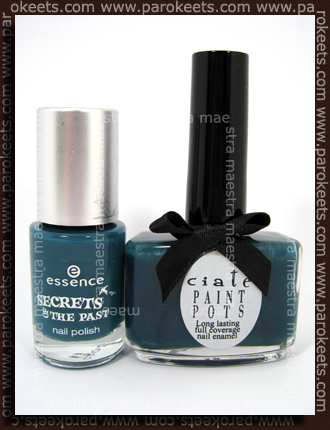 They look similar in the bottles, but are different when applied.
I did quick comparison swatches on a nail wheel. As you can see, Superficial is darker. I may have just found my perfect teal cream. As much as I loved Superficial, it was always a bit too dark for what I wanted. I have to try Meet You In Budapest on my nails to be sure, but I think it is a perfect teal for my taste. I can already say, that it is definitely a must have shade for all you blue lovers out there.
Both shades were applied in two coats in the pictures. I had no application issues.