Nati spotted Krackpolish in my "Waiting to be tried out" box. It's one of her huge lemmings so I layered it over 4 different base polishes just for her.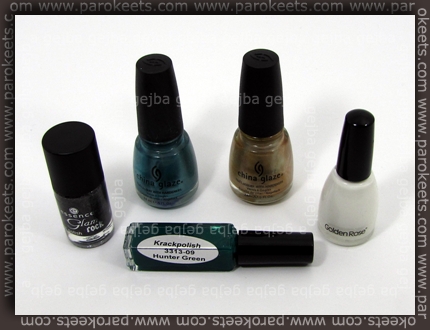 From left to right: Essence Gothic Girl, China Glaze Adore, China Glaze 2030, Golden Rose 242 and lying down Krackpolish Hunter Green.
I applied base polishes in the same orders as above and then layered them with Krackpolish.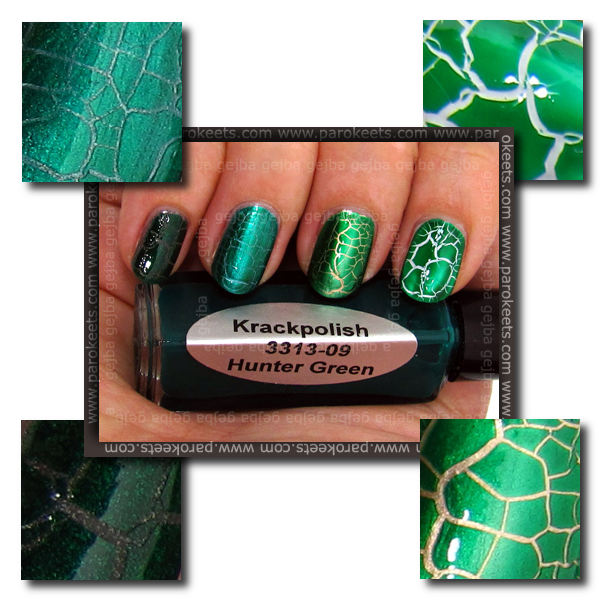 First time I tried out Krackpolish I had green color all over me … except on my nails. After experimenting a little bit I came with my list of DO's and DON'Ts:
polish cracks best if I apply it over "smooth" polish (no ridges);
if put over chrome polish it will quickly rub down or crumble off;
worst base are creme polishes (you know those tacky ones);
thicker is the layer of Krackpolish, less cracks you get;
base polish must be dry before applying Krackpolish;
Krackpolish must be completely dry before using top coat (and top coat is a must if you wish to have pretty manicure longer that until first time you wash you hands)
even if K. is dry it can still smudge if we used very smooth polish for base (think China Glaze Khrome collection).
I assume original bases work better with Krackpolishes, but I'm not crazy about this polish, so I won't be testing them. I like Konad cracked images better. :D
Removing this polish was also a battle – I had to use acetone to get rid of the green color.
I ordered Krackpolish on TransDesign.