There are three shades in Essie's winter collection 2009.
mint candy apple – creme de menthe mint
lollipop – candy cane red
rock candy – sweet treat pink
Mint Candy Apple is a favourite of mine from this collection. There are a lot of mint shades coming up lately, but I don't mind. I love them all! Although some of them (or maybe most of them) make my hands look red. I really don't mind, because I love the color so much!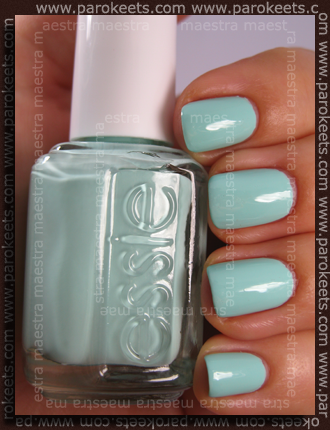 I didn't have any application issues with MCA. There are two coats shown in the picture above.
Lollipop is a pretty classic creme red, with a hint of orange to it. The application was great. No problems with it at all. Although it's well pigmented, it's one of those reds, which doesn't cover the VNL completely even after two coats. Two coats shown in the pictures.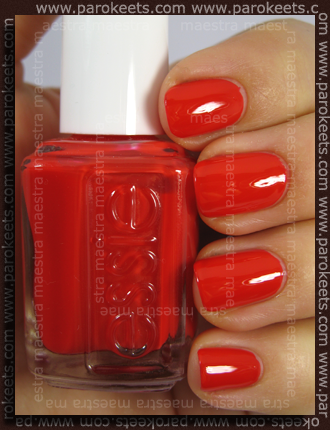 For comparison the "Evian red".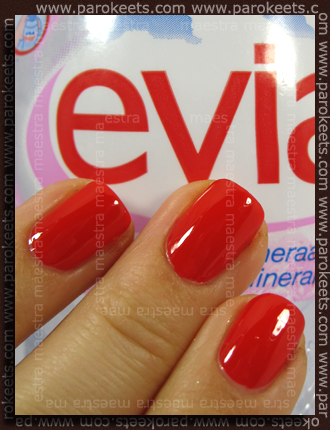 Rock Candy is a sheer creme milky shade with strong pink hint. It's sheer but it builds up. I was surprised by Rock Candy. I thought it's going to be another streaky and boring shade. Well, the shade alone isn't anything special, but I was surprised how well it covered or maybe neutralised my yellow stained nails. I mean, you can still see that my nails are stained, but at least it looks decent. I used one coat of Essence – Pro White Effect for the base. That's a base coat which also neutralises the yellowness, but not by so much. Nevermind … Rock Candy is really a great sheer light pinky shade, which isn't streaky at all. Can you believe it? It's been a long time since a sheer milky shade applied like a dream for me. And this one did. I didn't have any application issues with it what so ever. So, if you are into sheer polishes and french manicures, Rock Candy won't disappoint you.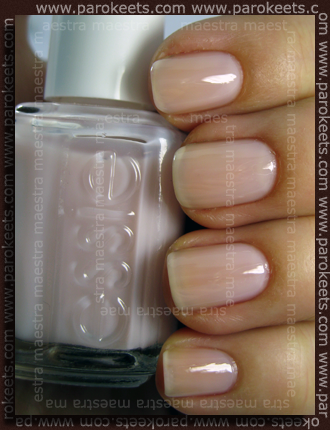 I'm quite impressed by the whole collection for two reasons. The first reason: I love the Mint Candy Apple shade. And the second: The application was great on all of these. When I was applying them, I remembered, why I love Essie polishes so much. I love their brush and the bottles are adorable. The consistency on their polishes isn't the best with all their shades, but they can get it right. And this time they did!
And now for the fun part or as I mentioned in the heading … a BONUS part!
First, I'd like to ask you for help. Namely, I wanted to do a manicure, which would contain all three polishes reviewed above, but my mind went blank and the creativity has left the building. I know, you can make a great manicure with the combination of mint, red and pinky shade, but … I couldn't come up with a decent idea. Here is what I ask from you …
Please, send your suggestions for a manicure made with all the three polishes shown above on my e-mail maestraparokeets.com. Use your imagination and find your creativity!
I'll choose from all the suggestions one manicure, that would speak to me the most. I'll try to recreate (with a hint of my interpretation) the suggested manicure and I'll show it to you.
You have time until Sunday, 31.1.2010 until 23:59 (GMT+1).
And of course the creative mastermind won't leave empty handed. The owner of the chosen suggestion will receive …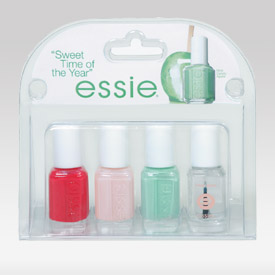 Thank you, Čarodejka for your contribution!
Please, describe the manicure well. You can attach a picture if it would help.
More than one suggestion per person is permitted.
Everybody can enter. The only condition is: You have to be a follower to enter. Please, write in the mail, under which nickname or email you're listed as our follower.
If you have any questions, don't be afraid to ask!
And on another note. I'd like to remind you of a giveaway "Let's celebrate together", which also ends on Sunday, 31.1.2010. You can win some great Zoya polishes! Read more about it HERE.