A while back Illamasqua contacted us via e-mail and we almost died of happiness! Can you imagine, Illamasqua sent us an e-mail asking us whether we would like to test some of their stuff? Unbelievable! I guess, there's not a single soul out there who is interested in cosmetics, that haven't at least heard of Illamasqua. The brand is from UK.  It's relatively young brand but it has already conquered the world. Amazing success story! I really like the philosophy that's behind the whole brand. Let me cite a few sentences from the email we received:
As I am sure you are aware, we believe in big, loud, creative makeup that doesn't conform to 'fashion', that celebrates who you are and speaks volumes about your personal identity. Whether that means you are creative on a night out with the ladies, or whether you are part of a culture or sub culture that encourages you to explore artistic make-up, Illamasqua can provide you with the ultimate colour and texture palette!
I can write for myself, that I don't stand out from the crowd (at least that's what I think ). I have my own style, which depends primarily on my feelings. Do I pay attention to the fashion trends? Yes and no. First I pay attention to what I feel like wearing at the time and then what I like. If the stuff is or is not fashionable isn't really that important to me. I think the secret is in details and how you can combine different styles and things. I admire people who have their unique style and don't worry about what others think about them. There's nothing more beautiful than to see a lot of different styles on the street. I always think: "Beautiful, how people are different and have different tastes! Let's respect that!"
As I wrote before, I don't stand out from the crowd. Probably because I don't dare to.  At the same time I really don't want to be lost in the crowd. I want to be at least a little different and I don't want to do things that everybody is doing. I wish I would have the guts to dare to do more. I guess, I started with my nails. Bold nails are definitely my trademark. And that has to count for something, right?
If I go back to the first sentence… Illamasqua contacted us asking us, whether we'd like to try some of their stuff. We were of course excited and couldn't wait for the stuff to arrive. We didn't know what to expect. We thought there will be some of the stuff from their new collection called Body Electrics, but we were wrong. The photo below shows what was in the carefully selected box, which only proves that there's nothing random at Illamasqua … Everything is carefully selected.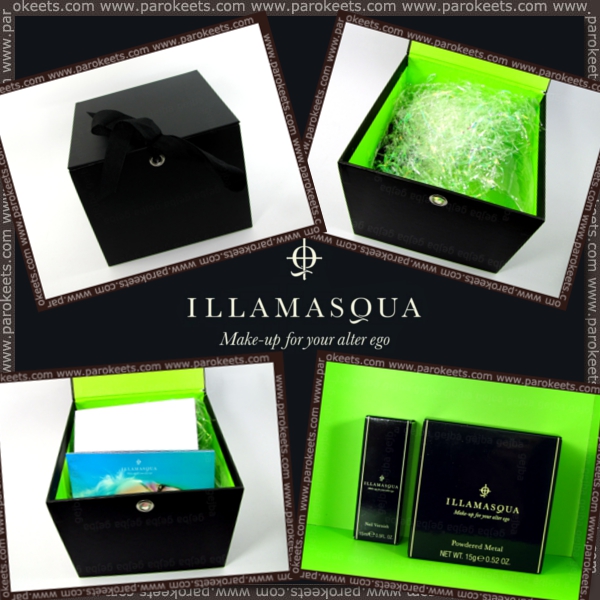 We were all crazy about the stuff that was inside. Nail polish named Nudge from the Pastel Nails collection and Powdered Metal in shade Thalia.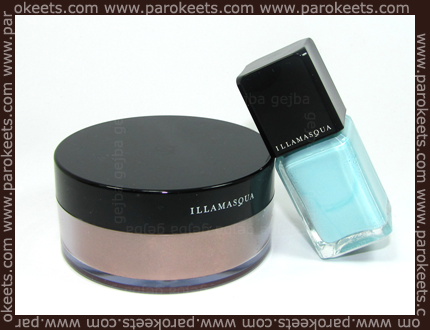 We couldn't wait to try everything. And because there is more than one writer here at Parokeets, it lasted a bit longer to write a review about the Illamasqua stuff. Three out of four Parokeets ladies tried the Nudge nail polish and two of us tried the Powdered Metal. The fourth Parokeets lady will of course try the stuff some time in the future. 
That was a bit about Illamasqua and a little something about me. Because the post got so long unintentionally, I'll write an actual review in my next post … stay tuned.
In the comments I would love to read about your everyday style (make up, clothes, …). Do you follow fashion trends? Are you adventurous when it comes to make up and clothing? Or would you like to be more daring? Is your "alter ego" buried deep inside of you or do you maybe leave it out from time to time? Tell me … Can't wait to read your comments …