Today, the Parokeets ladies are going to review almost the whole system for younger-looking hands by Essie. It's a relatively new collection of hand care products. The name of the collection is Ejuvenate and it's says it's a revolutionary system for younger-looking hands. There are four products in the collection:
Hydro-Therapy Hand Revitalizer
Microdermabrasion Hand Refiner
Advanced Radiance Hand Treatment
Intensive Recovery Hand Cream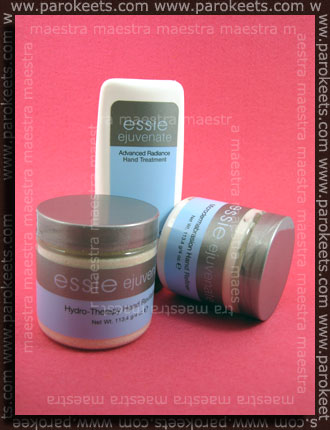 We got the first three products for a review. We took enough time to test the products thoroughly. Maestra tested all three of the received items, Gejba tested two of them while Goga and Mamy tried just the hand cream.
Hydro-Therapy Hand Revitalizer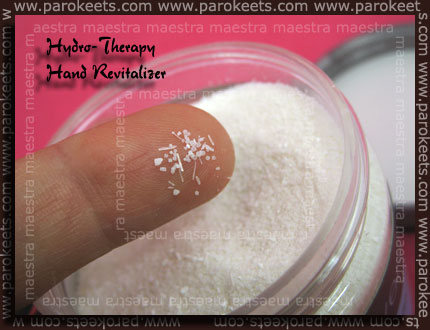 Directions of use:
Add one teaspoon to bowl of warm water.
Soak for five minutes.
Ingredients: Sodium chloride, Sodium sesquicarbonate, Sodium Lauryl sulfoacetate, Pentasodium triphosphate, Titanium dioxide and Galactoarabinan, Parfum (fragrance), Malic acid, Nonfat dry milk, Calcium silicate, Ascorbyl palmitate, Retinyl palmitate, Benzyl benzoate, Benzyl salicylate, Linalool.
Content: 113,4g.
Price:14€ in Slovenia, $18 at the www.essie.com.
Maestra's opinion:
It has a soft smell. The whole collection has a distinct smell. I don't like it very much, but it doesn't bother me with this particular product. After I soaked my hands in the hand bath for about 10 minutes or so, I didn't feel or see any revolutionary changes. The hands were softened, but not moistened or anything like that. If you enjoy the hand baths, you would probably like this one too. But I for me it isn't anything special. I prefer to soak my hands and nails in a mix of different oils and lemon juice.
Advanced Radiance Hand Treatment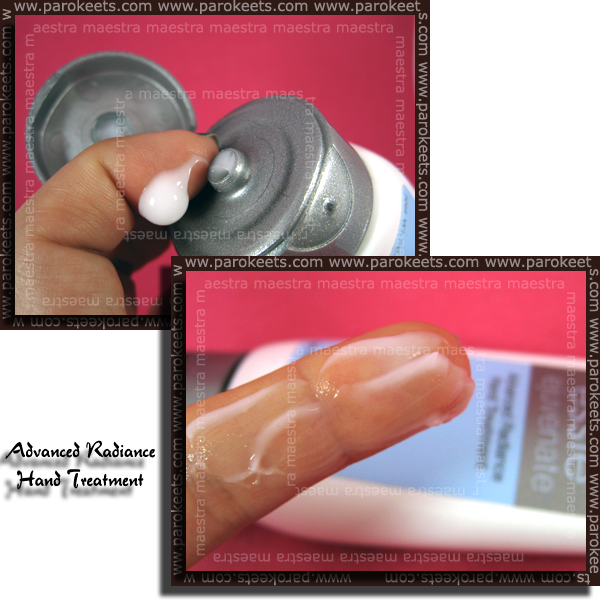 Directions of use:
Massage into hands daily.
Ingredients: Aqua (water), Hydroxypropyl Starch Phosphate, Squalane, Glycol Distearate, Caffeine, Palmaria Palmate Extract, Arbutin, Aloe Barbadensis Leaf Juice, Bisabolol, Glycyrrhiza Glabra (Licorice) Root Extract, Hamamelis Virginiana (witch hazel) Extract, Glycerin, Sodium Polyacrylate, Dimethicone, Cyclopentasiloxane, Trideceth-6, PEG/PPG-18/18 Dimethicone, Polysorbate 20, Cetyl Alcohol, Cetearyl Alcohol, Stearic Acid, Myristyl Alcohol, Butylene Glycol, Propylene Glycol, Fragrance/Parfum, Phenoxyethanol, Caprylyl Glycol, Sorbic Acid.
Content: 76,54g
Price: 14€ in Slovenia, $19 at the www.essie.com.
Maestra's opinion:
It's a very light hand cream, which absorbs rapidly into the skin and it didn't leave any greasy film on my hands. That's great. But after longer time I realised that it's just too light for my hands. It doesn't do me any good (or bad). I know I massaged something into my hands but after a few minutes it's like I did nothing. First I thought it's because it was still cold outside, when I started using the cream. Then I waited for warmer days and I gave the cream another chance but actually there was no change for me. The cream is just not enough for my hands. I won't even loose many about the smell, because I really don't like it, but you all know that the smell is very subjective.
If you are after a perfumed and fast absorbing hand cream, that maybe this one is just the right thing for you. But if you have very dry hands it probably won't be nourishing enough.
Gejba's opinion:
I found hand cream to be fast absorbing, but more moisturizing than nourishing. I liked the effect it had on my hands, but I simply can not stand any kind of strong smell (I don't even use perfumes) and this cream definitively has a very overpowering one. But we all have different sens of smell, so I would recommend it for all of you that love strong scents and are looking for a hand cream that won't leave greasy or sticky feel on your hands.
Goga's opinion:
I can tell you two things. It smells really good and it's fast absorbing. Considering that I have dry skin it didn't nourish my skin, but I'm a sucker for perfumes and smells, so … I don't mind that it doesn't do anything for my skin, if its smells good. I'll just massage the hand cream more often into my hands. :D
Mamy's opinion:
I like this cream for multiple reasons. It absorbs instantly, which comes in handy when working on the computer, dealing with paperwork … anywhere where you really can't afford greasy hands but need your hands to be soft and taken care of. It doesn't leave any kind on film on the skin. I have a lot of greasy hand creams to use at night, but I really needed one for daily use – to apply and forget about it. Now I have one.
And scent? I almost forgot about it. I love its gentle scent of just washed clothes. Also one of the reasons I liked this cream.
Microdermabrasion Hand Refiner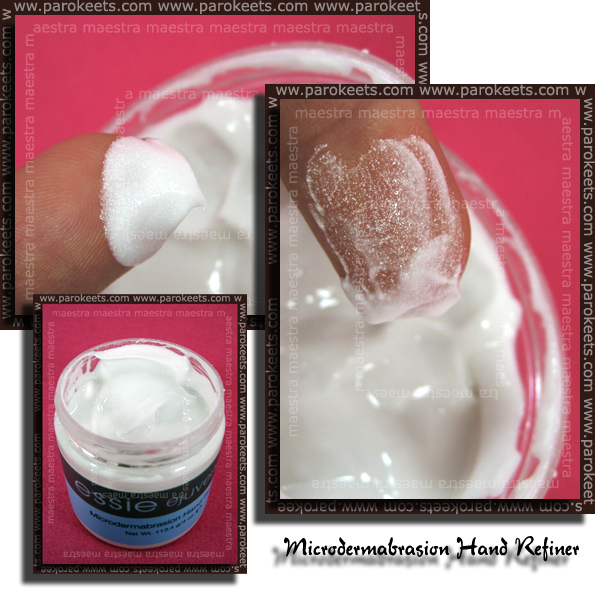 Directions of use:
Apply to hands and massage.
Gently remove with warm, damp towel.
Ingredients: Aqua (water), Alumina glycerin, Dimethicone, Caprylic/capric triglyceride, Ethylhexyl palmitate, Stearyl alcohol, Glyceryl stearate, PEG-100 stearate, Butyrospermum parkii (shea butter), Retinyl palmitate, Glycolic acid, Arginine, Oryza sativa (rice) extract, Algae extract, Ammonium acryloyldimehyltaurate/VP copolymer, Parfum (fragrance), Linalool, Cocamidopropyl betaine, Methylisothiazolinone, Phenoxyethanol, Disodium EDTA.
Content: 113,4g.
Price:14€.
Maestra's opinion:
My favourite product of the bunch. The granules are tiny and there are a lot of them. I like that very much. The tiny granules are soft and efficient. After the usage my hands felt soft, but a bit dry. A good hand cream is a must after using this product. The smell isn't very strong. It doesn't bother me much with this product. Great peeling. I recommend it!
Gejba's opinion:
This is the best hand exfoliant I ever tried out. Granules are very small and do a very good job at mechanical peeling, while glycolic acid takes care of chemical one (I'm assuming that other criteria for it to work as peeling are met). I leave the product on my skin for a little while for glycolic acid to do it's job and then thoroughly rinse with warm water. I wouldn't be me if I didn't use SPF cream on my hands a few days after I use the product … if I go outside.
Microdermabrasion Hand Refiner has the same smell as the hand cream, but my soap takes most of the smell away.
There are four product in the Ejuvenate collection. The fourth product is the Intensive Recovery Hand Cream.
HERE is the Step-by-Step manicure protocol by Essie.
The products were sent to use by Čarodejka. Thank you, Katja!