Nudge is a creme pastel green blue shade. I can't write it's green nor can I write it's blue. It isn't turquoise either. Maybe pastel turquoise? I really don't know how to describe it. (It's too blue in the picture below.)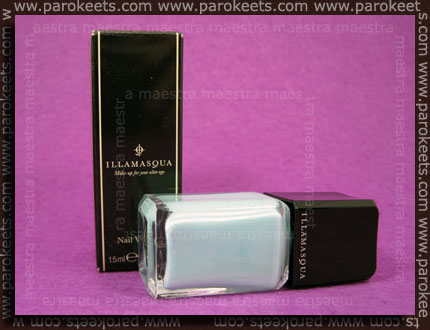 The application was as you can expect from a good pastel shade. It wasn't perfect but far from being unmanageable. When you apply it, have in mind that it's a pastel shade you're dealing with and be a bit more careful. The consistency is on the thick side. The pigmentation is perfect. There are two coats in the pictures below.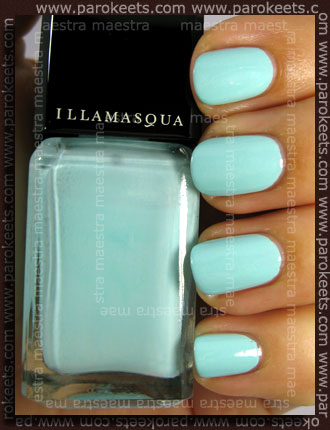 And here it is with my matching necklace, which I made long time ago and I still love to wear it.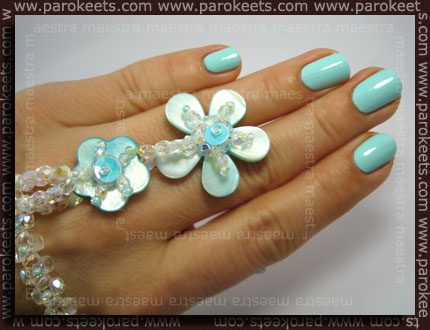 I was quite impressed by the Nudge polish. The color is gorgeous. The application was good, but nothing spectacular. The bottle is nice and the brush is great to work with. The bottle contains 15 ml of nail polish. The price isn't cheap at all. Illamasqua isn't cheap. The price for Illamasqua polishes is £13, which is a lot (I can't deny that). Are they worth it? Well, that's up to you to decide. If you like the color, I think you'll get a good quality nail polish. For me, the Hectic shade was worth the money as it is such a great shade!
And here is what Gejba has to say about the Nudge polish …
You know me – I'm all for darker and bolder colors, definitely not a pastel kind of a gal. I actually do own couple of pastels, but since I really hate the way they apply, I don't use them much. Nudge was easier to apply than my other pastel shades, but I still needed a lot of time and very precise strokes for this polish to look presentable. The finish was a pleasant surprise – I loved the soft glossy look. I honestly thought this would horribly clash with my skin tone, but I was wrong … at least I think so.  :D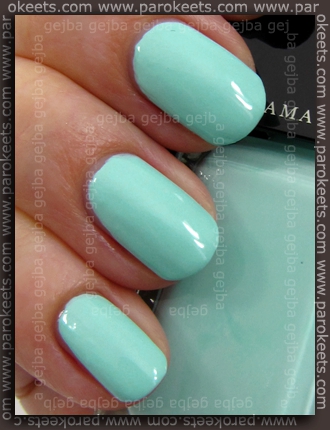 Color is quite unique mixture of blue and green. Most of the time polish looked more green than blue, but couple of times I was surprised to see that polish turned almost completely blue.
That was Gejba's experience with the Nudge polish. We are almost done. I really enjoyed the Illamasqua manicure, but I had to add a little something to it … I had hard time deciding what would be good enough to be added to an Illamasqua manicure. It had to be cute, but with a twist. What does that mean? I have no idea.  That's what I came up with.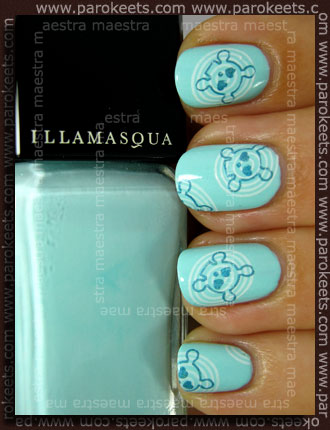 I used one of the new Essence image plates for the designs. The polishes I used for stamping were Konad special polish in white and China Glaze – DV8. I stamped like crazy. :D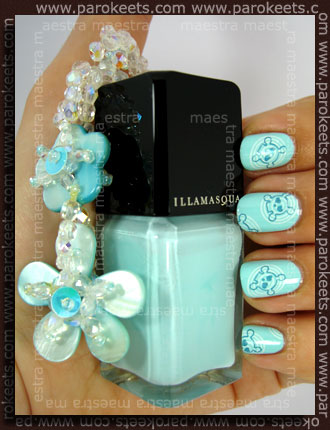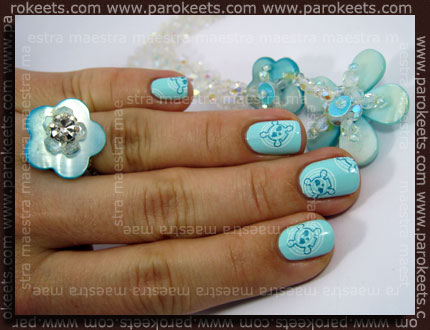 What do you think?
Thank you, Illamasqua for sending us this beauty!