I could hardly wait for Zoya Sparkle collection to come out. Mimi, Charla and Ivanka were my favorites.
First polish I bought from this collection was Mimi. Gorgeous purple shade, that hides duochrome glitter suspended in jelly base. You can hardly ever see  iridescence on the nails. Most of the time lighter colored glitter on the dark base is all that you see.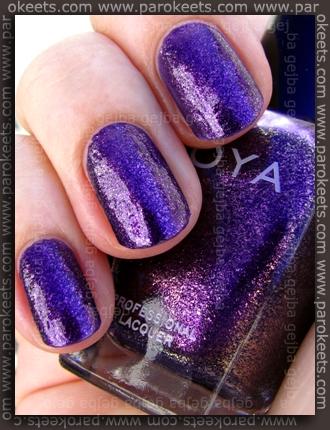 I almost stopped breathing after I removed the polish and saw red nails.
How in the *self-censure* can I have red nails if I used purple polish?!?
I tried everything I could think of – pure acetone, vitamin C … my poor nails.
In the end I gently filled away the nail surface. Luckily for me, discoloration was only on the top on the nail.
I have no idea what went wrong. I didn't hear about anybody else having similar problems. Maybe my base coat or nail polish remover reacted badly with Mimi? Not that I'm going to test any of my theories.
Because of this mishap, I've been without manicure for the past two days. I'm still deciding which polish will break the ice. :D
P.S. Thank you Mshel Mua and Polish AndPowder for all the suggestions and kind words on Facebook.