I've had a great time today! It was one of those days … when everything turns out great. The weather was fantastic. Sunny and hot. I spent some great time with my brother and his family. Nephews are the best! My brother's girlfriend participated in a 5 km run for women and we all went to cheer for her. There were about 7000 women running and it was a joy to watch. No, I didn't run. Running isn't for me … I'm too lazy for running. Actually, at the moment I'm too lazy for anything.
Here's how the start looked like … Do you see the motivation in the front?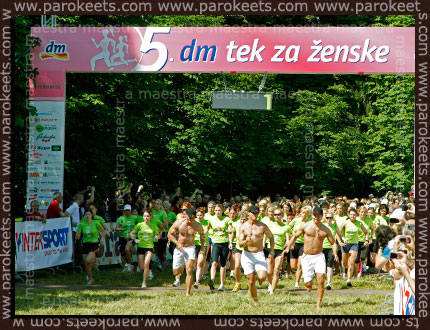 No wonder women ran as if their lives depended on it.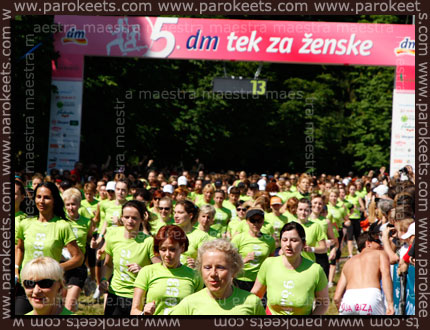 I know the photos aren't good, but did you notice the lime green T shirts? These were the T shirts with the running numbers. It turned out I did a matching konadicure.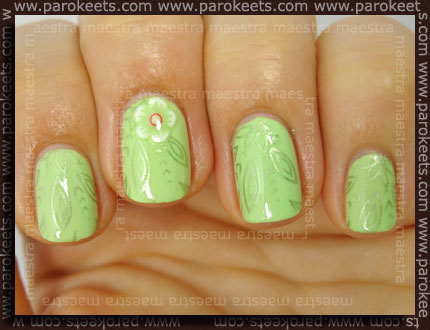 I'm really enjoying my today's konadicure. Almost everything about it turned out the way I wanted or even better and that only happens on rare occasions.
I started with three coats of Jessica – Viva La Lime Lights. The shade is new and it's from the Electric collection. I love the color but I'm not so fond of the application, which is streaky. You'll definitely need three coats for this one. Fortunately it dries quickly and it's a gorgeous shade! Despite the not-awesome application I'm happy I bought it. I forgot to take a picture of VLLL on it's own. Sorry …
When the green manicure was dry I added some stamps to it with IP A05 and China Glaze – Adore . For the final touch I added a fimo flower. I love fimo stuff for the nails, but I've never actually used a thing, because I was terrified that it would look thick and that it would lift etc. That's why I glued (with clear polish) the flower very carefully and I think it turned out great. Yay!
Here it is once again …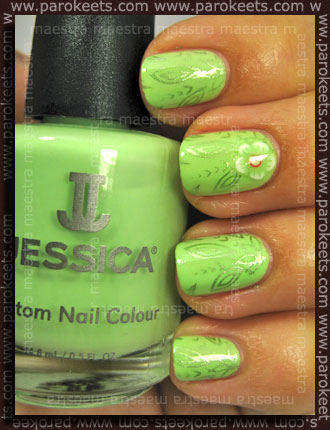 What do you think about the konadicure? Do you use fimo nail art stuff or do you think it's just over the top?
And respect to all women who ran today the 5 km or even 10 km! You were all winners today!
Thank you, my sunshines for a beautiful day! It was a day to remember …
Edit: For stamping I used China Glaze – Cherish and not Adore. I'm sorry for the mistake!