I was offered by Licila.si to write a honest review about Barry M polishes. I got three of them and all came with me on my vacation. Here are they swimming. :D
Navy is a real dark navy blue with shimmer. The shimmer isn't very obvious but it's there. The polish reflects blue and purple in the bottle, but the purple isn't visible on the nail.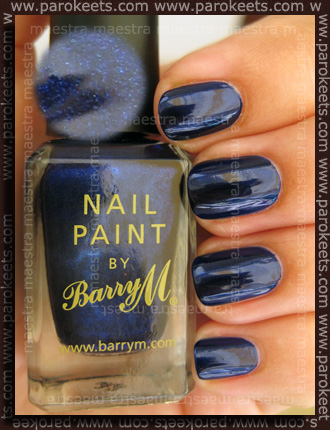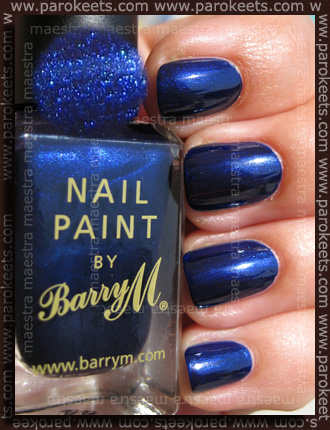 Spring Green is an awesome bright almost neon green with creme finish. Love it!!! I've worn it twice as mani and twice as pedi already. I'm all crazy about this color. It's just perfect for summer. And the application is great, which isn't always the case with such shades. Superb!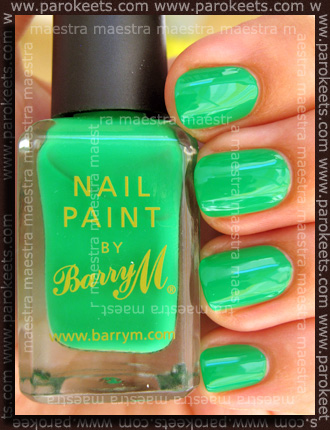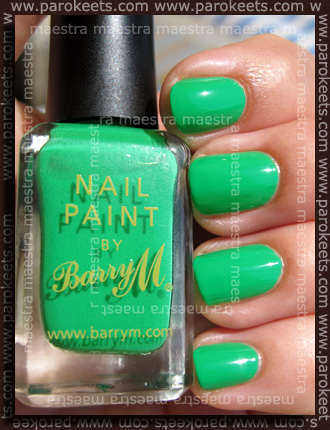 Mint Green is another great shade from Barry M. It's probably the most suitable mint green for my skin tone. See, I love mint green shades, but most of them are just too blue and they make my hands look red. The Barry M Mint Green is perfect. Another plus is the application, which is very nice.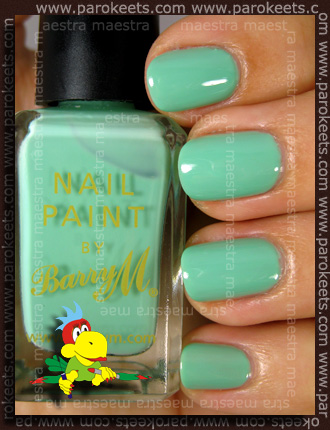 I have to say that I was really surprised by the quality of the Barry M polishes. And I don't just say that because I got the polishes. No no no. All three polishes I got applied very well and wore well. I loved the brush, which is very soft but not too soft. It's regular round one, just as I like it. The bottles are square, simple, not fancy, but I love square bottles. The price is acceptable. 4,45€ for a 10ml bottle, which would be 6,675€ for a 15ml bottle. Not very cheap but definitely not expensive. For the price you get a good quality product.
The only issue I've had with one of my Barry Ms was, that one brush was a bit wonky. See the picture below …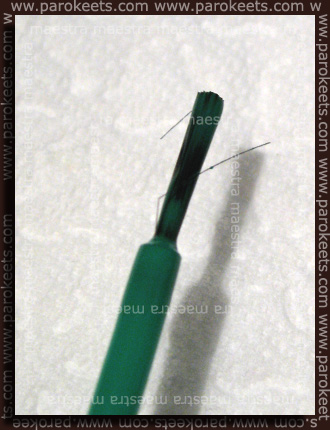 It wasn't a big deal for me, but such a brush definitely wouldn't make you happy. If you get a brush like that (and you bought your Barry M at Licila.si), don't hesitate to contact Maja at Licila.si and she'll definitely help you. She is very nice and I can only say nice things about the costumer service at Licila.si. They respond fast and polite.
Back to the wonky brush. If you get a wonky brush (by any brand), try to trim it. That's exactly what I did. I took the scissors and trimmed the brush a bit and now I have a perfect brush.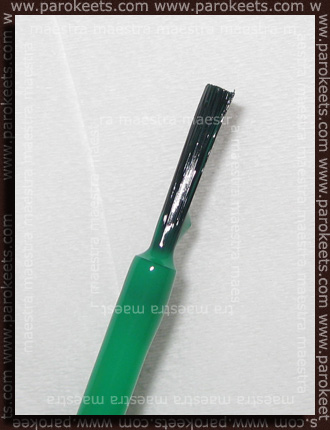 As I wrote before I already wore polishes more than once and I was also quite impressed by the wear time. As a pedicure they wore great even without a top coat. And as a manicure I wore Spring Green three days without chipping. I can say that Barry M polishes work for me.
What about you? Have you tried the Barry M polishes yet? What are your experience with them?